Berlioz Photo Album : Friends and acquaintances (6)
Unless otherwise stated all pictures on Berlioz Photos pages have been scanned from engravings, paintings, postcards and other publications in our own collection. All rights of reproduction reserved.
Léon Gatayes (1805-1877)
The journalist and writer Léon Gatayes was a friend of Berlioz over a period of many years; in December 1854 he wrote a warm article about the first performance of l'Enfance du Christ which is reproduced on this site.
The above photo is reproduced here courtesy of the Bibliothèque nationale de France.
Ernest Legouvé (1807-1903)
Legouvé was one of the many literary figures whom Berlioz counted as close friends. His friendship with Berlioz lasted more than forty years. Legouvé's reminisces, Soixante ans de souvenirs [Sixty Years of Recollections], published in Paris in 1886 includes an extensive chapter on Berlioz, which is reproduced elsewhere on this site. The overture to Benvenuto Cellini and A travers chants are dedicated to Legouvé.
Joseph d'Ortigue (1802-1866)
As a musicologist and critic d'Ortigue supported Berlioz's works and ardently published numerous articles on them. They were very close friends for many years – he was one of the very few friends whom Berlioz addressed with the intimate French word for you, tu, in correspondence. He succeeded Berlioz as the music critic of Journal des Débats in 1863.
Camille Saint-Saëns (1835-1921)
As a young composer, Saint-Saëns came under Berlioz's spell and his early symphonies were influenced by Berlioz's works. He was very devoted to Berlioz and in 1855 prepared the piano score of Lélio. He was also heavily involved in the rehearsals for the première of Les Troyens in 1863. Berlioz famously said of him: 'He knows everything but lacks inexperience'. See on this site an article on Berlioz published by Saint-Saëns in 1890 and an ode he wrote in his honour in 1908.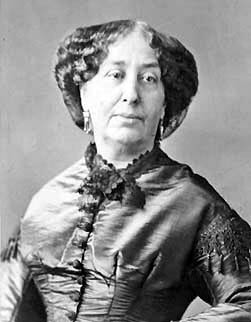 George Sand (1804-1876)
The French novelist Baroness Armandine Aurore Lucille Dupin Dudevant, who wrote under the pen name of George Sand, was among Berlioz's circle of friends. In an attempt to enable Harriet Smithson to continue her work as an actress, he suggested George Sand to write a play with an English female character in it. She would speak French with difficulty or could not express herself properly in French and would therefore resort to speaking in English and sometimes to miming. This role would then be played by Harriet, who in fact had similar difficulties with the French language. (See also Berlioz's letter of 20 June 1838 to George Sand (Correspondance Générale, no. 501). The play was never written.
A reproduction of the above photo taken by Nadar is in our collection.
Ferdinand Hiller (1811-1885)
Hiller, a German pianist, composer and conductor, lived in Paris between 1828 and 1835 and was a close friend and confidant of Berlioz at that time. He was the soloist at Berlioz's second concert, in the French première of Beethoven's Emperor Concerto (1 November 1829), and helped to introduce Berlioz to Beethoven's piano music. He was present at the only performance of Berlioz's first opera Benvenuto Cellini on 25 June 1853 at the Theatre Royal Covent Garden in London. See also Musical Union in the Berlioz in London pages for a group picture drawn in London in 1853 which shows both Berlioz and Hiller together with other prominent contemporary musical figures.
Camille Moke, who was briefly Berlioz's fiancée, was initially in a relationship with Hiller but left him for Berlioz (Berlioz describes this episode in his Memoirs, chapter 28).
Berlioz's friendship with Hiller continued until his later years. Their last meeting was in February 1867, in Cologne, where at Hiller's invitation Berlioz conducted what was to be his final concert in Germany.
Stephen Heller (1813-1888)
Hungarian pianist and composer; born in Pesth, he settled in Paris in 1838 and joined the circle of Berlioz's close friends soon after his arrival. He remained there till the composer's death and was particularly close to him in his later years.
See also on this site A letter by Stephen Heller on Berlioz (in French).

© (unless otherwise stated) Monir Tayeb and Michel Austin for all the texts and images on Berlioz Photo Album pages.
All rights of reproduction reserved.

Photo Album main page