Berlioz Photo Album : Friends and acquaintances (6)
Unless otherwise stated all pictures on Berlioz Photos pages have been scanned from engravings, paintings, postcards and other publications in our collection. All rights of reproduction reserved.
This page includes portraits or photographs of the following: Léon Gatayes, Ernest Legouvé, Joseph d'Ortigue, Camille Saint-Saëns, George Sand, Ferdinand Hiller, and Stephen Heller.
Léon Gatayes
Léon Gatayes (1805-1877)
The above photo is reproduced here courtesy of the Bibliothèque nationale de France.
Léon Gatayes started off as a musician (he played the harp and composed for his instrument), and then turned to journalism and writing. His friendship was Berlioz dates back to at least 1840 and continued for many years. In his dealings with Berlioz he is best known for a warm article about the first performance of l'Enfance du Christ which appeared in the journal Le Ménestrel on 17 December 1854 and is reproduced on this site. The introduction to that article gives an outline of his relations with Berlioz.
Ernest Legouvé
Ernest Legouvé (1807-1903)
Ernest Legouvé, one of the many literary figures whom Berlioz counted as close friends, became acquainted with the composer in November 1832, shortly after Berlioz's return from Italy. Their friendship lasted more than forty years, and is outlined on a separate page. Legouvé was particularly helpful to Berlioz at the time of the composition of Benvenuto Cellini, when he advanced him money to enable him to continue working on the opera (Memoirs, chapter 48). Berlioz in return dedicated to him the overture to Benvenuto Cellini when it was published in 1839. In 1842 he set to music the ballad La Mort d'Ophélie on a text by Legouvé. Twenty years later, in 1862, he dedicated to him his collection of essays À Travers chants.
Legouvé's reminiscences, Soixante ans de souvenirs [Sixty Years of Recollections], published in Paris in 1886, includes an extensive and colourful chapter on Berlioz that is sometimes questionable in detail. The chapter is reproduced on this site in the original French.
Joseph d'Ortigue
Joseph d'Ortigue (1802-1866)
Joseph d'Ortigue, musicologist, writer and critic met Berlioz in the late 1820s; the two men soon became close friends and remained so to the end of their lives. Apart from Franz Liszt and James Davison, d'Ortigue was one of the few persons outside his own family with whom Berlioz in his correspondence was on intimate tu terms. They had some fundamental differences of views — d'Ortigue was a devout catholic with a deep interest in religious music, and Berlioz could not share his enthusiasm for plainchant — but this did not affect the trust and respect they felt for each other throughout their careers. They were colleagues at the Journal des Débats, and d'Ortigue would on occasion deputise for him when Berlioz was unable or unwilling to write himself, as for example in 1854 with the opera Santa Chiara by the Duke of Gotha or in 1861 when Wagner's Tannaüser was performed at the Opéra in Paris. When in late 1863 Berlioz decided to give up writing the musical feuilleton at the Débats, it was d'Ortigue who succeeded him (cf. CG no. 3056), though only for a short period as he died three years later, on 20 November 1866 (he was himself succeeded by Ernest Reyer). Berlioz on his side mentioned or reviewed favourably writings by d'Ortigue, 'one of our most conscientious critics' (Débats, 20 June 1837). He devoted a long and respectful section to d'Ortigue's Cours sur la musique religieuse (Débats, 26 April 1842), and reviewed at length his book La Musique à l'église (Débats, 21 December 1861 and 7 January 1862). The review was reproduced by him the same year in À Travers chants.
Berlioz's letters to d'Ortigue over a period of more than 30 years illustrate the close professional relationship he had with him, notably during his travels abroad, to Germany in 1842-3 and 1845-6, to London in 1848, 1851 and 1852 (see for example CG nos. 420, 816, 1017, 1028, 1034, 1127, 1185, 1419, 1461, 1477, 1481, 1488, 1495, 1598ter). In his Memoirs he refers several times to d'Ortigue: for example he mentions in one place that the manuscript score of the Symphonie fantastique 'is in the hands of my friend d'Ortigue' (chapter 34), and in the chapter on Roméo et Juliette he writes that it was d'Ortigue who suggested to him an important cut in the finale of the symphony (chapter 49, near the end).
On his side d'Ortigue amply justified the trust Berlioz placed in him. In December 1832, to coincide with the first hearings of the Symphonie fantastique with its sequel Le Retour à la vie, d'Ortigue published in the Revue de Paris a biographical article on Berlioz with material supplied to him by the composer himself (see also Le Ménestrel 16 September 1906). In 1839 he published a lengthy defense of Benvenuto Cellini after its unsuccessful performances at the Opéra. At the end of the year he published a review of the symphony Roméo et Juliette. In 1858 he made a point of dissociating Berlioz from the 'music of the future' (i.e. Wagner's music) in an article (Débats, 2 June) which Hans von Bülow believed had been prompted by Berlioz himself. In 1863, in his last article on Berlioz's music (Débats, 9 November), he gave a very appreciative review of Les Troyens, for which Berlioz thanked him warmly (CG no. 2789bis). At the end of the article d'Ortigue glanced back at his long relationship with Berlioz:
Berlioz is one of those outstanding figures who are destined to strive gloriously all their life. His perseverance, his talent, his feeling for what is true, noble and beautiful, and his unshakeable conviction: these are what attached me to Berlioz's fortunes, in spite of some divergences in our beliefs and opinions, and these are what caused me, for all my purely classical tastes, to follow the composer through every phase of his career. Having reached an age where long experience draws me increasingly back to the study and cultivation of the old masters, I am happy to give to the great and victorious artist another proof of a friendship which is an honour to me, and which I may be entitled to describe as far-sighted, as much as it is disinterested and devoted.
Camille Saint-Saëns
Camille Saint-Saëns (1835-1921)
Saint-Saëns first Berlioz met in December 1853, but he had been an admirer of the composer and his music even before this time. His mother was herself a Berlioz enthusiast, and as a teenager the young Saint-Saëns was already studying the published scores of the composer. The first direct experience of Berlioz's music that he mentions is a performance of the Requiem at Saint-Eustache on 22 October 1852, conducted by the composer, and it made a lasting impression on him. It may be presumed that from this time onwards, if not earlier, he attended every performance of Berlioz's music that took place in Paris.
Soon after he met Saint-Saëns, Berlioz quickly formed a very favourable impression of the young man's capabilities. In April 1855 he asked him to do a piano reduction of the (as yet unpublished) score of Lélio, and also admitted him to the general rehearsal of the Te Deum a few days before the work's first performance on 30 April (CG no. 1954, cf. no. 1955). He was very pleased with the piano transcription: the work 'has been intelligently arranged for the piano by a young musical lion, M. Camille Saëns', he wrote to Liszt (CG no. 1975, 7 June 1855). In subsequent letters he expressed a most positive estimate of Saint-Saëns' ability: 'a truly great artist, who is already known and almost famous' (CG no. 2870); 'a great pianist and a great musician, who knows his Gluck almost as well as I do' (CG no. 3083). He was delighted when in June 1867 the Prix de Rome was awarded unanimously 'to my young friend Camille Saint-Saëns, one of the greatest musicians of our time' (CG no. 3244). Berlioz called on his services as an accompanist on a number of occasions, in 1860 with preliminary studies of Les Troyens with Pauline Viardot (CG no. 2480, 10 February), and later in 1866 with rehearsals for Gluck's Armide with Mme Charton-Demeur (CG nos. 3082, 3083, both 17 January). (See also the comments of Tiersot about the piano reduction of Les Troyens, citing the testimony of Saint-Saëns.)
After Berlioz's death Saint-Saëns remained an admirer of the composer, and remembered fondly how supportive Berlioz had been to him in his early career. He could attest to the kindmess and sensitivity of Berlioz's character, contrary to the reputation of abrasiveness that was widespread among those who did not know him. As a composer himself and a concert pianist (he was also a proficient organist), Saint-Saëns was probably not in a position to champion and promote the music of Berlioz as much as professional critics, such as Ernest Reyer and later Adolphe Jullien, or conductors of concert societies, such as Jules Pasdeloup and Édouard Colonne. But he had the advantage of having known Berlioz closely for a decade and a half and having heard some of his music performed under his direction, and so could speak with authority on the subject (see for example the use of the evidence of Saint-Saëns made by Tom Wotton in his book on Berlioz; see the Index). In 1883 Saint-Saëns was appointed member of a committee to organise a subscription for a statue of Berlioz in Paris, which was inaugurated on 17 October 1886. He published at various times a number of articles about Berlioz; see on this site a more detailed one of 1890, an Ode to Berlioz originally written in 1903 on the occasion of the centenary celebrations of the composer's birth, and some personal reminiscences, also written in 1903 but only published a few years later (these articles are all in French).
George Sand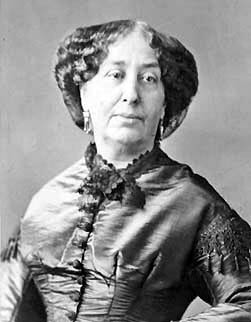 George Sand (1804-1876)
A reproduction of the above photo taken by Nadar is in our collection.
The French novelist Baroness Armandine Aurore Lucille Dupin Dudevant, who wrote under the pen name of George Sand, was among Berlioz's circle of friends (cf. the letter of Berlioz's sister Nancy Pal of 4 June 1839 to her sister Adèle, and Berlioz's letter of 29 December 1849 to Nancy). In an attempt to enable Harriet Smithson to continue her work as an actress, Berlioz suggested in May 1837 to George Sand to write a play with an English female character in a role adapted to Harriet's capabilities; the plan was considered by George Sand, but in the end the play was never completed, and this effectively marked the end of Harriet's career on the stage. For the details of this project see the collection of evidence in David Cairns, Berlioz volume II (1999) pp. 153-6.
Ferdinand Hiller
Ferdinand Hiller (1811-1885)
The German pianist, composer and conductor Ferdinand Hiller was one of Berlioz's oldest acquaintances: they first met in Paris in 1828 and their friendship lasted, with ups and downs, till the end of Berlioz's life. The long history of their relationship is traced in detail in the page on Cologne: Berlioz's last concert in Germany took place in that city in February 1867, at the invitation of Hiller who had been Kapellmeister there since 1850.
Stephen Heller
Stephen Heller (1813-1888)
Born in Pesth, the Hungarian pianist and composer Stephen Heller settled in Paris in 1838 and was soon introduced by Charles Hallé to Berlioz, whose close friend he became and remained to the end. Berlioz had a very high regard for him both as a musician and person, and frequently referred to him and his piano compositions in his feuilletons. He describes him in one article as ' that great artist who always stays aloof' and in another as 'the La Fontaine of music'. Berlioz was particularly close to him in his later years in the 1860s when he was now travelling less. Heller transcribed for piano the orchestrated version of the song La Captive and made a piano reduction of the score of the Chant des chemins de fer of 1846 which appeared in 1850. Ten years after Berlioz's death Heller published, in the form of an open letter (in French) to the critic Eduard Hanslick, an eloquent and perceptive defense of Berlioz and his music, together with personal memories of him. For fuller information about Heller and Berlioz see the article devoted to him elsewhere on this site.

© (unless otherwise stated) Monir Tayeb and Michel Austin for all the texts and images on Berlioz Photo Album pages.
All rights of reproduction reserved.

Photo Album main page