Berlioz in Paris
Institut de France
The building which houses the Institut de France was constructed between 1663 and 1684 through a bequest of Cardinal Mazarin, and was known at first as the Collège Mazarin or Collège des Quatres Nations. The Institute itself, grouping several existing Academies (including that of the Beaux-Arts), was founded in 1795 but moved in 1806 to the building which then took its name. The Pont des Arts over the river Seine, which leads straight to the Institut, had been built shortly before, in 1802-1804.
Berlioz's contacts with the Institut started early in his career: it was in the precincts of the building that candidates for the Prix de Rome prize would come and reside in June or July every year to write the obligatory cantata on a set text. Berlioz thus wrote his four cantatas there in his protracted attempts to win the prize from 1827 to 1830. In his Memoirs he gives a colourful account of his experiences there (chapters 22-23, 25, 29-30). His final and successful attempt in July 1830 coincided with the outbreak of the July revolution in Paris. He relates how he completed his cantata (Sardanapale) 'to the dry sound of stray bullets which flew over the rooftops and crashed on the wall of my room near my windows' (chapter 29). In a letter to his father, dated 2 August 1830, he writes: 'The bullets and cannon balls were aimed directly at us, from a battery in the Louvre raking the Pont des Arts and reaching the doors of the Institut, which were riddled with them' (letter no. 48 in Hugh Macdonald's Selected Letters of Berlioz). See also Galerie Vivienne.
Berlioz's attempts to be elected as a member of the Institute tested his patience even more than his efforts to win the Prix de Rome prize. He tried and failed no less than four times (in 1842, 1851, 1853 and 1854), and was only finally elected on 21 June 1856. 'I am now a respectable man, and no longer a gipsy [...] What a farce! I do not despair of becoming Pope one day' (letter to Princess Carolyne Sayn-Wittgenstein, 24 June 1856).

Institut de France in pictures
Unless otherwise specified, all the modern photographs reproduced on this page were taken by Michel Austin in 2000; other pictures have been scanned from engravings, postcards and books in our own collection. © Monir Tayeb and Michel Austin. All rights of reproduction reserved.
1. Institut de France in times past
The Institute and the Louvre on 29 July 1830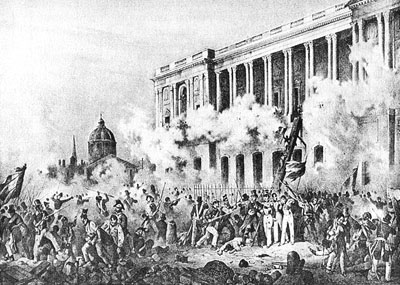 This picture is taken from Armand Dayot, Journées révolutionnaires (1830, 1848). Paris, 1897.

Institut de France in 1838
This engraving is by Rouargue brothers, dated 1838.
View from the Pont des Arts in 1898
This picture has been scanned from John L. Stoddards Lectures, Volume V – Paris La Belle France and Spain, by John L. Stoddard (Balch Brothers, 1898).

View from the Pont des Arts in the early 20th century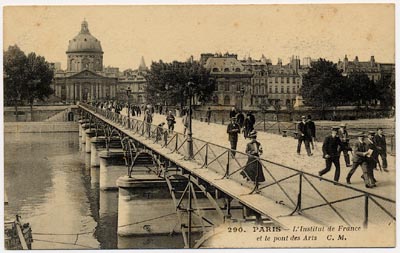 Pont des Arts
2. Institut de France in our time
Institut de France in 2000
View from the Pont des Arts
The following photos were taken by Steven Van Impe in May 2012. © Steven Van Impe. We are most grateful to Mr Steven Van Impe for sending us these photos for reproduction on this page.
Interior of the Institut de France in 2012


© 2000-2013 Unless otherwise specified, Monir Tayeb and Michel Austin for all the pictures and information on this page.
Copyright notice: The texts, photos, images and musical scores on all pages of this site are covered by UK Law and International Law. All rights of publication or reproduction of this material in any form, including Web page use, are reserved. Their use without our explicit permission is illegal.
Back to Berlioz in Paris main page