| | | |
| --- | --- | --- |
| | Biographers and critics: Julien Tiersot (1857-1936) | |
This page is also available in French
Copyright notice: The texts, photos, images and musical scores on all pages of this site are covered by UK Law and International Law. All rights of publication or reproduction of this material in any form, including Web page use, are reserved. Their use without our explicit permission is illegal.

Composer, writer on music, and librarian at the Paris Conservatoire, Julien Tiersot (1857-1936) is one of the most sympathetic as well as one of the greatest of all Berlioz biographers and critics, and his work deserves to be better known. His work on Berlioz should be seen in the context of the Berlioz revival which blossomed in France after the composer's death: in one of his articles Tiersot relates how as a young man he attended performances of l'Enfance du Christ and Roméo et Juliette at the Concerts Colonne in 1875-1876. Although his early years just overlapped with the last years of the composer's life, he never met Berlioz in person, and this was for him later a matter of deep regret: he relates in his 1904 book how when still a boy he happened to be in Grenoble on 15 August 1868, the day Berlioz made his last visit to the city, but failed to see the great man whose name at the time was as yet unknown to him. Tiersot then adds that he frequently returned to Grenoble thereafter. The first time was in 1885 when he made a special visit to La Côte Saint-André via Grenoble and published his first article on Berlioz (Le Ménestrel 4, 11 and 18 October 1885); many more were to follow (the visit of 1885 is alluded to in an autograph letter of Tiersot of 1890 which is published on this site). In 1890 Tiersot attended the inauguration of Berlioz's statue in La Côte and published a report on it. In 1903 he attended the centenary celebrations of Berlioz's birth both in Grenoble and in La Côte. In Grenoble he was present at the inauguration of Berlioz's statue there on 15 August 1903, and gave a talk there on 17th August, which was later published in Le Livre d'Or du Centenaire d'Hector Berlioz (1906, pp. 189-95) and is reproduced on this site. He also wrote a report of the celebrations in La Côte.
Another personal link that Tiersot felt with Berlioz was of a more direct kind; like Berlioz before, he became librarian at the Conservatoire in Paris and took pride in his illustrious predecessor. This is mentioned in the autograph letter referred to, and in an article he wrote later, one of a group on Berlioz as librarian of the Conservatoire (Le Ménestrel, 12 August 1911, p. 292):
Berlioz spent in this place [the Conservatoire] the longest part of his life, some 47 years in all, from his arrival in Paris to the eve of his death. He lives on here, not just through the memories cherished by one who considers that his greatest and only title to fame is to have the glory of being his successor, but through the real and tangible presence of his autograph writings; in the course of his laborious career he poured into these all his genius, all his faith, and all his heart.
Tiersot was a prolific writer on many topics of musical history and a lifelong student of Berlioz; his publications span a period of half a century. Tiersot's work on Berlioz divides naturally into three elements.
Prompted by the centenary celebrations of 1903 he published in 1904 Hector Berlioz et la société de son temps (see the review by Adolphe Jullien). From the start Tiersot declares himself (Preface p. III): 'Hector Berlioz, a luminous genius and a man of high conscience, may be the most characteristic and the most interesting artistic personality of his time; his achievement deserves admiration, and as a man he is no less worthy of being appreciated and loved'. But this was not a biography — Tiersot never wrote a full-scale biography of Berlioz, and professed himself satisfied with the existing work of Adolphe Jullien — but a series of thematic studies concentrating on Berlioz the man and his personality and not on his musical works. The book is divided into three sections, the first concerned with the setting of the composer's childhood in Dauphiné, the second with his social context in Romantic France, and the third with his relations with the leading composers of his time. For his work Tiersot made extensive use of Berlioz's numerous writings, as well as those of other contemporaries; one of the distinguishing marks of his approach to Berlioz is that he always defended the truthfulness of the composer's Memoirs, which at the time it was fashionable to denigrate (as done by Adolphe Boschot his rival). 'A perfectly trustworthy and reliable document, whatever has been said of it', was his characterisation (p. ii).
Tiersot's second contribution came in the form of a lengthy series of articles, some 127 in all, published in the journal Le Ménestrel between 1904 and 1911 (a full listing of these may be found on a separate page on this site). The majority of these (117) were grouped in a series entitled Berlioziana, the largest part of which was published between 1904 and 1906, and a second smaller group between 1909 and 1911. In addition Tiersot published in the same journal between 1909 and 1911 a smaller number of articles (10) on Berlioz that were outside the main body of Berlioziana. The series as a whole constitutes a major contribution to Berlioz studies, but unfortunately all these articles in Le Ménestrel were never collected in book form. As a result they are less widely known and read than they deserve to be, and to remedy this we have published for the first time the whole series complete on this site.
Tiersot's third major contribution to Berlioz studies was to undertake for the first time what was intended to be a complete edition of the composer's correspondence. Hitherto separate volumes had been published: a volume of letters covering much of the composer's life appeared first (Daniel Bernard, ed. Correspondance inédite de Berlioz, 1879), followed a few years later by a volume which contained many of the letters addressed by Berlioz to his lifelong friend Humbert Ferrand (Charles Gounod, ed. Lettres intimes, 1882), and the centenary year brought about the publication in Germany of the letters to Princess Carolyne Sayn-Wittgenstein (La Mara, ed. Briefe von Hector Berlioz an die Fürstin Carolyne Sayn-Wittgenstein, 1903). In addition many letters were published piecemeal in various journals and articles (for example, the letters to various Russian correspondents published in 1882 by Octave Fouque in chapter 2 of Les Révolutionnaires de la musique first appeared in the form of articles in Le Ménestrel between February and April 1880). Tiersot undertook to take into account already published letters and he also incorporated a large amount of previously unpublished texts. Three volumes were eventually published by Calmann-Lévy in Paris. These were entitled: Les Années romantiques 1819-1842 (1904 - see the review by Adolphe Jullien), Le Musicien errant 1842-1852 (1919 - see the review by Adolphe Jullien) and Au Milieu du chemin 1852-1855 (1930). Unfortunately Tiersot did not live to complete the undertaking, but the project was eventually resumed thanks the dedicated advocacy of Thérèse Husson and led in time to the publication of eight volumes of the Correspondance Générale d'Hector Berlioz between 1972 and 2003. A supplementary volume entitled Nouvelles lettres de Berlioz, de sa famille, de ses contemporains appeared in 2016.
Another book by Julien Tiersot, La Musique aux Temps Romantiques (1930), includes an extensive chapter entitled 'Le Romantisme musical de 1830', with the subtitle 'Hector Berlioz' (pp. 68-106), and he also published a monograph entitled La Damnation de Faust de Berlioz: Étude historique et Critique. Analyse Musicale (1922).
In addition to the articles in the Berlioziana series a number of writings by Tiersot relating to Berlioz are reproduced on this site (all in French):
Une lettre autographe de Julien Tiersot (1890)
Inauguration de la statue de Berlioz à La Côte-Saint-André (1890)
Conférence faite aux fêtes du Centenaire à Grenoble (1903)
Le Centenaire de Berlioz à Grenoble
Le Centenaire de Berlioz à La Côte-Saint-André (1903)
Le Centenaire de Berlioz [à Paris] (1903)
La maison de Berlioz à La Côte-Saint-André (1935)
See also Revue Musicale, by Adolphe Jullien; and three articles by Pierre-René Serna, 'La première autobiographie de Berlioz', 'Noces d'or ou noces des fées?' and 'La Tabatière d'Habeneck' (all articles in French).


Illustrations
Unless other wise stated, all the pictures on this page have been scanned from publications in our own collection. All rights of reproduction are reserved.
Julien Tiersot c. 1911-1912
The above photo is courtesy of the Bibliothèque Nationale de France, Paris.
1795-1895
Centenaire du Conservatoire National
de Musique et de Déclamation
The above group photo, by the photographer Eugène Pirou (1841–1909), was taken on the occasion of the centenary of the Paris Conservatoire and was published in Le Monde Musical.
Among those present in the photo are: Julien Tiersot, and composers Jean-Baptiste Weckerlin (1821-1910) and Ambroise Thomas (1811-1896). Tiersot stands in the middle of the group of standing figures at the back.
The image and the related information are courtesy of the Bibliothèque Nationale de France, Paris.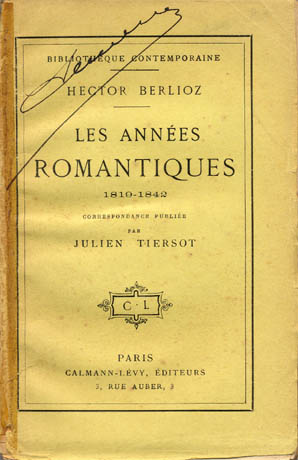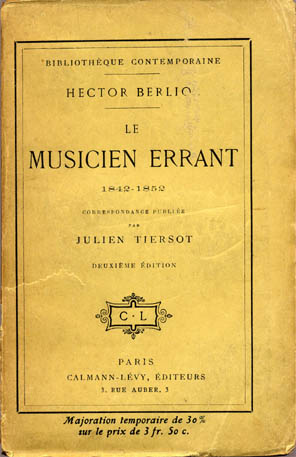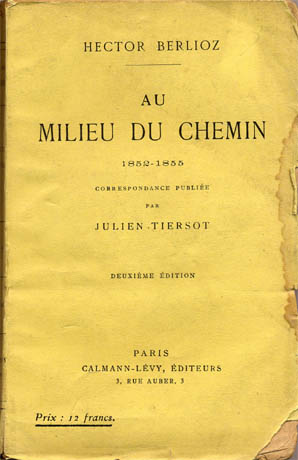 The following two pictures have been reproduced from an original copy of Le Ménestrel available on the website of the Bibliothèque Nationale de France, Paris.
Front page of Le Ménestrel of 3 January 1904
The first article in the Berlioziana series was published on pages 3 and 4 of this issue. See also the image below.
Page 3 of Le Ménestrel of 3 January 1904


The Hector Berlioz Website was created by Monir Tayeb and Michel Austin on 18 July 1997;
Page Berlioz: Pioneers and Champions created on 15 March 2012; this page created on 1st May 2012 and updated on 11 December 2012.
© Monir Tayeb and Michel Austin. All rights reserved.

Back to Berlioz: Pioneers and Champions

Back to Home Page