Église de la Sainte-Trinité
This page is also available in French
The Church of Sainte-Trinité is linked to Berlioz's career in several ways. It was in this church, located at the time in Rue de Clichy, that Berlioz married Marie Recio on 19 October 1854, seven months after the death of his first wife Harriet Smithson (cf. CG no. 1808, to his sister Adèle, 6 November 1854). It was in the present and larger church, which was built in 1863-1867 on the Place de la Trinité at the bottom of Rue Blanche, that the funeral service for the composer took place on 11 March 1869, three days after his death on 8 March at 12.30.
The occasion is described in detail in a contemporary article in the journal Le Ménestrel of 14 March 1869. The ceremony, conducted at first at the church before it moved on to Montmartre Cemetery, comprised a deputation from the Institut, of which Berlioz had been a member since 1856, as well as musicians and composers from the music section of the Institut and the Conservatoire.
You will find on this site six contemporary obituaries, including one by Théophile Gautier and another by Ernest Reyer, both of them close friends of the composer.
Exactly one year after Berlioz's death, on 8 March 1870, a Berlioz Festival, organised by Ernest Reyer, was held at the Paris Opéra; it attracted a large crowd (see the articles published soon after by Oscar Comettant, Ernest Reyer and Francisque Sarcey). Berlioz's rehabilitation was about to begin.
It should also be mentioned that the composer Olivier Messiaen, a devoted admirer of Berlioz's music, was organist at this church for much of his career, from 1931 to 1992.

All the modern photographs reproduced on this page were taken by Michel Austin in 2002; other pictures have been scanned from newspapers and postcards in our own collection. © Monir Tayeb and Michel Austin. All rights of reproduction reserved.
Berlioz's death mask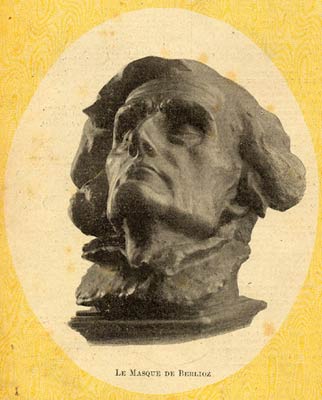 This picture was published in the 8 December 1898 issue of La Vie Illustrée.
Place de la Trinité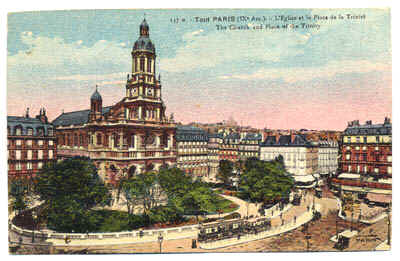 (Large view)
Église de la Sainte-Trinité in 2002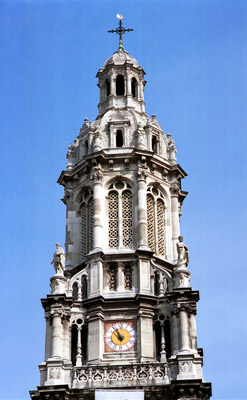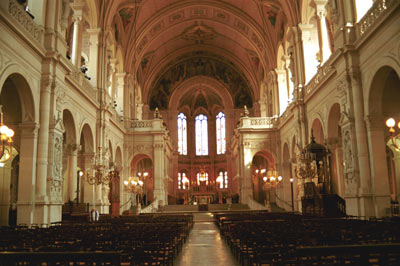 © Monir Tayeb and Michel Austin for all the pictures and information on this page. This page revised on 1st March 2017.
Copyright notice: The texts, photos, images and musical scores on all pages of this site are covered by UK Law and International Law. All rights of publication or reproduction of this material in any form, including Web page use, are reserved. Their use without our explicit permission is illegal.
Back to Berlioz in Paris main page