Berlioz Photo Album : Royalty and nobility (3)
Unless otherwise stated all pictures on Berlioz Photos pages have been scanned from engravings, paintings, postcards and other publications in our own collection. All rights of reproduction reserved.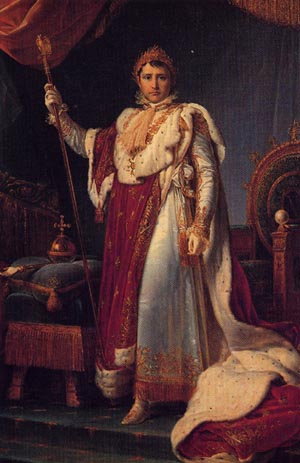 Napoleon Bonaparte (1769-1821)
Napoleon Bonaparte was born on 15 August in Corsica and died on 5 May on the remote Atlantic island of St. Helena (see below), where he had been imprisoned by the British after his defeat in Waterloo. He was one of Berlioz's heros. In 1830s he wrote a poem on the death of Napoleon in his sketchbook, but he never composed the music. Later he composed Le Cinq Mai, to a poem by Pierre-Jean de, which was performed on 22 November 1835 at the Paris Conservatoire, conducted by Girard.
The above postcard from our collection reproduces a painting by Baron François Gérard (1770-1837) that shows the emperor in his coronation costume, in 1805.
Napoleon on the battlefield
Our early 20th century postcard reproduces a contemporaneous engraving of Napoleon in army uniform.
Napoleon Bonaparte's Tomb at Longwood on St Helena
The Moniteur of 10 June 1858 announced that the ownership of Longwood and the Emperor's Tomb had as of then been conceded by Britain to France. The remains of the emperor had already been transferred to France and reburied in the Invalides in December 1840. To mark the occasion Berlioz had included Le Cinq mai in his concert of 13 December, now with the subtitle Chant sur la mort de l'Empereur Napoléon.
The above picture is from an 1858 issue of L'Illustration in our own collection.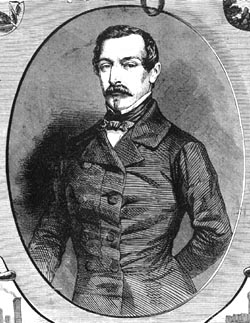 Louis Napoleon Bonaparte (1808–1873)
This picture, from an 1848 issue of L'Illustration in our collection, shows Louis Napoleon Bonaparte as the president of the short-lived republic (1848-1852). He had been elected on 10 December 1848. Four years later, on 2 December 1852, the regime reverted to monarchy and the Empire was proclaimed in the Hôtel de Ville (Town Hall). The Prince-President became Emperor Napoleon III (see also below), and ruled the country in that role from 1852 to 1870. He died on 9 January 1873 in exile in England .
Louis Napoleon Bonaparte, as Emperor Napoleon III
The above picture, from an 1853 issue of L'Illustration in our collection, shows the Emperor and Empress Eugénie on their wedding day on 30 January 1853.
Empress Eugénie
The above painting is by Franz-Xavier Winterhalter (1805-1873). The image is courtesy of the Grand Ladies website.
Berlioz dedicated his Cantata L'Impériale to Napoleon III; it was first performed on 15 November 1855 at the Palais de l'Industrie, conducted by Berlioz himself. The concert was organised by Berlioz on the emperor's suggestion.
Berlioz often commented in his letters on the emperor's lack of interest in music. His unsuccessful attempt to get Louis Napoleon to read the libretto of Les Troyens and support its production at the Paris Opéra in the 1860s was particularly frustrating. His magnificent opera was eventually premièred on 4 November 1863, in a truncated version, in the small and ill-equipped Théâtre-Lyrique.
Berlioz's ironic reference to the emperor in an 1857 letter to his sister Adèle, in connection with one of his concerts in Baden-Baden, is telling (CG no. 2238):
[…] From time to time I get news from Baden-Baden; our concert is being prepared and is promising. This year I want to devote special care to this musical festival; it has to be magnificent. I have included in the programme, among other pieces, the Judex crederis from my Te Deum, and I will not be able to rest until I have heard a rehearsal by my choristers. I have no worries about the orchestra for this immense piece, probably the most formidable I have ever written, but the vocal part needs to performed in grand style. I am thirsting for music; when I get to Baden-Baden I will immerse myself in it and drink it through every pore. I do not know whether we will have the Duke of Baden-Baden and his young fairy, nor whether the Princess of Prussia will be coming. I will meet again in Baden-Baden numerous friends and acquaintances from Paris. We will resume our pleasure outings (!!!) to the Old Castle and elsewhere, our excursions in the forests of fir, though I will not have much time to hang about. Bénazet wants to do things royally for this concert (I do not say imperially, you know how much our Emperor loves music). It will cost a fortune, and will be beautiful. […]

© (unless otherwise stated) Monir Tayeb and Michel Austin for all the texts and images on Berlioz Photo Album pages.
All rights of reproduction reserved.

Photo Album main page