Berlioz Photo Album : Royalty and nobility (2)
Unless otherwise stated all pictures on Berlioz Photos pages have been scanned from engravings, paintings, postcards and other publications in our own collection. All rights of reproduction reserved.
Queen Victoria in 1843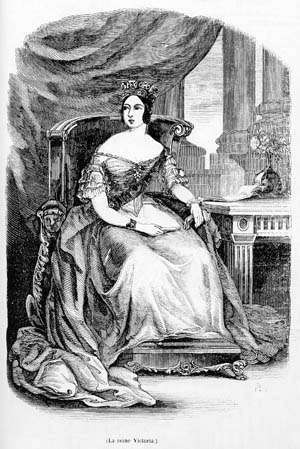 Queen Victoria (1819-1901)
Prince Albert, Queen Victoria's Consort in 1843
Prince Albert (1819-1861)
Queen Victoria and Prince Albert, and the blind King and the Queen of Hanover, were present at the performance of Benvenuto Cellini on Saturday 25 June 1853 at Covent Garden, London, and at the Bonn celebrations mentioned in previous page.
The above two images have been scanned from an 1843 issue of L'Illustration in our own collection.
Carl Alexander, the Grand-Duke of Saxe-Weimar
(1818-1901)
Princess Wilhelmine Marie Sophie Louise of the Netherlands,
the Grand-Duchess of Saxe-Weimar (1824-1897)
The Grand-Duke Carl Friedrich of Saxe-Weimar and his wife Grand-Duchesses Maria Pavlovna were ardent admirers of Berlioz and his music. Their son and successor Grand-Duke Carl Alexander and his wife, pictured above, followed their example with equal fervor. The ducal family repeatedly entertained Berlioz at their palace and supported and encouraged performances of his music in Weimar, under both Berlioz's and Liszt's direction. For full detail of Berlioz's relationship with Weimar in general and the ducal family in particular see our Berlioz in Weimar page.
The above two images have been scanned from an 1857 issue of the Illustrated London News in our own collection.

© (unless otherwise stated) Monir Tayeb and Michel Austin for all the texts and images on Berlioz Photo Album pages.
All rights of reproduction reserved.

Photo Album main page