Berlioz Photo Album : Friends and acquaintances (5)
Unless otherwise stated all pictures on Berlioz Photos pages have been scanned from engravings, paintings, postcards and other publications in our own collection. All rights of reproduction reserved.
Alexandrine-Caroline Branchu (1780-1850)
Madame Branchu was the leading soprano at the Paris Opéra for most of the first quarter of the 19th century. Berlioz met her quite often in his student days and her superb declamation in Gluck's operas made a profound impression on him. Berlioz wrote extensively in his A Travers Chants about Madame Branchu and her art. She may well have been in Berlioz's mind when in the late 1850s he wrote the roles of Cassandre and Didon, the major female parts of his epic opera Les Troyens.
Mademoiselle Duchesnois (1777-1835)
Mademoiselle Duchesnois was famous in her day as an actress in Paris; she joined the Comédie Française in 1802 where she stayed until her retirement in 1829. She was an acquaintance of her fellow-actress Harriet Smithson, whom she may have met in the autumn of 1827 when Harriet Smithson gave a series of performances (in English) at the Comédie Française of Rowe's Jane Shore. Extant is an autograph letter of Harriet Smithson to her dated 11 July 1828 in which she asks for tickets for a performance that evening (possibly at the Comédie Française). Later, on 2 April 1833, Mademoiselle Duchesnois was one of several actors, actresses and musicians who participated in a benefit performance for Harriet Smithson, as mentioned by Berlioz in his Mémoires (chapter 45) and in a letter to his sister Adèle written the day after (CG no. 332).
The above picture is from the Bibliothèque nationale de France.
Adelina Patti (1843-1919)
Adelina Patti was a prodigious soprano whom Berlioz knew very well. Her parents were of Italian origin and her two sisters were also opera singers.
The above engraving shows her in 1864, as published in the French newspaper L'Univers Illustrè in November that year.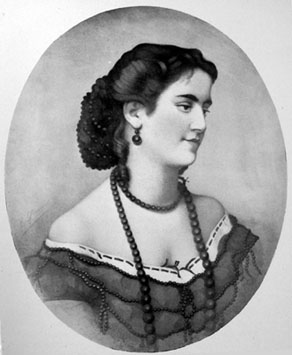 Adelina Patti (1843-1919)
Patti autographed this portrait in 1867 for James Davison; it was subsequently published in the latter's Memoirs posthumously compiled by his son.
Adelina Patti (1843-1919)
Patti autographed this portrait as a souvenir of the concert she gave for Wilhelm Ganz's benefit on 1 June 1911; Ganz later published it in his Memoirs.
Adelina Patti's home in Wales
Patti owned a country house in Powys, Wales which she had it turned into a Gothic castle with a 150-seat theatre, and named it Craig-y-Nos [the Rock of Night]. The castle is now a hotel.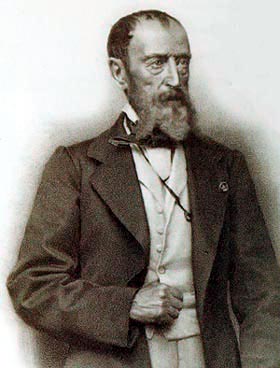 Horace Vernet (1789-1863)
Vernet was the director of the French Academy in the Villa Medici in Rome at the time Berlioz was in Italy as a Prix de Rome Laureate.
The picture is courtesy of H Berlioz, épisodes de la vie d'un artiste (Grenoble, Glénat / Musée Hector Berlioz, 2003), edited by Madame Chantal Spillemaecker, former direcotor of the musée Hector-Berlioz; we are most grateful to her.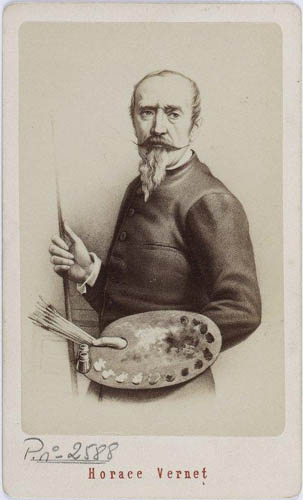 The photo on this carte-de-visite is by Etienne Neurdein (1832-1918); the image is reproduced here courtesy of the Bibliothèque nationale de France, Paris.
Horace Vernet
A copy of this cartoon by Vernet himself is in the Bibliothèque nationale de France.

Mademoiselle Louise Vernet (1814-1845)
Mademoiselle Vernet was Horace Vernet's daughter; Berlioz dedicated to her La Captive, which he composed in Subiaco in Italy.
Adolphe Sax (1814-1894)
Berlioz was an ardent supporter of Sax's new wind instruments and his improvements to existing wind families. He was the first to write for the saxophone (Le Chant Sacré, 1844 arrangement). The soprano saxhorn has prominent parts in the Te Deum and Les Troyens.

© (unless otherwise stated) Monir Tayeb and Michel Austin for all the texts and images on Berlioz Photo Album pages.
All rights of reproduction reserved.

Photo Album main page