Berlioz Photo Album : Royalty and nobility (4)
Russia
Unless otherwise stated all pictures on Berlioz Photos pages have been scanned from engravings, paintings, postcards and other publications in our own collection. All rights of reproduction reserved.
This page contains portraits of the following: Tsar Nicholas I, Tsarina Alexandra Feodorovna, Tsar Alexander II, Tsarina Marie Alexandrovna, and Grand-Duchess Elena Pavlovna
Tsar Nicholas I
Nicholas I (Nikolai Pavlovich) Emperor of Russia
(1796-1855)
Nicholas Pavlovich Romanov, Tsar of Russia, was the third son of Emperor Paul I Petrovich Romanov and his second wife, Maria Sophie Feodorovna Von Wurttemberg. The above picture was published on the front page of the Illustrated London News, 10 March 1855 on the occasion of the Tsar's death on 18 February 1855. Three related articles also appeared in the same issue of the ILN, which is in our collection.
Russia entered Berlioz's musical horizon rather later than did Italy, Germany and England, and the first steps came not from Berlioz but from the Russian side. In May 1841 Heinrich Romberg put on a performance of the Requiem in St Petersburg on his own initiative, the first since its première in Paris on 5 December 1837. Then two years later the Gazette musicale reported (13 August 1843) that Tsar Nicholas I had approached Berlioz with a request that he should make an arrangement of plainchants from the Greek Orthodox Church for quadruple choir. Nothing further is known of this commission, nor of any work that Berlioz may have done on it (see Tiersot, Le Ménestrel 11 February 1906, p. 44). The following year Berlioz met the composer Glinka in Paris (whom he had previously seen in Rome in 1831), and went on to promote his music in his concerts and in an article in the Journal des Débats. By April 1845 if not earlier Berlioz was now intent on travelling to Russia for a concert tour (letter of his uncle Marmion, 25 April; CG nos. 962, 986). It is presumably in this context that Berlioz offered to Tsar Nicholas I to dedicate to him the full score of the Symphonie fantastique which he was now publishing, and the Tsar accepted (CG no. 1094). The following year he sent Berlioz a diamond-incrusted ring, no doubt as an acknowledgement (CG no. 1034)
The story of Berlioz's two travels to Russia, in 1847 and in 1867-8, is traced in detail in the page on Berlioz and Russia (with its companion pages on St Petersburg, Moscow, and Berlioz's Russian friends and acquaintances). The first trip was very successful, though the Tsar himself was unwell and unable to attend Berlioz's concerts (CG nos. 1100, 1101; see below for the Tsarina). There was talk at St Petersburg of giving Berlioz an important musical position at the imperial court, but for all the general goodwill the Tsar, on whom everything depended, lacked commitment to the project, and it came to nothing (CG nos. 1106, 1134bis, 1170). 'I will never forget the welcome I received from Russian society in general, and from you in particular, nor the kindness shown to me by the Empress and the whole family of your great Emperor. What a pity that he does not like music!', Berlioz wrote to General Lvov in 1852 (CG no. 1443). It would be another twenty years before Berlioz returned to Russia.
The caption of this 1853 engraving, published in the Illustrated London News of 24 December of that year, reads: The Emperor of Russia, in his droshky (sledge), at St. Petersburg. This issue of the ILN is in our collection.
Tsarina Alexandra Feodorovna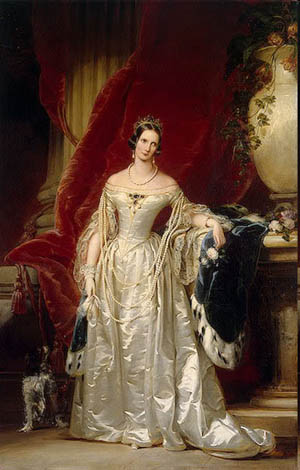 Alexandra Feodorovna, Empress of Russia
(1798-1860)
Born Princess Charlotte of Prussia, she was Tsar Nicholas I's wife and mother of Tsar Alexander II. The original copy of this painting is in the Hermitage Museum in St Petersburg.
Tsarina Alexandra Feodorovna played an important role in Berlioz's first trip to Russia in 1847. On his way to Russia via Berlin, Berlioz obtained a letter of introduction from the King of Prussia to the Tsarina, who happened to be his sister (Memoirs chapter 55), and this no doubt helps to account for the warm and generous reception that Berlioz received in St Petersburg at the imperial court. The Russian aristocracy was lavish in its praise for his concerts; the Tsarina herself was the most attentive and generous of all, and presented Berlioz with a diamond ring (CG nos. 1100, 1101, 1102, 1106).
Tsar Alexander II
Alexander II (Alexander Nikolaevich), Emperor of Russia
(1818-1881)
Tsar Alexander II Nikolaevich Romanov was the eldest son of Emperor Nicholas I; he came to the throne the day after his father's death.
Tsarina Marie Alexandrovna
Marie Alexandrovna (wife of Alexander II), Empress of Russia
(1824-1880)
The original portrait, dated 1857, is in the Hermitage Museum in St Petersburg.
Empress Marie Alexandrovna in 1869
The above picture is courtesy of the Rusarchives.
Grand-Duchess Elena Pavlovna
Grand-Duchess Elena Pavlovna (1807-1873)
The above engraving shows the Grand Duchess in 1830.
When in November 1867 Berlioz set out for his second tour of Russia, which turned out to be the last concert tour of his career, it was not at the invitation of the reigning Tsar or Tsarina, who seem in any case to have remained largely inconspicuous during his visit (they are apparently not mentioned in Berlioz's correspondence at the time, unlike their predecessors in 1847). The invitation proceeded from the Grand-Duchess Elena Pavlovna, sister-in-law of Tsar Nicholas and aunt of the reigning Tsar Alexander II. Of German origin, she had beem educated in Paris, spoke fluent French (like Tsarina Alexandra before), and was devoted to music. She may have been trying in previous years to entice Berlioz to Russia; in September 1867 she approached him in Paris with an offer of a concert tour so generous that Berlioz could hardly refuse (CG no. 3274, 3283). Berlioz had not actually met her during his first visit in 1847, but he had known of her for some time (she was one of the subscribers to the Te Deum in 1857). During his time in St Petersburg in 1867-8 Berlioz was lavishly housed in an apartment of the Grand-Duchess' own palace. A full account of his stay and of his relations with the Grand-Duchess is given in the page on St Petersburg and in the entry devoted to the Grand-Duchess. Berlioz remained in touch with her during the months after his return from Russia (CG nos. 3354, 3361, and 3364).
Grand Duchess Elena Pavlovna and her daughter Maria
The original copy of this 1830 oil on canvas painting is in the Russian Museum, St. Petersburg. The image reproduced above is courtesy of Olga's Gallery.
Grand Duchess Elena Pavlovna in 1862
The original copy of this portrait, by Franz Xavier Winterhalter, is in the Hermitage Museum in St Petersburg.

© (unless otherwise stated) Monir Tayeb and Michel Austin for all the texts and images on Berlioz Photo Album pages.
All rights of reproduction reserved.

Photo Album main page