BRUNSWICK
Contents of this page:
Introduction
1843
1846
1853
1854
Chronology
Brunswick past and present
This page is also available in French

Introduction
Berlioz visited Brunswick (Braunschweig) on four occasions, in 1843, 1846, 1853 and 1854 and gave altogether five concerts in the city; though not comparable in importance or resources to the major musical centres of Germany (Berlin, Dresden, Leipzig), Berlioz found in Brunswick an exceptionally warm and sympathetic reception from musicians as well as the general public.
March 1843
Even before his departure in December 1842 on his first trip to Germany Berlioz included Brunswick among his intended destinations (Correspondance Générale no. 791, hereafter CG for short). Although he did not know anyone there and was ignorant of local conditions, as he says in the Memoirs (Travels to Germany I, Letter 6), the city had previously been brought to his notice by one of its greatest musical assets – the Müller quartet, all of them brothers and members of a remarkable musical family settled in Brunswick since 1831. The quartet came to Paris in 1834 and again in 1837 to give concerts. Berlioz at the time commented admiringly on their excellence (Le Rénovateur, 23 February 1834; Critique musicale I p. 177) and writing to his friend Humbert Ferrand shortly after he mentioned 'the incredible quartet of the Müller brothers, who play Beethoven in a way hitherto unknown to us' (CG no. 384).
While his tour was progressing early in 1843 through Weimar, Dresden and Leipzig, Berlioz's projected visit to Berlin was delayed, as he reported in a letter to Joseph d'Ortigue on 28 February from Leipzig (CG no. 816):
[…] I have just received a letter from Meyerbeer who informs me that a celebration ordered by the king is delaying my rehearsals for a few days; he consequently advises me to go to Brunswick where I am expected and where the King Lear overture has already won me some warm supporters. The Müller brothers write that they will do their utmost to assist me. So I am going there. […]
The trip to Brunswick turned out to be one of the most rewarding of all Berlioz's travels. Within a few days of his arrival Berlioz was enthusiastic about the rehearsals, as he wrote to the cellist Desmarest (CG no. 817, 6 March):
[…] Here I am in Brunswick because of a ten-day delay in my concerts in Berlin. They have an outstanding orchestra, led by the four Müller brothers whose miraculous quartet you heard in Paris. I have just finished the first rehearsal, and the players have been warm and demonstrative in their applause, very much like the French. They threw off with panache the overture to Benvenuto Cellini and the whole of the Harold symphony, including the finale; but with the Queen Mab scherzo which is also in the programme, we have only been able to progress in small sections to the end. Tomorrow things will go better, and the day after better still, and by the 4th rehearsal nothing will be missing. […]
On the same day Berlioz wrote to Auguste Morel (CG no. 818):
[…] I am in the midst of rehearsals for the next concert in Brunswick, and this morning the orchestra received Harold and the overture to Benvenuto with furious applause. They made very heavy weather of the Queen Mab scherzo, but that is excusable for a first reading. But the orchestra is really wonderful, first rate and very strong, and I am confident of a superb performance; unfortunately they do not have a cor anglais and virtually no harp, which is a serious problem.
The elder Müller brother is playing the solo viola in Harold and the solo violin in the Romance. I am watching them for the pieces of the Requiem which we will only be rehearsing the day after tomorrow; in the meantime the chorus is rehearsing. […]
The concert took place on 9 March; a few days later, on 14 March, Berlioz wrote to his father (CG no. 820):
[…] I doubt I could obtain a greater success than what I achieved here. For a start the playing was marvellous, and the enthusiasm of both the public and the musicians exceeded all my dreams.
My scores of Romeo and the Requiem were crowned in the theatre; the Pilgrim's March was encored; they also asked for a movement from Romeo to be repeated, but it was too long and too risky for me to agree to play it again [probably the Queen Mab scherzo]. After the concert the orchestra came to invite me to a grand dinner which it was offering with the leading amateur musicians of the town. It was a brilliant gathering. I was showered again with hurrahs in choral style (in the harmonious manner of the Germans), poems in praise, toasts, and crowns.
The theatre was full and the takings exceeded by 48 thalers the highest figure previously achieved. But the ticket prices are so modest and cannot under any circumstances be raised, and as a result only 750 fr. were left as my share (I was sharing the takings with the director). The transport costs for my music are ruinous, and the whole weighs 500 pounds. Otherwise my trip would be fairly lucrative. Tomorrow I am off to Hamburg where they are expecting me, and from there I will go to Berlin where I have two concerts announced without expenses and with a guarantee of half of the takings. […]
The next day (15 March), just before departing for Hamburg, Berlioz wrote to the publisher Schlesinger in Berlin (CG no. 822):
[…] The success of the concert in Brunswick exceeded everything I had dreamed of. The musicians crowned my scores at the theatre, the public asked for three pieces to be repeated and after the concert the orchestra, joined by the principal amateur musicians of Brunswick offered me a magnificent dinner where I was showered with crowns, poems of praise and hurrahs with renewed warmth. It was a real frenzy.
May I score a quarter of this success in Berlin. […]
A much fuller account of the rehearsals and the concert was given by Berlioz a few months after his return to Paris, in the Journal des Débats on 23 September, which was later reproduced in his Memoirs under the heading Travels to Germany I, Letter 6.
During his visit to Brunswick Berlioz made the acquaintance of Robert Griepenkerl (1810-1868), a music critic and a francophile, who taught German language and literature in Brunswick. Berlioz found in him one of his most devoted supporters in Germany. Griepenkerl assisted during the stay in Brunswick and also helped in other German cities visited by Berlioz; on 6 May 1843 Griepenkerl made the trip to Hanover to hear a concert conducted by Berlioz there. He was similarly supportive during Berlioz's trip to Germany in 1846, then again repeatedly in the 1850s (Bremen, Gotha, Leipzig, Weimar). As a result of his visit to Brunswick in 1843 Berlioz started a correspondence with Griepenkerl which continued intermittently for years and can be followed down to 1856; nearly 20 letters of Berlioz to him are extant. You will find on this site a reproduction (with translation) of the autograph of one of these letters of Berlioz to Griepenkerl, written in Leipzig and dated 13 December 1853 (CG no. 1659).
On the occasion of Berlioz's visit in 1843 Griepenkerl published an influential pamphlet in praise of Berlioz and his music, Ritter Berlioz in Braunschweig (the title may be rendered as 'Sir Hector in Brunswick'); it was written in response to a critical article that had appeared in a Leipzig journal. A letter of Berlioz thanking Griepenkerl for his pamphlet is extant (CG no. 833, May 1843 [full text in vol. VIII]):
I have received the learned and sympathetic pamphlet you wrote about my compositions and my musical tendencies. A work such as this gives me confidence, and is all the more flattering as any reader can see from the opening lines that it emanates from a lofty spirit that is entirely free from prejudice. I believe no one until now has laid bare as you have done the causes of the ceaseless hostility of critics against me. Your chapter on honour is admirable, and, I think, entirely true. Your work has just been carefully translated into French for me, and I can now speak of it knowingly. […]
The following year Berlioz wrote to Griepenkerl with news of his latest activities in Paris (CG no. 915, 26 July 1844):
I am writing to you these few lines in the midst of a musical storm, but a storm I can ride and which, one must hope, will not shatter my ship. I have just organised the first Paris Festival; I have to conduct and instruct 500 choristers and 480 instrumental players. You can imagine the fever coursing through my bloodstream… but the newspapers will give you all the details. Just allow me to shake your hand and thank you from the bottom of my heart for your warm support. Nothing in the world can give me patience, strength and courage than the convergence between my ideas and a mind as distinguished as yours. A thousand thanks for everything you say and write about me. At the moment I cannot dispose of my Harold symphony, as it is owned by Schlesinger who is soon going to publish it. The Fantastic Symphony is engraved and would appear within a month if I had time to correct the proofs. I will try to send you soon my new overture Roman Carnival; it is a nice extravagance which scored an extravagant success this winter in Paris. […]
At the moment I am also publishing 2 volumes, which contain the account of my travels in Germany and Italy with various other pieces and stories. I will send them to you without delay if you tell me how I can make sure they reach you without fail.
Forgive the confusion of this letter, I have not slept for several nights, I have already directed seven sectional rehearsals and still have another ten or so to do before the large general rehearsal.
Be assured, dear Mr Griepenkerl, of the warm friendship you inspired in me from our very first meetings. I will never forget it. […]
The first concert of the Paris Festival which Berlioz refers to took place on 1 August 1844 at the Palais de l'Industrie; the Hymne à la France was premièred at this concert.
In March or April 1845 Berlioz wrote to Griepenkerl again (CG no. 955):
It is a long time since I have heard anything from you; I do not even know if you have the score of Roman Carnival and the two volumes I sent you through the agency of the publisher Brockhaus. What is happening in your dear city of Brunswick? Are you still involved in arguments with the learned professors of Leipzig? How touched I am by all the tokens of warm sympathy you give me! But do not let a whole year go by without writing to me. […]


April 1846
Berlioz's second major trip to Germany in 1845-1846 centred around Vienna and then Prague, with excursions to Budapest and Breslau. Brunswick did not figure at first in Berlioz's projected itinerary, and it was apparently through the insistence of his friends and supporters in Brunswick that Berlioz was persuaded to make a visit there, at the very end of his trip and just before his return to Paris. Planning had started by early in 1846, as emerges from an allusion in a letter to Joseph d'Ortigue on 27 January (CG no. 1017):
[…] After Pesth I will go to Breslau where three concerts are also being arranged for me, then pay a visit to Brunswick to see our friends of 1843 who were no less warm in their support, and let them hear the Fantastic Symphony which they do not know. […]
Planning moved ahead while Berlioz was in Breslau, as shown by a letter to Griepenkerl dated 10 March (CG no. 1027, cf. 1026, 1029):
It was only the day before yesterday that I received the letter from M. Zinkeisen [a violinist in the Brunswick orchestra, mentioned in the Memoirs; cf. CG no. 1693]; I am only replying to you this evening because I had to conclude my arrangements with Prague. So I thank you with all my heart, together with Messrs. Müller and those of your friends who take an interest in my concerts, for all the trouble you are taking in organising for me a musical event in a hall separate from the theatre. I authorise, indeed I request you to prepare everything for the middle of April, for the 17th or 18th at the latest, since I must absolutely be able to leave for Paris on the 20th. […]
I leave it to the good offices of Messrs. Müller to assemble the same orchestra that I had the honour of conducting once; I could not wish for a better one. Please announce in the course of next week the attached programme, with date, time and venue. […]
Back in Prague Berlioz wrote again to Griepenkerl (CG no. 1031, 1 April; cf. 1032bis [in vol. VIII], 1034):
I have no doubt that you will arrange everything for the best, and for the preparations and organisation of the concert I have full confidence in your friendship. […] I will depart on the 16th and cannot arrive in Brunswick till the 19th. The concert must therefore be postponed till the 23rd or 24th so that we have time to rehearse. I am so anxious to introduce you to the Fantastic Symphony of which you have NO IDEA that I would very much like to rehearse it with great care. Please choose the orchestra carefully and especially make sure I have good wind-players and 4 GOOD timpanists. Find out whether it is possible to have 2 trombones in B flat, since if the 2nd and 3rd trombones are in F (as I have often found in Germany), they will not be able to play these two notes:

which produce a tremendous effect in the March to the Scaffold and for which there is no other adequate substitute. Tenor trombones in B flat are required to play them, or bass trombones in E flat, but these are extremely rare. […]
No letters survive dating from Berlioz's stay in Brunswick in 1846; the Memoirs do not mention his concert there, and the only reference to it comes from a letter of Berlioz to J.-F. Kittl in Prague once he was back in Paris (CG no. 1041, 6 May).
After his return to Paris Berlioz wrote again to Griepenkerl with news of his activities (CG no. 1044bis, 29 June), but thereafter there was an interruption of several years in their correspondence and indeed in Berlioz's relations with Germany as a consequence of the revolutions of 1848.


October 1853
It was thanks to Liszt and his activities in Weimar that Berlioz was prompted to return to Germany after an interval of many years; his visit to Weimar in November 1852 was to be the first in a series of annual trips to several German cities down to 1856. While in Weimar Berlioz met again Griepenkerl who had come to attend his concert (CG vol. IV p. 272 n. 1). Plans may have been discussed then or in the following months to invite Berlioz back to Brunswick, though it was only in late August 1853, on his return to Paris from concerts in Baden-Baden and Frankfurt, that Berlioz received an invitation to give concerts in Hanover and in Brunswick in October (CG nos. 1630, 1648 [vol. VIII]). The concerts in Hanover had to be postponed till November, but after discussion those in Brunswick went ahead as planned (CG nos. 1629, 1631, 1632). Two days before his departure from Paris Berlioz wrote to his sister Adèle (CG no. 1633, 10 October; cf. 1634):
I am leaving for Brunswick the day after tomorrow. Unlike Hanover, the theatre there was not able to postpone my concerts for a month. So I must go and fulfill my commitments. […] Farewell, I am looking forward to seeing again those excellent musicians from Brunswick and that enthusiastic public, which always gives me such a warm welcome. […]
The two concerts on 22 and 25 October marked the high point of his popularity in Brunswick, and Berlioz was moved to write at length to the publisher Brandus the day after the second concert (CG no. 1636; cf. 1638-40):
Here is as cold an account of my concerts in Brunswick as I am able to write.
Both took place before a capacity audience, and from the eve of the first all seats were sold out. The orchestral playing was of surpassing beauty and had a verve that cannot be fairly compared to that of any other orchestra known to me. This Brunswick orchestra is prodigious, when it wants to. And with me it always does. Actually my second concert was a benefit for the fund for the widows and orphans of the musicians, an institution that has been given my name. We played excerpts from the four acts of Faust, three pieces from Romeo and Juliet, the King Lear overture, Harold, the Repose of the Holy Family, very well sung in German by Schmetzer and which has won me every devout heart. The most effective pieces were the Ballet of the Will-o'-the Wisps from Faust, a piece that is not known in Paris, Marguerite's Romance and the Feast at the Capulets from Romeo and Juliet. As for the Hungarian March, the chorus of the Sylphs and the Queen Mab scherzo, they never fail to bring the house down everywhere.
I was treated at the Deutsches Haus [the hotel where he stayed] to a dinner for a hundred guests, in the presence of the Duke's ministers, all the musicians, men of letters and leading amateurs of the city. Yesterday the orchestra came to present me with a silver-gilt conductor's baton; Georg Müller offered it to me in the name of the musicians and in their presence.
The day before I had gone to a public park where is the hall of the Weissen Rosses [the White Horse] (forgive my German spelling) in which they give inexpensive popular concerts. They had announced on the programme my overture Roman Carnival, and I was curious to hear how it would go. The performance was excellent and very lively, unlike the way the piece is usually played. The public clamoured for an encore, and the overture was repeated. A few musicians then spotted me in the gallery, and the whole orchestra started to play fanfares, the women waved their handkerchiefs, and the men shouted their applause.
I was forced to get up and to greet the public from the top of the gallery, like a Tenor God from the height of his throne. In short the city of Brunswick is overwhelming me with attention; I have on my table all kinds of crowns I found yesterday evening on returning home, and which were placed after the concert on my stand in the orchestra.
Joachim came from Hanover and scored a magnificent success in yesterday's concert when he played a violin concerto and a Paganini caprice; he has magnificent talent. […]
In a letter to Liszt the same day (26 October) Berlioz writes (CG no. 1637):
[…] Yesterday the second concert took place; I was giving it for the benefit of the Widows Fund of the orchestra, and we also had a 4 hour rehearsal in the morning.
Everything went miraculously well at the first and second concerts; on both occasions the hall was completely full, then a dinner, an encrusted baton offered by the orchestra, etc., incomparable enthusiasm from the public, marvellous playing. If you thought the Brunswick musicians were rather sleepy they have promptly woken up.
The excellent Joachim came to play two pieces in yesterday's concert and he scored a great success; I am delighted to have provided this good fortune to music lovers in Brunswick who did not know him.
The piece of the Wills-o'-the-Wisps in Faust caused a real sensation here, but as for the Serenade of Mephistopheles which followed you almost had to guess it, so respectable and church-like was the performance by the singer.
On the other hand Schmetzer sang well twice, in German, his piece on The Holy Family at Rest, and Melle Hedwige, a pupil of Mme Schmetzer, sang intelligently and with feeling the part of Marguerite which I had given her, though her voice lacks the lower notes which are essential in this scene.
As for the pieces from Romeo and Juliet and Harold, they were dispatched with a fury which I had not seen before. In two rehearsals (which is all we had for these pieces) I had managed to break up the rhythmic articulations which usually retain a stiffness that is particularly incompatible with the style of the Festivities at the Capulets. As you can imagine, Griepenkerl is radiant. […]
From Hanover where he went next Berlioz wrote to Jules Janin (CG no. 1644, 10 November; cf. 1651, 1653):
[…] In Brunswick, at the exit from the theatre, the ladies were kissing my hands, and one of them said with a naiveté which is hardly flattering for the man (if he had any extra-musical pretensions): it is not love, it is admiration! Then the musicians invited me to a huge dinner attended by every person of distinction in Brunswick in whatever field, as well as the Duke's ministers. They presented me with a splendid baton of silver, gold and gems, and founded a charitable institution for the widows of musicians, which they named after me, under the pretext of a concert I had given for their benefit. Then on a Sunday, in a park, where the Roman Carnival overture was being performed in a popular concert, I had an unexpected and very amusing ovation from this public who pay a few pennies for a ticket. Several music-lovers from Brunswick, who did not yet have their fill of Faust, came to Hanover the day before yesterday to attend the evening concert. Railways facilitate these musical excursions. […]
It was during his stay in Brunswick in October 1853 that Berlioz made an excursion on foot to the Harz mountains to the south of the city (it will be recalled that Berlioz located the imaginary city of Euphonia, that was dedicated to the cult of music, 'on the slopes of the Harz'). He was much impressed by the scenery, no doubt in part because of its connections with the Faust legend (it was in Brunswick in 1828 that the first performance of Part I of Goethe's Faust took place). As Berlioz relates to his friend Humbert Ferrand the following month, in words that recall not coincidentally the Invocation to nature in the Damnation of Faust (CG no. 1648):
[…] I thought a great deal about you three weeks ago, during an excursion I made on foot to the Harz mountains (the setting of the sabbath scene in Faust). I have never seen anything so beautiful; what mountains! what torrents! what rocks! These are the ruins of a world… I was looking for you and missed you on these poetic summits. I must admit that I was choking with emotion. […]
Also during the same stay Berlioz met the exceptionally engaging figure of Baron von Donop, the chamberlain to the Prince of Lippe-Detmold. Von Donop had made the trip from Detmold specially to hear Berlioz's music, and Berlioz was immediately drawn to him (CG no. 1650, 16 November, from Hanover):
[…] Allow me, Sir, to thank you and assure you that nothing can give me greater courage to face the countless labours of my work as a pioneer than the support of someone such as you. In truth, men who have an intelligent passion for art, that is free from prejudice and completely pure, are rare indeed and you are one of these. […] (Berlioz then outlines the difficulties he has had to face in his musical career) […]
If I allow myself to talk of details that are only of interest to me, it is to answer the reproach implied in some of the words you spoke in our conversation, when I had the honour of seeing you in Brunswick. You were telling me of new works which I ought to undertake. Alas, Sir, I believe I could make much better use of my energy by getting my existing scores to be known as completely as possible, rather than abandoning them to the vagaries of musical life and providing them with sisters whose early steps I would not be able to protect. I know only too well what happens to music of a rather independent kind when left to the hands of the incompetent or the indifferent. […]
Von Donop subsequently proved to be one of the most devoted and perceptive of Berlioz's German admirers (CG no. 2070), and took an active interest in Berlioz's compositions which he knew in intimate detail. He was one of those who urged Berlioz to undertake the writing of The Trojans (CG nos. 2146, 2320) and kept an active correspondence with the composer till at least 1858 (CG nos. 1682, 1716, 1882, 2320).


April 1854
The success of the concerts in October 1853 raised the presumption of a return visit the following year. Writing to his sister Adèle Berlioz mentioned plans for a three-day festival in Brunswick in May 1854 when the Requiem and Te Deum, unknown as a whole to German audiences (the Te Deum had yet to receive its first performance), were to be performed (CG no. 1669, 17 & 19 December 1853, cf. 1671). Preparations for this were actually started: Berlioz sent parts for the Requiem ahead to Griepenkerl, though one parcel seemingly went astray (CG no. 1693, 21 January 1854). Thereafter the project is no longer mentioned in the composer's correspondence, for whatever reason (the projected festival would certainly have stretched the musical resources of Brunswick). By the time a visit to Brunswick is mentioned again, at the end of March when Berlioz was in Hanover and about to depart for Brunswick, there is only mention of a participation by Berlioz in a concert to be given by Karl Müller, the leader of the orchestra, not of a concert entirely conducted by Berlioz (CG nos. 1716, 1717, 1720 [VIII], 1725).
On 4 April, two days after arriving in Brunswick, Berlioz wrote to his uncle Félix Marmion (CG no. 1726):
[…] I am here in answer to an invitation addressed to me by the Kapellmeister Karl Müller (the leader of the celebrated quartet). He is giving a concert next Saturday and I have promised to provide and conduct three pieces. All these people in Brunswick, players and music-lovers, have so often overwhelmed me with marks of esteem and displays of enthusiasm that I could not resist the pleasure of going out of my way to the Duchy of Brunswick. […]
The most important piece Berlioz was to conduct was the Corsair overture, in its revised and as yet unperformed version. Berlioz wrote on the same day to Liszt (CG no. 1725, 4th April):
[…] We are going to try out here an overture I have never heard, that to The Corsair. But the number of violins will not be sufficient. […]
Soon after the performance Berlioz wrote to his friend James Davison in London, the dedicatee of the overture (CG no. 1730):
[…] We have just performed for the first time in Brunswick your overture to The Corsair, which went very well and made a great impact. With a large orchestra and a conductor with an iron grip to direct it, this piece has got to come across with a certain swagger. […]
Berlioz's reference to 'a large orchestra' should be compared with the comment in the letter to Liszt.
Back in Paris Berlioz expected to return to Brunswick in September, as he mentioned to his sister Adèle (CG no. 1756). But nothing happened, and the visit of 1854 was the last occasion on which Berlioz came to Brunswick. The following year saw the departure of the Müller quartet, which for years had been the backbone of the city's musical life. Berlioz remained in touch with Griepenkerl for some time – Griepenkerl played an important part in introducing Berlioz to Gotha where he gave a concert in 1856. But after 1856 their correspondence seems to have come to an end (cf. CG no. 2090, the last preserved letter). There may conceivably have been some slackening in their friendship. In a letter to Adolphe Samuel Berlioz confides that Griepenkerl had reservations about the portrayal of Marguerite in Faust, which he found 'insufficiently German' and 'too passionate' (CG no. 2070, 22 December 1855). There is also a curiously disparaging reference to Griepenkerl in a letter of Liszt to Berlioz, dated 18 March 1856 (CG no. 2109, from Weimar):
[…] Since your departure nothing of note has happened here apart from the lecture by Griepenkerl which was shallow and lacking in depth. He was careful enough not to name you and merely made a few pinpricks at the expense of programme music!
Besides he continues at the Russia Hotel to hunt for a certain bird which does not seem to want to settle on him; but, as the proverb says, 'patience and time achieve more than force and anger!' […]
Be that as it may, the end of Berlioz's regular visits to Germany after 1856 (with the exception of Baden-Baden) will have brought about a loss of momentum in his personal links with many of his German friends. His correspondence with Baron von Donop continued till 1858 (CG no. 2320), and in June 1856 von Donop was one of those who wrote to Berlioz to congratulate him on his election to the Institut (CG no. 2146). In this connection a letter to Theodore Steinway, dated 28 August 1856 from Plombières, gives an interesting sidelight on Berlioz's relations with Brunswick (CG no. 2166):
Your letter, which was forwarded to me from Paris, caused me genuine joy. I am always very happy to see how my friends share in what affects me, but the congratulations from the artists of Brunswick are particularly dear to me. I will never forget how cordially they have so often received and supported me; please convey this to them on my behalf and thank them. […]
As for Griepenkerl, his name makes one final and belated appearance in Berlioz's correspondence. In a letter of 12 March 1866, Louis Berlioz writes to his father (CG no. 3114):
[…] I read yesterday a little book published in Brunswick and concerning a concert you gave in that city on 9 March 1843. The name of the author is Griepenkerl. I had never read this defence, and I found there some very interesting details. […]


Chronology
1843
ca 1 March: Berlioz arrives in Brunswick, coming from Leipzig
9 March: concert conducted by Berlioz in the Ducal Theatre, including Harold in Italy (with Karl Müller as solo viola), the Benvenuto Cellini overture, the Feast at the Capulets and Queen Mab scherzo from Romeo and Juliet, the Rêverie et caprice for violin and orchestra (played by Karl Müller), Absence and La belle voyageuse sung by Marie Recio, and the Offertorium and Quaerens me of the Requiem
ca 15 March: Berlioz departs for Hamburg
1846
21 April: Berlioz arrives in Brunswick, coming from Prague
24 April: concert conducted by Berlioz in the Ducal Theatre, including the overture Roman Carnival, the boléro Zaïde (sung by Mme Fischer-Achten), the 2nd movement of Harold in Italy, the song Le chasseur danois (sung by Fischer), and the complete Fantastic Symphony
towards the end of the month: Berlioz departs for Paris
1853
14 October: Berlioz arrives in Brunswick from Paris
22 October: first concert conducted by Berlioz at the Ducal Theatre, including excerpts from the Damnation of Faust, Romeo and Juliet, Harold in Italy, and The Repose of the Holy Family from The Childhood of Christ
22 or 23 October: dinner in honour of Berlioz at the Deutsches Haus
24 October: Berlioz hears a performance of the Roman Carnival overture at a popular concert by a small orchestra; the work is encored
25 October: second concert conducted by Berlioz, including the King Lear overture and Harold in Italy; the young Joseph Joachim comes from Hanover to perform a violin concerto and a Paganini caprice; the concert was for the benefit of widows and orphans of musicians (the foundation was named after Berlioz). The conductor Georg Müller offers Berlioz an incrusted baton
28 October: Berlioz departs for Hanover
1854
2 April: Berlioz leaves Hanover for Brunswick
8 April: during a concert under Karl Müller in the Ducal Theatre Berlioz conducts the first performance of the revised version of the overture The Corsair (it was never performed by Berlioz in France)
10 April: Berlioz arrives in Dresden coming from Brunswick


Brunswick past and present
We are indebted to our friend Pepijn van Doesburg for much of the following information concerning the city of Brunswick and its buildings, and for the photos which are reproduced below.
Brunswick has suffered considerably from the ravages of time and war: large parts of the old town were destroyed during World War II, and almost nothing survives of the buildings associated with Berlioz's visits. Some streets are still lined by the original half-timbered houses and give an idea of what the city must have looked like in Berlioz's time.
The palace of the Duke of Brunswick (Braunschweiger Schloss)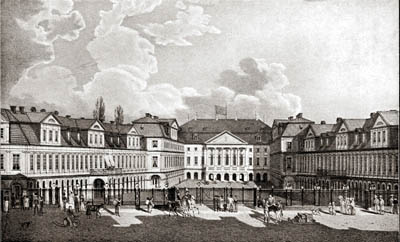 This engraving is in the public domain.
The Deutsches Haus in 1897
The Deutsches Haus, now called Ringhotel Deutsches Haus, is located at No.1 Ruhfäutchenplatz in Brunswick's historic city centre. It has been rebuilt a couple of times since the 18th century but is said to incorporate parts of the original building even today.
We are most grateful to our friend John Ahouse for this information.
The above picture is in the public domain.

Ölschlägern
Ölschlägern is not far from the Schlosspark where the palace of the duke of Brunswick once stood.
The site of palace of the Duke of Brunswick
The palace of the Duke of Brunswick was damaged during World War II and finally sadly demolished in 1960. Today the place is occupied by the Schlosspark (Palace Park). In July 2003 the city council of Brunswick passed a resolution to construct an Early Childhood Education Centre in the Schlosspark. The building is to have a façade like the old Brunswick Palace (Braunschweiger Schloss), re-using some original material stored after the demolition. By September 2006 the reconstruction was in an advanced state.
The present Hagenmarkt, site of the theatre where Berlioz gave his concerts
In the Middle Ages the town consisted of several quarters, each with its own local government (Altstadt, Hagen, Altewick, Neustadt and Sack). In 1689/90, after Brunswick finally got its central government, the former Rathaus ('town hall') and Gewandhaus ('cloth hall') of the Hagen quarter were converted into a theatre by Landbaumeister Johann Balthasar Lauterbach. It was in this theatre that Berlioz gave his Brunswick concerts on 9 March 1843, 24 April 1846, 22 and 25 October 1853 and 8 April 1854. The theatre closed in 1861, when it was replaced by the new Staatstheater. It was subsequently demolished. The photo shows today's Hagenmarkt; the theatre was located at the spot where nowadays cars and tramways circulate (foreground).
The Staatstheater, built in 1859-61, restored in 1945-48
The new Staatstheater, built in 1859-61 by architects Carl Wolf and Heinrich Ahlburg, replaced the old court theatre at the Hagenmarkt. It was restored in 1945-48, after damage in World War II. Berlioz never knew this building, as his last visit to Brunswick took place in 1854.
Also in 1853 Berlioz attended a performance of the overture Roman Carnival at the hall of the White Horse ; we are uncertain about the location of this building and whether it is still extant.


The Berlioz in Brunswick page was created on 1 February 2005 and enlarged on 1 December 2009.
© (unless otherwise stated) Michel Austin and Monir Tayeb for text; Pepijn van Doesburg for photos.

Back to Berlioz in Germany