4 rue de Calais
Introduction
Berlioz's servants
Illustrations
This page is also available in French

Introduction
Within months of settling at 17 rue de Vintimille Berlioz was on the lookout for a new and more spacious flat, which he found nearby at 4 rue de Calais, on the 4th floor. In a letter dated 23 October 1856 he informs his brother-in-law Camille Pal of his change of address (CG no. 2180); this places the move around the middle of the month or shortly after, since the last dated letter from rue de Vintimille was of 8 October (CG no. 2178). This was to be his final address, and he stayed there longer than in any of his previous flats in Paris. Though larger than his previous accommodation, 4 rue de Calais was still too cramped for his needs, as became painfully obvious whenever his son Louis came to visit him in Paris. A letter to his brother-in-law Marc Suat illustrates this (CG no. 2260, 11 November 1857; cf. CG nos. 2123, 2125, 2655):
[…] Adèle's surprise that Louis does not have a bed of his own in my flat is particularly revealing. Is my sister really unaware of the kind of lodgings I have always had in Paris? Have I ever been in a position to rent a flat with an extra bedroom, in anticipation of a temporary stay of Louis with me? Does the flat which I occupy, and which is horribly expensive, allow me to sleep Louis elsewhere than in the sitting-room or in my study which is already cluttered? And then where will I entertain the numerous visitors who come here, and how can I find space to move and work in my study? […]
Apart from the problem of space, the building itself was structurally unsound. Like the block of flats at rue de Vintimille (CG no. 2116), the building at rue de Calais was new: it bears a plaque with the date 1856 and the name of the architect Lamy. But it transpired that in the rush to build which had been encouraged by the steep rise in housing costs in 1856, corners had been cut by landlords and builders alike. This emerges from a letter to Louis in 1862 (CG no. 2598, 16 March):
[…] Our house was on the point of collapsing, so badly was it built. The city architects stepped in and compelled the landlord to carry out vast repairs. In a few weeks we will be forced to move and have everything taken down to the second floor, which is being repaired at the moment; then we will have to move upstairs again. What a nuisance! And all without any indemnity or compensation of any kind. […]
When exactly the move to the lower floor took place is not clear, but it certainly lasted for several months till September (cf. CG no. 2655). It was in this intervening period that Marie Recio died suddenly of a heart attack on 13 June 1862, while staying with friends at Saint-Germain en Laye, not far from Paris (CG nos. 2613, 2615); her presence there may have been connected with the disruption at rue de Calais. Louis came to stay for a few days with Berlioz, and his friends rallied, but he now felt very lonely, as he wrote to Émile Deschamps (CG no. 2617, 19 June; cf. nos. 2621, 2626-8):
[…] Yes, the blow has been terrible. She was expecting this death, but I was very far from expecting it. I have no idea how I am now going to live the rest of my lonely life. My only hope lies in my friends. You have just demonstrated to me that I am right to count on them. […]
Although the move to the lower flat had taken place before the death of Marie Recio, it is not mentioned in any of the extant letters between April and August, and it is only in September, when after several months the repairs were nearly complete, that Berlioz referred to the disruption it had caused. On 21 September, he writes to Princess Sayn-Wittgenstein (CG no. 2651, cf. 2652):
Yes, I must seem to you very absent-minded and ungrateful; but you must understand — an enforced move, a house that is threatening to collapse, a grown-up lad of 28 [his son Louis] who is resigning and comes to stay with me until such time as he finds what he calls a position, a load of intolerable and costly problems, and intermittent bouts of my nervous illness; and then the composition of two scenes I have added to the second act of Béatrice, and also the fear of boring you… […]
A few days later, he writes to his brother-in-law Marc Suat concerning Marie Recio's bequest to his nieces (CG no. 2655, 26 September):
I have just sent you by rail a crate and a box which contain what my wife has bequeathed to my nieces. The confusion caused by not being properly settled in a flat which was undergoing repairs made it impossible for me to trace these various objects. Now I have settled back in my flat on the 4th floor and things are more or less under control. The box contains two little parcels of jewels. On each of them is written to whom it belongs. […]
Whatever the disadvantages of the flat, Berlioz did not contemplate any further move. It was therefore at rue de Calais that he completed his last major works, the operas Les Troyens and Béatrice et Bénédict (cf. CG no. 2651 cited above); the first rehearsals for Béatrice et Bénédict actually took place with the singers at rue de Calais in the early months of 1862 (CG nos. 2589, 2590, 2598). It was also at rue de Calais that Berlioz wrote his books Les Grotesques de la musique and À travers chants, and, on 1 January 1865, put the final touches to his Memoirs. A letter written in November 1867 from St Petersburg, in which he instructs his friend Berthold Damcke to fetch the score of Les Troyens from his study and send it to Russia, gives a glimpse of the inside of the flat (CG no. 3308).
Berlioz died at 4 rue de Calais on 8 March 1869. At his bedside were, among others, his faithful companion Pierre-Guillaume Schumann and his friend Ernest Reyer. The funeral service took place at the nearby Église de la Sainte-Trinité on 11 March and he was buried at Cimetière de Montmartre where his two wives Harriet Smithson and Marie Recio had preceded him. According to the terms of his will, all the furniture at rue de Calais went to his mother-in-law Mme Martin, while the printed scores in the wardrobe in his study went to Berthold Damcke, who was one of his testamentary executors; the other, Édouard Alexandre, received the batons he had been given by various German cities.
On 9 March 1869, the day after Berlioz's death, seals were placed on all his belongings in his flat at 4 rue de Calais: this was a normal legal procedure prior to drawing up an inventory of all his belongings for the purposes of assessing his inhertitance and implementing the terms of his will. The inventory was carried out in the weeks following the composer's death, and this exceptionally valuable document is extant in two different copies at the Hector Berlioz Museum at La Côte Saint-André. It gives a very detailed listing room by room of all the belongings of Berlioz at the time of his death: furniture, crockery, clothes, possessions of all kinds, papers etc. and thus a direct insight into his lifestyle in his Paris apartment.

Berlioz's servants
The inventory also provides indirectly information about the two persons, Caroline Scheuer and Pierre-Guillaume Schumann, who looked after him at the end of his life, and a few relevant excerpts are reproduced below. It is appropriate to conclude this page with a word about this devoted couple.
Caroline Scheuer had been in service with him from about 1860 (in July 1868 Berlioz stated she had been with him for 9 years [NL p. 666]), and in his will of 29 July 1867 Berlioz left her a modest pension for life of 300 francs a year (her yearly wages in Berlioz's service was according to the inventory 400 francs; for comparison Berlioz left to Estelle Fornier a pension for life of 1600 francs a year).
It is not known how long Pierre-Guillaume Schumann had been with Berlioz (he was not actually his 'servant' while Berlioz was alive, whereas Caroline Scheuer was). According to the inventory he had been at 4 rue de Calais for over a year before Berlioz's death, and may conceivably have been there for some time longer (this implies that Berlioz was happy to let him move in, even though it was only on 8 July 1868 that he and Caroline Scheuer were formally married, cf. NL p. 666). It is possible that he is the anonymous lodger who paid rent to Berlioz according to the autograph list of Berlioz's revenues for the year 1866, and perhaps also in the comparable list of 1868. But he was not formally in Berlioz's service and did not receive any wages. He is not mentioned either in the will of July 1867, nor in the codicil Berlioz added on 12 June 1868, which was for the benefit of his mother-in-law. At some point before Schumann moved in to rue de Calais, he and Caroline Scheuer presumably met, and they eventually married in July 1868 with Berlioz's blessing (NL loc. cit.). Berlioz evidently got to know and trust Schumann: he is probably the unnamed 'friend' who accompanied Berlioz on his last visit to Grenoble in August 1868 — 'without [his] help I cannot stand up. I cannot do without him', says Berlioz (CG no. 3371). It is possible that in Berlioz's last known letter of early 1869 there is an allusion to his concern for the future of the couple who were looking after him (CG no. 3381 in NL p. 670-1). It was Schumann who on the instructions of Berlioz carefully preserved his academician's dress and donated it to Ernest Reyer when the latter was eventually elected to the Institut himself. Schumann also played a key role at the time when the inventory of the contents of the flat was made: in between successive sessions of the inventory process, he acted as custodian of the seals placed on all the possessions. It is therefore sad to note that, according to his declaration in the inventory, Schumann had not received any payment since July 1868 when in practice, if not formally. he was doing services for Berlioz (Caroline Scheuer, who was employed as Berlioz's servant, did not receive her wages since January 1st 1869); but these were eventually settled by Berlioz's heirs.
Excerpts from the inventory (Bloom-Robert pp. 72-3)
M. Schumann the custodian of the seals declares that he was in M. Berlioz's house for over a year and that since the month of July 1868 he was as it were in the service of M. Berlioz, that the latter never paid to him any wages, and that the account must therefore be settled with his successors for the services he may have provided to M. Berlioz.
That Mme Caroline Scheuer his wife was in the service of M. Berlioz as cook with wages of 400 francs a year and that she has not received her wages since January 1st 1869. [...]
The parties involved declare that there are no other liabilities except those noted above, as M. Berlioz was in the habit of setling current expenses on a day-to-day basis.


Illustrations
All the modern photographs reproduced on this page were taken by Michel Austin in 2000; the old photo is in our own collection. © Monir Tayeb and Michel Austin. All rights of reproduction reserved.
Main entrance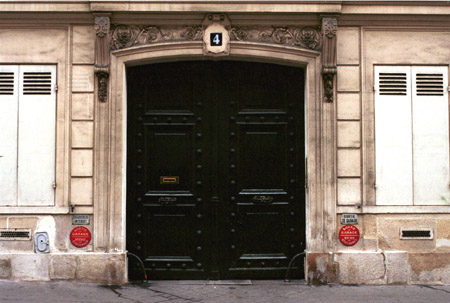 Façade
Courtyard
The commemorative plaque on the first floor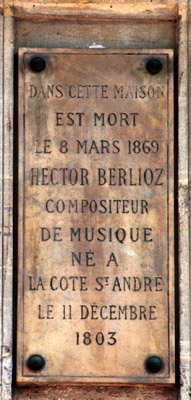 The rue de Calais from the top end
No. 4 is at the lower end, on the left, not far from rue Blanche, on the right.
No. 4 rue de Calais, from an old photograph
This photo is taken from Ernest Reyer, 'Hector Berlioz: Biographical notes and personal reminiscences', in The International Library of Music, 1925. New York: The University Society (in our collection). See also this site an earlier publication of the same article in 1893.


© Monir Tayeb and Michel Austin for all the pictures and information on this page.
Copyright notice: The texts, photos, images and musical scores on all pages of this site are covered by UK Law and International Law. All rights of publication or reproduction of this material in any form, including Web page use, are reserved. Their use without our explicit permission is illegal.
Back to Berlioz in Paris main page