Berlioz Photo Album : Friends and acquaintances in London
Unless otherwise stated all pictures on Berlioz Photos pages have been scanned from engravings, paintings, postcards and other publications in our own collection, including, on this page, the Memoirs of J W Davison (From Mendelssohn to Wagner, prepared by his son Henry Davison, London, 1912), W Ganz (Memories of a Musician, London, 1913) and C Hallé (Life and Letters of Sir Charles Hallé, prepared by his son C E Hallé and his daughter Marie Hallé, London, 1896, and THe Illustrated London News, 1849). All rights of reproduction reserved.
See also elsewhere on this site Berlioz in London and Berlioz in London: friends and acquaintances.
William Charles Macready (1793-1873)
The celebrated actor Macready had once partnered Harriet Smithson on the stage in London. In November and December 1844 Berlioz attended at Salle Ventadour performances of Shakespeare by English actors led by Macready which he praised enthusiastically (Journal des Débats 29 December 1844; cf. CG no. 926).
Later during his visit to London in 1847, Berlioz met him again. In a letter to his friend Auguste Morel (CG no. 1146; 30 November 1847) he writes:
A week ago Macready gave in my honour a magnificent dinner; he is a charming man and anything but pretentious in his domestic life. He is very awkward at rehearsals, and is right to be so. I saw him the other day in a new tragedy, Philip of Artevelde; he is magnificent, and has staged the play in a really extraordinary way: there is no one here who understands as he does the art of grouping crowds of people and getting them to act. It is wonderful.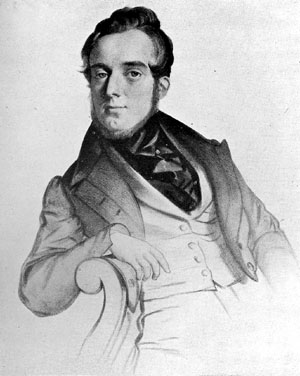 Michael William Balfe (1808-1870)
Balfe was an Irish composer and conductor whom Berlioz came to know well when he went to London in 1847 for his engagement as conductor at Drury Lane Theatre. Balfe conducted his own opera The Maid of Honour at the Theatre in December 1847 when Berlioz was there.
Balfe in advanced age
Sir Julius Benedict (1804-1885)
Benedict was a pianist, conductor and composer of German origin, who settled in London in 1835 and became naturalised. He was knighted in 1871.
William Sterndale Bennett (1816-1875)
Bennett was professor at the Royal Academy of Music and, like Berlioz, one of the ten jurors on the international commission examining musical instruments at the Great Exhibition of 1851. See also on this site Berlioz's Report on the Great Exhibition in the original French and in English translation.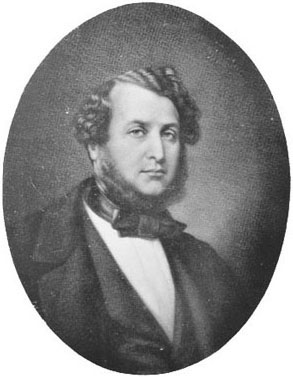 Sir Michael Costa (1808-1884)
Costa was an Italian conductor and composer, who settled in London in 1829 and became a British citizen. He was initially engaged at Her Majesty's Theatre, but moved to Covent Garden in 1846 and directed the new Royal Italian Opera until 1868. He was knighted in 1869.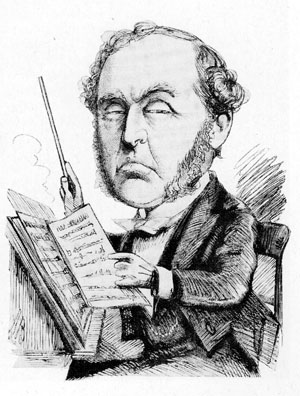 Michael Costa as depicted by a cartoonist
The above cartoon is reproduced here courtesy of A. Saint et al., A History of the Royal Opera House (London, 1982).
James William Davison (1813-1885)
Davison was a music critic and for many years wrote for The Times and The Musical World. Berlioz and Davison probably met first in Bonn in 1845 and some years later became very close friends. The above picture shows Davison in 1857.
Davison in 1871
John Ella (1802-1888)
Ella was a violinist and music critic who wrote for the Morning Post, The Athenæum and The Musical World. His major contribution to the musical world of 19th century London was in his capacity as the founder and director of the Musical Union, a society dedicated to the performance of chamber and instrumental music to the highest standards. The above lithograph, which shows Ella in 1851, is by Charles Baugniet, and is reproduced here courtesy of Mr. Raymond E. O. Ella.
John Ella in 1853
The above picture is an extract from the 1853 engraving displayed below.

John Ella in 1875
© The Royal Society of Musicians of Great Britain
The above photo is courtesy of the RSM via Mr. Raymond E.O.Ella (see also the next photo).
John Ella in 1875 – a possible memento
The original of the above photo is in the Bibliothèque nationale et universitaire de Strasbourg (Photo et Coll. BNu Strasbourg). We are most grateful for the permission to reproduce the photo on our site.
According to Mr Raymond E O Ella, the historian and expert of the Ella family, both these 1875 photos were taken by the Austrian photographer J. Bapt. von-Lakenbacher, and the second photo with a hand-written 1869 date is a possible memento (personal communication).

Bust of John Ella by Thorneycroft
The above picture is from Davison's posthumous Memoirs mentioned earlier at the top of this page. Four photographs of the bust of Ella are preserved in the Ella Collection at the University of Oxford ("A Handlist of Materials in the Ella Collection Housed in the Music Faculty Library, University of Oxford", compiled by Christina Bashford and John Wagstaff, 1977; revised 2003 and 2005). The John Ella collection has since been moved and deposited at the Bodleian Library (music section/department) in Oxford.
We are most grateful to Mr. Raymond E O Ella for drawing our attention to the Ella Collection at Oxford, for sending us a copy of the document referred to here, and for the information regarding the present location of the collection.
Berlioz and friends in 1853
L'ANALYSE.
Souvenir of the Musical Union (Ninth Season), from a Lithograph.
[Bazzani.] H. Blagrove. Goffrié. J. Blumenthal. Vieuxtemps. Lazarus. S. Pratten. Jarrett. F. Hiller. Barret. Baumann.
Lindpaintner. Dr. Spohr. Molique. H. Berlioz. Ella.
The above engraving was published in Ganz's Memoirs.
John Ella's grave
Brompton Cemetery, London.
Grave with obelisk, plot-compartment Al (AL):
Inscription eroding: "In Memory of John Ella Hon. Member Acad. Rom(e) Founder of the Musical Union London" (1802-1888).
The above picture courtesy of Mr. Robert Stephenson (Friends of Brompton Cemetery). We are most grateful to Mr. Raymond E. O. Ella for sending us a copy of the picture and related details. Read also on this site Mr Ella's article, entitled John Ella, musician, born Leicester 1802, died London 1888: His Family History.
Heinrich Ernst (1814-1865)
[in the middle]
Ernst was a German virtuoso violinist and composer; he met Berlioz in Paris in the mid 1830s and the two were to become lifelong friends. Ernst had been a visitor to London since 1843 and frequently returned there. In the above photo, he is with Joseph Joachim (on the left) and Henri Wieniawski. Wieniawski was a 'fiery violinist' who played the violin in Rêverie et caprice and the solo viola part of Harold en Italie at two of Berlioz's concerts in Saint Petersburg in 1867-8.
The Ganz family:
A family of German origins, had connections with Berlioz that stretched over a period of three generations. Berlioz had known the two brothers Leopold and Moritz since his visit to Berlin in 1843. He met the third brother Adolph in London in 1848. Adolph's son Wilhelm had also come with him to London that year and settled there permanently in 1850. One of Wilhelm's three sons, Alfred Ganz, though not a professional musician, inherited his father's enthusiasm for Berlioz. He is the author of the book Berlioz in London.

Adolph Ganz (1796-1870)
Moritz Ganz (1806-1868)
Leopold Ganz (1810-1869)
Wilhelm Ganz (1833-1914)
Wilhelm Ganz in advanced age
Frederick Gye (1809-1878)
Gye was the manager of the Drury Lane theatre in 1847-8 and that of the Royal Italian Opera, Covent Garden from 1849 to 1877. The above engraving is reproduced here courtesy of A. Saint et al., A History of the Royal Opera House (London, 1982).
Sir Charles Hallé (1819-1895)
Charles Hallé, a pianist and conductor of German birth, was born in Hagen, Westphalia on 11 April 1819; his name was originally Carl Halle. He studied at Darmstadt and in Paris, where he became friendly with Berlioz. In the revolutionary year of 1848 he decided to leave Paris and go to London with his wife and two children. Later he settled in Manchester where he founded the Hallé Orchestra. He died in Manchester on 25 October 1895.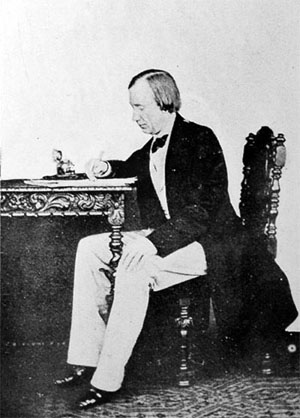 Sir Charles Hallé (1819-1895)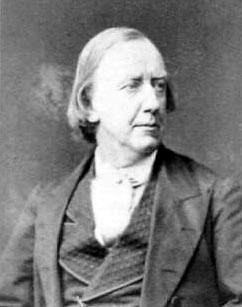 Sir Charles Hallé (1819-1895)
Sir Charles Hallé (1819-1895)
George Hogarth (1783-1870)
Hogarth was a musicologist and critic; he was secretary of the Royal Philharmonic Society from 1850 to 1864.
Louis-Antoine Jullien (1812-1860)
He was the director of the Drury Lane Theatre, London and engaged Berlioz to conduct concerts and the orchestra of the Grand English Opera at the theatre in 1847-48. This was the first of Berlioz's five visits to London. The lithograph dates from 1843.
For further information on Jullien, see M. Michel Faul's website.
Louis-Antoine Jullien (1812-1860)
Jullien conducts the orchestra at the Drury Lane Theatre
Prosper Sainton (1813-1890)
Sainton was a French violinist who had settled in London in 1845; Berlioz must have met him in Paris before. The above engraving is reproduced here courtesy of the Bibliothèque nationale de France.
Eduard Silas (1827-1909)
Silas was a Dutch pianist, organist and composer; he settled in London in 1850 where he had a career as organist and teacher. The above engraving is reproduced here courtesy of the Bibliothèque nationale de France.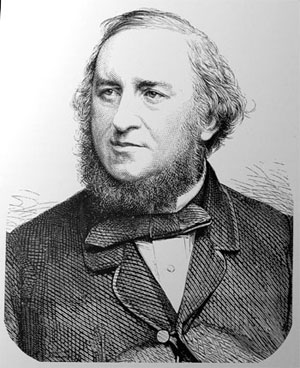 Vincent Wallace (1814-1865)
Wallace was a violinist, pianist and composer of Irish origin, whom Berlioz met during his first visit to London.

© (unless otherwise stated) Monir Tayeb and Michel Austin for all the texts and images on Berlioz Photo Album pages.
All rights of reproduction reserved.

Photo Album main page