Berlioz Photo Album : Friends and acquaintances in Marseille and Lyon
Unless otherwise stated all pictures on Berlioz Photos pages have been scanned from engravings, paintings, postcards and other publications in our own collection, including, on this page, the issue of Musica of February 1907 which was devoted entirely to Ernest Reyer. All rights of reproduction reserved.
With one exception all the persons included on this page are given detailed entries on the page Berlioz and Marseille: friends and acquaintances, to which links will be provided in each case. This page includes portraits or photographs of the following: Auguste Morel, Ernest Reyer, Joseph Méry, Théodore Ritter, Adolphe Alizard, and George Hainl.
Auguste Morel
Auguste Morel (1809-1881)
The above lithograph was made by Bornemann and printed by Lemercier & Cie (Paris); it is reproduced here courtesy of the Bibliothèque nationale de France.
Auguste Morel was a musician, composer and writer, who remarkably was largely self-taught: when he came to Paris in 1836 he was too old to enrol as a student at the Conservatoire. He first met Berlioz around 1837 and became an instant convert to his music, and a lifelong and loyal friend who supported him in many different ways, personal as well as musical; Berlioz on his side gave Morel equal support. The closeness of their relationship is illustrated by a large number of letters in their correspondence (mostly letters from Berlioz to Morel). Berlioz gave the autograph score of Harold en Italie to him. Morel continued to defend the music of Berlioz after his death through reviews of performances of his works, and had the satisfaction of witnessing the posthumous rehabilitation of the composer in Paris. For a detailed account of Morel's relations with Berlioz see the relevant entry in the Marseille page; see also Morel's three articles of 1838 on Benvenuto Cellini, a selection of his articles on Berlioz from 1869 to 1881, and a collection of documents on his career (these texts are all in French).
Ernest Reyer
Ernest Reyer (1823-1909)
The above picture shows Reyer as a young man in 1852.
Ernest Reyer, a composer and writer, settled in Paris from Marseille in 1848 to devote himself to music. Berlioz first took notice of him as a composer in 1850; they became acquainted around the time of the first performances of l'Enfance du Christ in December 1854, the work that first attracted Reyer's attention to the music of Berlioz. In 1857 he published a detailed study of Berlioz's music, and gradually became closer to Berlioz towards the end of his life. He was present at the composer's death-bed on 8 March 1869 and wrote an obituary notice 2 days later. After the composer's death he became perhaps his most active champion, and organised a concert in March 1870 to commemorate his memory. He defended Berlioz in a series of articles in the Journal des Débats over a period of nearly 30 years, starting with his appointment in 1866 as music critic of the journal, the position that Berlioz had himself held down to 1863.
Reyer at the age of 40
Reyer in 1891
Reyer in 1907
Joseph Méry
Joseph Méry (1789-1866)
Joseph Méry was a writer and poet whose wit Berlioz appreciated (Berlioz himself was fond of jokes and quotes in his writings several of Méry's bons mots). Méry wrote the libretto of two of Reyer's operas, Maître Wolfram and Érostrate; another libretto, Herculanum, was set to music by Félicien David.
Théodore Ritter
Théodore Bennet, known as Théodore Ritter (1841-1886)
Théodore Ritter, the natural son of Toussaint Bennet from Marseille (but born himself in Nantes), was a child prodigy gifted with exceptional musical talents. He and his father met Berlioz not long after the first performance of l'Enfance du Christ on 10 December 1854, and Berlioz became extremely fond of the young man and was inspired by his talent, as shown by the very lively letters he wrote to father and son. Ritter made a piano transcription of Roméo et Juliette. Indirectly Ritter helped to spread Berlioz's fame in Germany after his death: at a meeting in May 1875 with the young Felix Mottl in Austria he fired him with enthusiasm for the music of Berlioz. Mottl subsequently became the most active and dedicated champion of the composer in Germany of his time.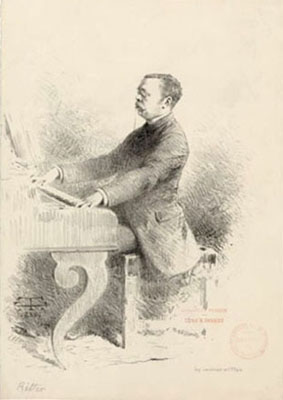 Théodore Bennet, known as Théodore Ritter (1841-1886)
The original copies of Ritter's pictures above are in the Bibliothèque nationale de France.
Adolphe Alizard
Adolphe-Joseph-Louis Alizard (1814-1850)
The bass singer Adolphe Alizard was a firm favourite with Berlioz, who noticed his talent as early as 1838, a year after the young singer was first engaged at the Paris Opéra. He engaged him for a number of concerts, above all to sing the all-important part of Friar Lawrence in the first performances of Roméo et Juliette in November and December 1839. Tragically, Alizard's career was cut short by illness, and he died in Marseille in January 1850.
The above cartoon appeared in the satirical journal Charivari in 1847. It depicts Alizard in the role of Roger in Jérusalem at the Paris Opéra. The image reproduced here is courtesy of the Bibliothèque nationale de France.
George Hainl
François George Hainl (1807-1873)
An original copy of the above engraving, published in 1850, is in the Bibliothèque nationale de France.
George Hainl was a cellist by training, who studied at the Paris Conservatoire before he was appointed conductor of the Grand-Théâtre in Lyon in 1840, where he remained until 1863. He may have met Berlioz in Paris before this, but it was only in 1845 that Berlioz had occasion to deal with him more closely in connection with the two concerts he gave in Lyon on 20 and 24 July 1845 after his visit to Marseille the previous month. Though Berlioz did establish a good rapport with Hainl at the time, he was not tempted to return to give further concerts in Lyon, though opportunities did arise. Despite expressing a generally favourable estimate of Hainl as a conductor, Berlioz evidently had reservations about his abilities and musical judgement.
After more than 20 years in Lyon, Hainl returned to Paris in 1863 where the spent the latter part of his career. He was appointed conductor at the Opéra, and then shortly after became also conductor at the Conservatoire (in preference to Berlioz, who had applied for the post). Though Berlioz welcomed the appointments and thought Hainl would be well-disposed, the return of Hainl did not significantly improve Berlioz's prospects in Paris, and his doubts about Hainl's abilities persisted (cf. CG nos. 3162, 3166, in 1866).
Hainl at an advanced age
The above engraving, published in 1873, is reproduced here courtesy of the Bibliothèque nationale de France.
Hainl at an advanced age

© (unless otherwise stated) Monir Tayeb and Michel Austin for all the texts and images on Berlioz Photo Album pages.
All rights of reproduction reserved.

Photo Album main page