Berlioz Photo Album : Friends and acquaintances (7)
Unless otherwise stated all pictures on Berlioz Photos pages have been scanned from engravings, paintings, postcards and other publications in our own collection. All rights of reproduction reserved.
Asger Hamerik (1843-1923)
Danish composer who studied orchestration with Berlioz in Paris from 1864-69, enjoying a close relationship with le maître in his difficult last years. Portrait by the painter David Jacobsen (1829-71), a Dane and student of Pissarro, working in Paris; dated 1867, the painting was commissioned by Berlioz as a gift to mark his protégé's successful début in Paris. The work hangs today in the Musical History Museum in Copenhagen, an establishment whose first director was Asger Hamerik's brother Angul, a distinguished musicologist in his own right.
This painting is in the Musical History Museum, Copenhagen. We are most grateful to Mr Christopher Follett for sending us an electronic image of the painting, with the museum's permission, and the accompanying information.
See also on this site The Danish composer Asger Hamerik and Berlioz by Christopher Follett.
Joseph Joachim (1831-1907)
The great Austro-Hungarian violinist was much admired by Berlioz who considered him as a '... leading violinist in Germany, perhaps in Europe, and an all-round artist' (Memoirs). He played in some of Berlioz's concerts in Germany – a violin concerto and a Paganini caprice in his second concert in Brunswick in October 1853, the solo viola part in Harold in Italy in Bremen in November of the same year, Rêverie et caprice in Hanover in 1854. The above photo was published in Alfred Stieglitz, Camera Work, issue number XLI, in January 1913.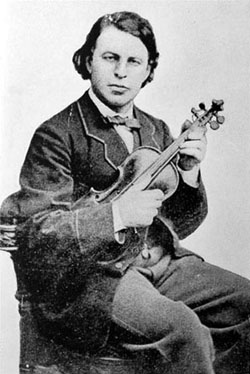 The above picture of Joachim was published in James Davison's Memoirs, posthumously compiled by his son.
Zacharie Astruc (1835-1907)
The French sculptor and art critic was a friend and admirer of Berlioz. He included a mask of Berlioz in his Le Marchand de masques, created in 1883, which is located in Jardin du Luxembourg.
The above portrait by Edouard Manet dates from 1866.
Ferdinand David (1810-1873)
David was the leader of the orchestra at the Gewandhaus under Mendelssohn many years before Berlioz's first visit to Leipzig. According to the Memoirs, the 'eminent musician, composer of merit and distinguished violinist, spoke perfect French and was very helpful' to Berlioz during both his visits in 1843 and 1853. He also played 'superbly' the solo violin in Rêverie et caprice 'to the audience's grand applause' (Memoirs) at Berlioz's first concert at the Gewandhaus on 4 February 1843.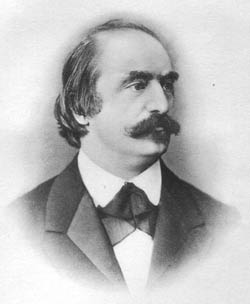 Eduard Hanslick (1825-1904)
Hanslick was a music critic, aesthetician, musicologist and civil servant; he was born in Prague but his parental ancestors were German. According to Eric Sams, his 'critical and biographical writings, spanning half a century, are still valuable for their shrewd judgement, their fluent prose and their informed commentary' (New Grove Dictionary, 1980, volume 8, p. 151). As a young man Hanslick was enthusiastic about Berlioz's music, and during his visits to Prague in 1846 was in frequent contact with him. Hanslick later became critical of Berlioz, but he never ceased to acknowledge his artistic integrity.

© (unless otherwise stated) Monir Tayeb and Michel Austin for all the texts and images on Berlioz Photo Album pages.
All rights of reproduction reserved.

Photo Album main page