Berlioz Photo Album : Composers (1)
Unless otherwise stated all pictures on Berlioz Photos pages have been scanned from engravings, paintings, postcards and other publications in our own collection. All rights of reproduction reserved.

Composers whose music Berlioz admired and drew inspiration from

Ludwig van Beethoven (1770-1827)
Berlioz discovered Beethoven's music in the late 1820s; he subsequently became one of Berlioz's musical "demi-gods".
The original copy of this portrait by Joseph Stieler, dated 1819, is in the Beethoven House in Bonn.
Statue of Beethoven in Bonn – 1845
published in the Illustration on 9 August
Beethoven's statue was inaugurated in August 1845. Berlioz attended the inauguration celebrations held on 10-12 August and wrote a report on it, which was later incorporated in the 2nd Epilogue of the Soirées de l'orchestre (1852). The above picture appeared in L'Illustration of 9 August 1845.
See also Joseph Hayden and Ludwig van Beethoven

Christoph Willibald Gluck (1714-1787)
Gluck is another of Berlioz's "demi-gods", for whose music he had unwavering admiration throughout his adult life. The first time that Berlioz saw an opera by Gluck was when he attended a performance of Iphigénie en Tauride at the Paris Opéra in 1821.
The original copy of the lithograph by Maurin is in the library of the Paris Opera.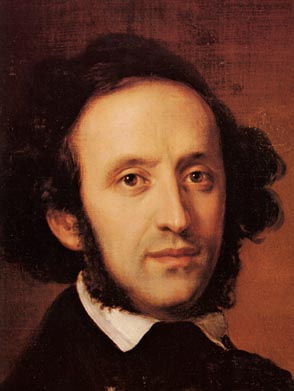 Felix Bartholdy Mendelssohn (1809-1847)
Berlioz first met Mendelssohn in Italy in 1831. The two men met again when Berlioz went to Germany on one of his concert tours many years later.
The above portrait was painted by Eduard Magnus in 1845. The original copy is in the Mendelssohn-Archiv, Berlin.
Wolfgang Amadeus Mozart (1756-1791)
Berlioz "adored" Mozart's music, especially the later works, some of which he included in his concerts in London and elsewhere in Europe. According to David Cairns Mozart's opera Idomeneo may be seen as an influence on Berlioz, not only because of its Gluckian affinities, but in its almost 19th-century use of colour.
The above lithograph is by Ed. Lehmann after a painting by Lange.

Gaspare Spontini (1774-1851)
Berlioz had first heard and seen two operas of Spontini, La Vestale and Fernand Cortez, at the Paris Opéra in 1822. After a series of letters exchanged between the young composer and the older master in 1830, initiated by Berlioz, the two men met, and their friendship lasted until Spontini's death in 1851.
The portrait shows the young Spontini and is from a postcard in our collection.

Carl Maria von Weber (1786-1826)
Berlioz first made acquaintance with the music of Weber, another of his "demi-gods", in December 1824 when he heard Der Freischütz at the Odéon Theatre; he was a most ardent champion of Weber in France.
The original copy of this painting by Beckhauer is in a private collection.


© (unless otherwise stated) Monir Tayeb and Michel Austin for all the texts and images on Berlioz Photo Album pages.
All rights of reproduction reserved.

Photo Album main page