Théâtre de l'Odéon
(now Odéon Théâtre de l'Europe)
This page is also available in French
The Odéon theatre had numerous associations for Berlioz, and he started to frequent it from his early days in Paris. The theatre, which in its present form dates from 1819, was used for performances of operas, ballets and plays, and in the early 1820s it had an excellent orchestra. It was there that Berlioz first heard Weber's Der Freischütz in 1825, though in a disguised and mutilated form as Robin des bois, arranged by Castil-Blaze (cf. Memoirs chapter 16). In 1826-7 he hoped to have his early opera Les Francs Juges performed at the Odéon, though the project fell through when permission was refused by the government to stage new works in French there.
It was at the Odéon that Berlioz had his first experience of Shakespeare, who was to have such a profound influence on his music: on 11 September 1827 he saw a production of Hamlet, with Harriet Smithson, the Irish actress whom he later married, in the role of Ophelia. A few days later, on 15 September, he saw her in the role of Juliet. In his Memoirs (chapter 18) Berlioz writes of this encounter thus:
The impression made on my heart and mind by her extraordinary talent, nay her dramatic genius, was equalled only by the havoc wrought in me by the poet she so nobly interpreted […] Shakespeare, coming upon me unawares, struck me like a thunderbolt. The lightning flash of that discovery revealed to me at a stroke the whole heaven of art, illuminating it to its remotest corners.

The modern photographs reproduced on this page were taken by Michel Austin; other pictures have been scanned from engravings, postcards and books in our own collection. © Monir Tayeb and Michel Austin. All rights of reproduction reserved.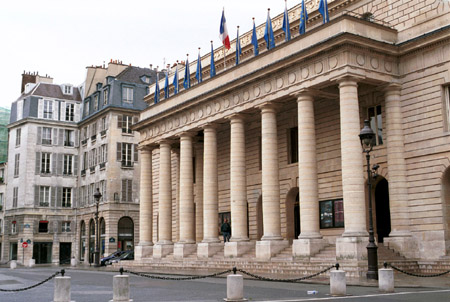 This is an early 20th century old postcard.

An early nineteenth century engraving of the Théâtre de l'Odéon

The Théâtre de l'Odéon c. 1830
A copy of this lithograph by Salathé is in the Library of the Paris Opéra.

The lithographs reproduced below are by Devéria and Boulanger and were published in a 19th century book in our collection.
Harriet Smithson as Ophelia in Hamlet

Harriet Smithson as Juliet in Romeo and Juliet

© (unless otherwise stated) Monir Tayeb and Michel Austin for all the pictures and information on this page.
Copyright notice: The texts, photos, images and musical scores on all pages of this site are covered by UK Law and International Law. All rights of publication or reproduction of this material in any form, including Web page use, are reserved. Their use without our explicit permission is illegal.
Back to Berlioz in Paris main page