Berlioz monuments, statues, and busts (1)
Unless otherwise stated all pictures on this page have been scanned from photos, postcards and other publications in our own collection. All rights of reproduction reserved.
Paris – Square Berlioz (formerly Square Vintimille)
In March 1884 an article concerning a subscription to raise funds for a monument to Berlioz was published in Le Monde Illustré. The committee in charge of the subscription had in fact already been formed in 1883; it was chaired by Viscount Delaborde, the permanent secretary of the Académie des Beaux-Arts, with Ambroise Thomas, Camille Saint-Saëns and Jules Massenet among the members.
On 17 October 1886, the statue made by Alfred Lenoir was inaugurated in the Square Vintimille (L'Univers Illustré, L'Illustration, La France Illustrée, Le Journal Illustré).
Berlioz Monument c. 1938
The stamp on this postcard was issued in 1938.
An Italian engraving of the 1886 statue
The actual size of the engraving in 21cm x 29cm.
During World War II, Berlioz's 1886 bronze statue was pulled down by the occupying Nazi army, to be melted for use in the manufacture of arms, a tragedy that those who so lovingly set it up could not have foreseen. Our photo of 2000 below shows the statue which replaced the original one.
See also elsewhere on this site the Berlioz Square in Paris.
Berlioz Monument in 2000
La Côte Saint-André – Place Hector Berlioz
This is a replica of the original 1886 statue in Paris. It was inaugurated on 28 September 1890 in a ceremony the report of which appeared in the Grenoble-Revue.
See also elsewhere on this site the Place Hector Berlioz.
Berlioz Monument in the mid-20th century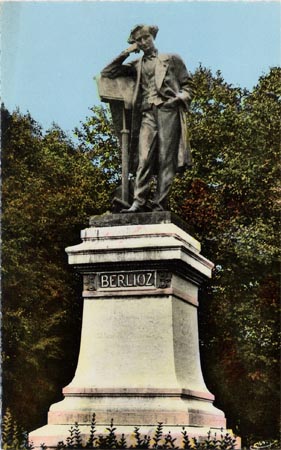 Berlioz Monument from behind – ca. 1915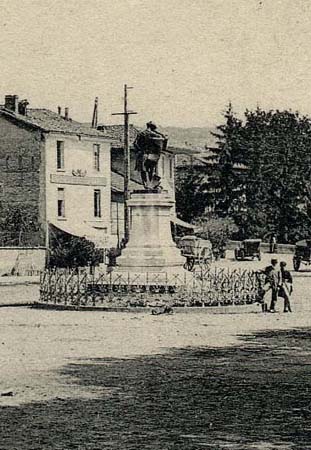 © (unless otherwise stated) Monir Tayeb and Michel Austin for all the texts and images on Berlioz Statues pages.
All rights of reproduction reserved.