Berlioz Cartoon Collection 2 : 1840s
Unless otherwise stated all pictures on this page have been scanned from engravings and other publications in our own collection. All rights of reproduction reserved.
Artist: C. J. Traviès – 1843
This is part of a drawing by Traviès entitled "Panthéon Musical", which depicts "the principal composers in 1843". In addition to Berlioz, there are 15 other composers in the picture; among them: Meyerbeer, Spontini, Rossini, Halévy, Auber, Clapisson, Donizetti, Thomas and Adam (see below).
"Panthéon Musical"
"The acrobats"
Artist: Daumier
Published in Charivari, 5 April 1843
The names of the five people depicted in the back are, from left to right: Jules Janin, David d'Angers, Victor Hugo, Berlioz, P. Delaroche.
This sketch has been attributed to a person from Berlioz's hometown, La Côte Saint André. The original copy is the Musée Hector Berlioz at La Côte.

"Un concert à mitraille et Berlioz"
[A concert of cannons and Berlioz]
Artist: Grandville (Jean Ignace Isidore Gérard, 1803-1847)
published in L'Illustration, 15 November 1845
This cartoon was also published in Louis Reybaud, Jérôme Paturot à la recherce d'une position sociale (Paris, 1846). The caption reads: "Heureusement la salle est solide... elle résiste !" [Fortunately the hall is solid... it can stand the strain!]. A copy of this cartoon is in the Musée Hector Berlioz.
The image here has been scanned from Adolph Jullien, Hector Berlioz: Sa vie et ses œuvres (Paris, 1888), a copy of which is in our own collection.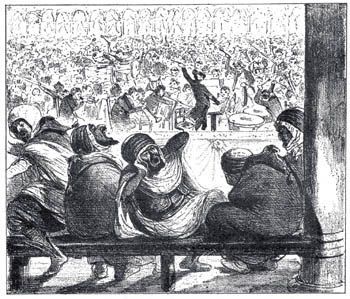 Artist unknown
published in Charivari, 18 January 1845
This cartoon was published on the eve of Berlioz's first concert at the Cirque Olympique des Champs-Élysées. In the fourth concert in the series Berlioz included his orchestration of Leopold von Meyer's Marche marocaine [Moroccan March]; it was a great success with the audience. One wonders if there were also individuals of Arab origins in the audience, as it seems they were at the first concert, implied by the above cartoon.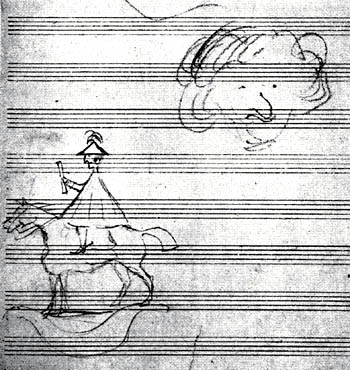 Artist and exact date unknown – after 1846
These two cartoons were drawn with pencil on the flute part of La Damnation de Faust during a rehearsal session. One of the drawings represents the composer on a wooden horse with a rolled up manuscript in his hand. La Damnation de Faust was composed in 1846, so the drawings can be dated to 1846 or later. The original copy of this picture is in the Bibliothèque nationale de France.
© (unless otherwise stated) Monir Tayeb and Michel Austin.
Back to main Berlioz Cartoons page