Berlioz-inspired works of art : CD cover designs (3)
© Robert Malone for photos and commentary
All rights of reproduction reserved.
This page presents the photos taken by Mr Robert Malone of CD in his personal collection. He holds the copyright for all of them.
Each photo is accompanied by Mr. Malone's own commentary.
We are most grateful to Mr. Malone for sending us scanned copies of the photos and granting us permission to reproduce them on our site.
This may have been the earliest complete recording made of Op. 17, though I am not sure of that; it is the earliest one I am aware of that was released commercially. This particular performance was from broadcasts of 9 and 16 February 1947, EXCEPT, the Scherzo: La reine Mab was from a commercial recording of 10 November 1951 (I am not sure why this was done, apparently Toscanini had been unhappy with how that movement had come out in the concert). This was originally issued on LP as RCA Victor LM 7034 in 1966. Other sources state Toscanini had earlier conducted R & J with the New York Philharmonic in 1942, the first ever complete performance of the work to be given in North America. (Please note a flaw in my photo, on the upper left corner of this release is a very shiny gold label which I cannot get to scan correctly, it keeps coming out black.)
1991 CD release of the first Charles Munch/Boston Symphony Orchestra recording. This was made on 22 and 23 February 1953, soloists Margaret Roggero, Leslie Chabay, Yi-Kwei Sze; original release on RCA Victor LM 6011 (I have already provided a photo of that LP set), also released on a set of 45rpm discs. This pictured item is coupled with Les Nuits d'été, Op 7, with Victoria de los Angeles, recorded on 12 and 13 April 1955 (again, a photo of the original release was previously provided).
2-CD set Cascavelle, VEL 3112 (this appears to be a French product), somewhat poor English translation of the notes causes confusion, but I will give what appears to be the case. Orchestre National et Chœurs de la RTF, soloists Irma Kolassi, Joseph Peyron, and Lucien Lovano; concert given on 25 June 1953 at Théâtre des Champs- Elysées (notes state this venue is in Boston, I do not think so!) This set also contains Munch's first recording of Symphonie fantastique, same orchestra, 5 July 1949, originally for French Columbia. (I have seen considerable conflict over the recording date for this item; the one provided here I believe to be correct.) The S.f. received very good sound for its time and may be one of Munch's most powerful of that work. The R & J, all things considered, does not sound that great, and the performance is much like he had recorded in Boston only 4 months earlier).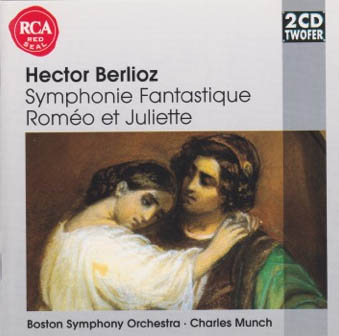 Munch's second in Boston; this one with soloists Rosalind Elias, Cesare Valetti, and Giogio Tozzi, with New England Conservatory Chorus; recorded on 23 and 24 April 1961; original release on RCA Victor LDS 6098 (part of the "Soria Series", with lavish, art-filled packaging). On the set pictured is also Munch's second BSO Symphonie fantastique, 9 April 1962, original RCA Victor LSC 2608. (I have already provided photos of the original long play record releases for both: .) The issue shown in the picture is from a British source. Both Opp. 14 anmd 17 here receive some of the best performances ever.
Another release of a live concert, this from 20 August 1961; soloists Florence Kopleff, John MacCollum, and Donald Gramm; this was recorded at Tanglewood, a venue a considerable distance from Boston where the orchestra performs during the summer. Issue is from the Italian company Memories.
Munch's 1961 Op. 17 may be outclassed only by another recording made just a little over a year later, the one pictured here! London Symphony Orchestra and Chorus, soloists Regina Resnik, André Turp, and David Ward, all directed by Pierre Monteux. From June 1962, released by a company called Westminster, this CD reproduces the original cover art of the LPs. (a few years later, Westminster would re-issue the LPs with album art featuring a soft-focus photograph of a nude couple which left little to the imagination). This particular CD set also has a remarkable Symphonie fantastique by René Leibowitz / Vienna State Opera Orchestra, made July 1958 (the only other Leibowitz Berlioz I am aware of is the Lélio recording I have already provided information on). I first came to Berlioz through Romeo and Juliette in the early 1970's and had both the 1962 Munch and this Monteux on records; they are fairly different in concept and I could never decide which approach I liked the better; I would frequently play one and then the other. The RCA Munch has far better sound quality.
From Decca's Berlioz cycle with Charles Dutoit. Roméo et Juliette, Op. 17, with soloists Florence Quivar, Alberto Cupido, and Tom Trause. Symphonie funèbre et triomphale, Op. 15 (this in the version with added strings and apotheosis chorus). Recorded in May and October 1985.
The second of Colin Davis' three recordings of this work. Vienna Philharmonic, soloists Olga Borodina, Thomas Moser, and Alastair Miles; made June 1993. Original was for Philips, this picture shows a re-issue on a Dutch label called Newton. I consider this to be the best of Davis' three.
Soloists Catherine Robbin, Jean-Paul Fouchécourt, and Gilles Cachemaille; made in October 1995. This version attempted to re-introduce certain items which Berlioz had cut during revision. There are extra CD tracks which provided original versions of particular items. The liner notes tell the listener the correct order of the tracks to play to hear the work in its standard performing version, its original version, or in John Eliot Gardiner's preferred movement order.
Made on 28-30 May 1998; soloists Nadine Denize, Piotr Beczala, and Peter Lika. I find this recording to be about my favourite of those made in more recent times; I have no particular reason for liking this one so much, it's just that everything sounds so balanced and properly done.
Third by Sir Colin Davis; LSO Live made at concerts January 2000; soloists Daniela Barcellona, Kenneth Tarver, and Orlin Anastassov.
A collection from the Davis cycle on Philips.
Symphony fantastique, Op. 14, LSO, 16-18 May 1963.
Le carnaval romain, Op. 9 (Overture), and Le corsaire, Op. 21 (Overture); both recorded sessions on 8 and 10 October 1965.
Harold en Italie, Op. 16; with Nobuko Imai, viola; 28 and 30-31 May 1975.
Symphonie funèbre et triomphale, Op. 15; with John Alldis Choir and Dennis Wick, trombone; recorded on 8-10 June 1969
I had previously provided a photo of an American LP issue of this; here is a French CD, Calliope CAL 6859, which also contains several other works for band (F. Schmitt: Dionysiaques, Op. 62 No. 1; C. Koechlin: Quelques choral pour des fetes populaires; and Gabriel Fauré: Chant funeraire, Op. 117). These were recorded at different times, Berlioz in May 1976, the director is Désiré Dondeyne (in an earlier recording of this, with the same band, on Erato? Dondeyne had employed the chorus at the end; here it is missing).
Marketed as "Works from the French Revolution" if I understand French history, I think this is a bit wrong; maybe it should have read "Revolutions". A British label, Nimbus, recorded on 1-3 February 1989. Title here given as "Grand Symphonie Funèbre et Triomphale", the opening Marche Funèbre is taken at a much faster tempo than I have heard anywhere; the Leeds Festival Chorus provides the Apothéose. Also on this disc are: Gossec: Symphonie Militaire; Jadin: Overture in F; Gossec: Marche Lugubre; Cherubini: Hymne à la Victoire; Lefevre: Hymne à l'Agriculture; and de Lisle: La Marseillaise (NOT in the Berlioz arrangement).
Directed by François Boulanger, January 1998. (Note in booklet: "Adaptation de Désiré Dondeyne pour orchestre d'harmonie".) The other items on this CD are just band arrangements of 3 other works by Berlioz: Marche au supplice from Op. 14; Overture Le carnaval romain, Op. 9; and Marche hongroise from Op. 24.
Op. 15, in a wind band only version, Joseph Alessi, trombone. Made on 13 and 14 May 2000. Also recorded are F. Schmitt: Dionysiaques; Saint-Saëns: Orient et Occident, Op. 25; E. Bozza: Children's Overture; and Milhaud: Suite française, Op. 248.

© Unless otherwise stated, Monir Tayeb and Michel Austin. All rights of reproduction reserved.