Berlioz-inspired works of art : LP cover designs (2)
© Robert Malone for photos and commentary
All rights of reproduction reserved.
This page presents the photos taken by Mr Robert Malone of the original issues of historic recordings in his personal collection. He holds the copyright for all of them.
Each photo is accompanied by Mr. Malone's own commentary.
We are most grateful to Mr. Malone for sending us scanned copies of the photos and granting us permission to reproduce them on our site.
An enjoyable recording from the mid-1970's.
Op. 14; the second of 2 (and that which I consider the better) made by Charles Munch / Boston Symphony Orchestra; recorded 9 April 1962 – the last recording session of Munch with that orchestra; RCA Victor LSC-2608.
Les nuits d'été, Op. 7; Victoria de los Angeles, sop., Charles Munch/Boston Symphony Orchestra; recorded April 1955; RCA Victor LM-1907 (disc also included a very rarely heard Debussy work).
Ernest Graf conducting The Great Symphonic Brass and String Orchestra of the Vienna State Opera; Josef Rohm, trombone solo; Weiner Kammerchor directed by Hans Gillesberger. Urania UR-100. Appears to be from the early 1950's – does anyone have a clue as to the recording date? (my favorite recording of this seldom heard masterpiece!)
Op.14b, recorded in Paris in 1953, early LP, Lyrichord LL 71; Rene Leibowitz conducting the New Paris Symphony, with various soloists. This recording is almost 20 minutes shorter than most because the narration is abridged.
1968 recording from Decca.
Op. 5, recording from April 1959. Pictured here is an American re-issue (RCA Victrola VICS-6063) from the 1970's; the cover art is particularly eerie.
Op. 17, the first of two by Charles Munch/Boston Symphony Orchestra; recorded in February 1953, RCA Victor LM-6011. Awarded Grand Prix du Disque, Academie Charles Cros, 1954.
Op. 24, the February 1954 recording, Charles Munch/Boston Symphony Orchestra, RCA LM-6114. From the enclosed booklet: "The abstract painting on the cover of this album, inspired by Berlioz' Damnation of Faust, was executed by Rufino Tamayo, famous Mexican painter, on direct commission from RCA Victor. This is one of the rare instances when a painter of internaional renown has accepted such a commission. The painting itself was done in New York after Tamayo had listened to the recording of The Damnation of Faust as performed herein by the Boston Symphony Orchestra under the direction of Charles Munch."
Op. 25, the Charles Munch/Boston Symphony Orchestra recording, from just a couple of days before Christmas in 1956; RCA LM-6053.
Op. 25, the Martinon/ORTF recording of the 1960's, as released in America on the Nonesuch label (HB-73022) and long out-of-print.
American release of Symphonie fantastique, Jean Martinon / Orchestre National de l'ORTF, made January 1973. For those interested in such things, Martinon observes the exposition repeat in the 1st movement, and adds in the extra brass/cornet parts in the 2nd movement (he does NOT take the repeat in the the 4th movement). Many of the 'old time' conductors, such as Munch, Monteux, Beecham, Paray, et al. did not observe repeats in this work, nor use the cornets. Colin Davis in his various recordings was very true to the observation of the repeats and the extra brass.
The famous recording of La Damnation de Faust, conducted by Igor Markevitch, on DG, made in May 1959. There were at least 2 small cuts made in the score, the orchestral postlude to Faust's first aria, and the first verse of the Easter chorus – some have speculated this was done to better fit the entire work onto 2 long-play records; but, there has been another release of the this work, a live concert of September 1959, in which Markevitch makes these same cuts. This was not the first time Op. 24 was recorded in stereo – the first was the Munch/Boston version of 1954, but those experimental stereo tapes were lost.
Famous first complete commercial recording of Les Troyens, on Philips, made in September/October 1969, conducted by Sir Colin Davis. (There is a much older complete, or at least almost complete, version taken from a broadcast and conducted by Sir Thomas Beecham.)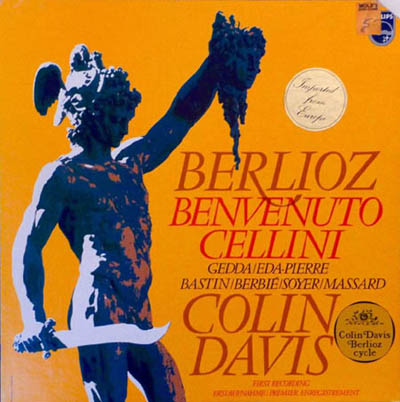 From the series conducted by Colin Davis on Philips – first "complete" recording of Benvenuto Cellini, made July 1972. (A much later recording conducted by John Nelson on Virgin Classics would use Berlioz's original score which includes almost 30 more minutes of music that the composer had cut in the revised version employed on both of Davis' issues.)
LP of historic recordings conducted by Sir Hamilton Harty, this release on the British label The World Record Club, SH148. Included are, with the London Philharmonic Orchestra: Funeral March from Hamlet (April 1935), Beatrice and Benedict Overture (November 1934), Romeo alone and Fetes (September 1933), and Le Corsaire (November 1934.; With the Hallé Orchestra: Roman Carnival (February 1932) and Royal Hunt and Storm from The Trojans (April 1931).

© Unless otherwise stated, Monir Tayeb and Michel Austin. All rights of reproduction reserved.