Berlioz-inspired works of art : LP cover designs (3)
© Robert Malone for photos and commentary
All rights of reproduction reserved.
This page presents the photos taken by Mr Robert Malone of the original issues of historic recordings in his personal collection. He holds the copyright for all of them.
Each photo is accompanied by Mr. Malone's own commentary.
We are most grateful to Mr. Malone for sending us scanned copies of the photos and granting us permission to reproduce them on our site.
Op. 15, here by Musique des Gardiens de la Paix de Paris, directed by Désiré Dondeyne, recorded in May 1976 for the French label Calliope (the issue pictured here is an American one, on the Nonesuch label, H-71368). This was actually the second to be made by the same band and director, the first going back to, I think, about 1958 (for Erato ?). This one had much better sound, but did not have the optional Apothéose chorus, which Dondeyne had included on the earlier recording.
The first of the recordings of Symphonie fantastique by Charles Munch / Boston Symphony Orchestra; this one made in 14 and 15 November 1954, released here as RCA Victor LM-1900. (a long-sought stereo LSC-1900 probably never existed.) This cover art would later be used on a 'Living Stereo' CD release as well, but was not the original. The first cover art (not in my possession) featured a nightmarish female figure with two faces and three eyes, quite bizarre.

Berlioz's Requiem, Op. 5, Charles Munch / Chor und Symphonie-Orchester des Bayerischen Rundfunks, with Peter Schreier, tenor; made in September 1967 for Deutsche Grammophon. This picture is not of the original release, but a LP re-issue. Most consider Munch's 1959 performance with the Boston Symphony Orchestra to have been the better of his two, but this one is still a lovely recording.
Recording from 1968, conducted by Jean-Pierre Jacquillat.
DG release of 1982.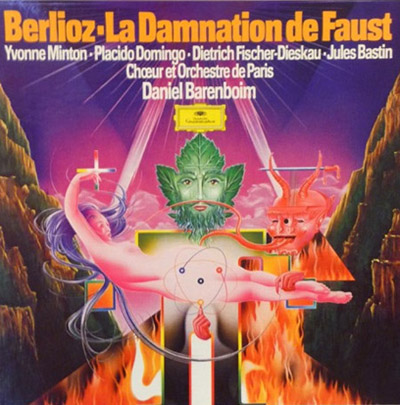 Bizarre and semi-pornographic cover on DG release of 1979. I am not happy with this picture, was having problems with the light. An all-star cast, but not my favorite performance.
Monteux's 1964 'Fantastique' as released in U. S. A. on the Turnabout label.
The Colin Davis version of La Damnation de Faust which was recorded as part of his Berlioz cycle for Philips; made in July 1973. The vocal soloists were Nicolai Gedda, Jules Bastin, Josephine Veasey, and Richard Van Allen; London Symphony Orchestra and Chorus. Another version by Davis would appear on LSO Live, from a concert of October 2000. (The 1973 has much better sound in my opinion.)
Roméo et Juliette, Op. 17, from the Colin Davis Berlioz cycle on Philips, made in April 1968; soloists are Patricia Kern, Robert Tear, and John Shirley-Quirk, with London Symphony Orchestra and Chorus. Davis would later make a re-do (and, what I personally consider to be a far, far better recording of this music) with Vienna Philharmonic in June 1993, again on Philips. (Tthat one has been reissued on a 2-CD set by Newton Classics.) A final Davis say on this would come from a concert of January 2000, appearing on LSO Live (good performance, but with dim sound).
Colin Davis' second installment in his Berlioz cycle for Philips was this collection of concert overtures, made October 1965: Le roi Lear Op. 4, Les Francs-juges Op. 3, Le carnaval romain Op. 9, Waverley Op. 1, and Le corsaire Op. 21, all with the London Symphony Orchestra. At the time this recording came out, the 3 earlier Berlioz compositions had been infrequently recorded and there were not many other options for them on the market (versions conducted by Beecham where in mono). These are fine performances. But, Davis would outdo himself with his excellent re-recordings of these, along with the opera overtures to Béatrice et Bénédict and Benvenuto Cellini which he made with the Staaskapelle Dresden in January 1997 (released on RCA).
Marketed as "Complete Songs with Orchestra"; Colin Davis / London Symphony Orchestra, vocal soloists Sheila Armstrong, Josephine Veasey, Frank Patterson, and John Shirley-Quirk; part of the Berlioz cycle from Philips, made in June 1969.
This recording of Les Nuits d'été, Op. 7, features four vocal soloists, not just one singer as on many recorded versions. This work was originally published in 1841 for a single mezzo-soprano or a tenor, with piano. The arrangements for orchestra, made several years later, changed some of the keys and specified multiple voices; most performances, however, rely on a single singer. (Davis would re-record this work in 1979 and 1993, both times using just one voice.)
The other songs on here are La belle voyageuse Op. 2 No. 4; Le chasseur danois Op. 19 No. 6; La captive Op. 12; Le jeune pâtre breton Op. 13 No. 4; and Zaïde Op. 19 No. 1.
An interesting and very well done Harold in Italy from Eastern Europe. Featuring Josef Suk, viola, and Dietrich Fischer-Dieskau conducting the Czech Philharmonic Orchestra; made by Supraphon Records, February 1976. Photo here shows a 1978 American release on a short-lived label called Quintessence (they were quite inexpensive, but excellent). Even better was a release on a Supraphon CD, which included a performance of Suk playing the very rarely heard Berlioz work Rêverie et Caprice, Op. 8 (that one with Václav Smetáček / Prague Symphony Orchestra, from 1977).
Recorded in May 1975, Nobuko Imai, viola, Colin Davis / London Symphony Orchestra, part of the Philips Berlioz cycle. This was Davis' second recording of Harold in Italy; the earlier version was with Yehudi Menuhin playing viola, and the Philharmonia Orchestra, made in Oct. 1962 (that was on H.M.V./E.M.I, before he started the Philips series).
The history of Sir Thomas Beecham's recording(s) of Symphonie fantastique is a bit tortured. His ensemble for both was Orchestre National de l'ORTF. The first was in mono only, made during sessions of November 1957 and March 1958. This was the era in which stereo was just coming in, and H.M.V. decided that a stereo version of this was also needed, and so it was re-recorded during sessions of October and November 1959 (these were to be among some of Beecham's last appearances in the recording studio). The problem was that the mono and stereo issues of this work were really VERY different performances altogether! In mono, Beecham was tight and swift; in stereo more spacious and relaxed. All the movement timings on the mono are faster, in the case of movement No. 3, 3.5 minutes faster!
Pictured here is a re-issue of the stereo version, "digitally remastered" from 1986, towards the very end of the vinyl disc era. Technology in vinyl record production was advanced at that time, enabling this LP to have well over 30 minutes of music on each side (and not having to split Movement 3 into 2 parts). Also included was another Beecham speciality, Royal Hunt and Storm, version with the Royal Philharmonic and chorus, and the overture Le corsaire, Op. 21.
Sir Colin Davis was another conductor who would record Symphonie fantastique, Op. 14 on numerous occasions. Davis' concept of the work and his tempi remained fairly consistent, changing little over the years. He would observe the repeats in the 1st and 4th movements, plus the cornet parts Berlioz had later added to the 2nd movement (but, he did not emphasise to a large extent the effects this extra brass could give a performance). Davis' commercial recordings were: 1) London Symphony Orchestra, May 1963, this being the first of his long Berlioz cycle for Philips (it is also the Davis version I personally like the best); 2) Concertgebouw Orchestra, Amsterdam, January 1974, a re-do for Philips [This is the item pictured here, with the Goya cover art. Couple of notes on this issue – As was often the case with long-play records, the 3rd movement was broken into two parts, requiring turning the record over to hear the entire movement. Also note the "Imported from Europe" sticker on the front; at the time many collectors would not buy records made by the major American companies due to the generally poor quality of pressings.] 3) Vienna Philharmonic, November 1990, for Philips (this recording I am not familiar with); and 4) London Symphony Orchestra, Sept. 2000, on LSO Live LSO 0007 (good performance, but the audio quality leaves something to be desired).

This was the last recording made in Colin Davis' Berlioz series for Philips, from sessions in July 1980. In fact, Davis had already re-done a couple of items for Philips before even getting around to doing Lélio. Davis performs only the musical selections from Lélio, all the narration is deleted!

© Unless otherwise stated, Monir Tayeb and Michel Austin. All rights of reproduction reserved.