Berlioz-inspired works of art : CD cover designs (1)
© Robert Malone for photos and commentary
All rights of reproduction reserved.
This page presents the photos taken by Mr Robert Malone of CD in his personal collection. He holds the copyright for all of them.
Each photo is accompanied by Mr. Malone's own commentary.
We are most grateful to Mr. Malone for sending us scanned copies of the photos and granting us permission to reproduce them on our site.
Earliest "complete" recording I know of. There are a couple of small, but, I find, jarring and ugly cuts. Made by Gramophone in German occupied France, on 15-20 September 1942 (my liner notes indicate the Marche hongroise was recorded on 22 October 1942). The cuts are No. 14, the trumpet call (which in my military service was referred to as retreat, played at the lowering of the flag in the evening); and, very bad here, a large section of No. 26a, the demons chorus in Pandaemonium. Soloists are Mona Laurena, Georges Jouatte, Paul Cabanel, and André Pactat; Grand Orchestre de Radio-Paris. Original issue on French Columbia.
This image may also be used in reference to the Berlioz's Requiem, again being the earliest "complete" recording I know of; but, again, with a nasty cut – a large portion of No. 9, Sanctus. Again, made by Gramophone in occupied France, on 15-17 September 1943. The tenor solo in Sanctus is Georges Jouatte. Grand Orchestre de Radio-Paris. Original release on French Columbia.
These were 2 of 3 large-scale works recorded about the same time, all conducted by Jean Fournet. The other was Debussy: Pelleas et Melisande (first complete recording; 24 April-26 May 1941).
This pictured 3-CD set came from a French company called Dante Production, LYS 319-321, released in 1998. This company over a few years re-released many great historical recordings.
The next complete recording I know of. See also the photo of the original RCA Victor LP release.
Made on 21-22 February 1954. This was possibly the very first large-scale work ever to be recorded in stereo, but the company lost those stereo tapes! Stereo tapes survived for an excerpt or two, but those came from different takes, and are not the same as appeared on the complete release. This was the first CD release I know of, from 1988.
This was a CD release from some Italian company I never heard of called Theorema; they give no information about the source, so I suspect this may have been a pirate label (it was published 1993). The recording date of the DG original was May 1959. See also the image for the original DG LP release of the Markevitch recording.
And then, at the Festival de Montreux, 24 September 1959, Markevitch conducted this performance; soloists are Nicolai Gedda, Régine Crespin, Ernest Blanc, and Louis Morin; Chœur et Orchestre National de la RTF (I have noted here that Markevitch took the same small cuts as he made on the commercial DG four months prior). This 2010 release is on a label called Andromeda.
Recorded in October 1969, Chœurs de l'Opéra de Paris and Orchestre de Paris, conducted by Georges Prêtre; soloists Nicolai Gedda, Gabriel Bacquier, Janet Baker, Pierre Thau, and Maria Peronne. There have been several issues of this on CD; this one is coupled with La Mort de Cléopâtre (Janet Baker, Alexander Gibson/London Symphony Orchestra).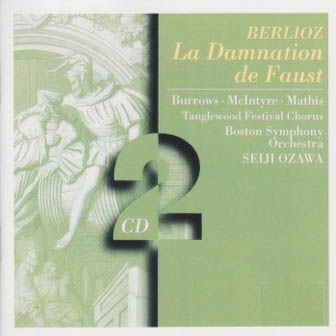 Not much cover art on this one. The original was Seiji Ozawa / Boston Symphony Orchestra; soloists Stuart Burrows, Donald McIntyre, Edith Mathis, Thomas Paul, and Judith Dickison; recorded by DG in October 1973. This photo is from a reissue from an American company called The Musical Heritage Society. (This was made just a few months after the more famous one conducted by Colin Davis. I personally prefer this one to that by Davis; the Ozawa here is one of my favourites of Op. 24.)
Recorded at the Berlioz Festival, Lyon, in September 1987. This is one of my least favourite renditions of La Damnation de Faust; I find it lack-luster. The same orchestra and chorus would give Kent Nagano a far better version a few years later. Anne-Sofie von Otter would also be present on the much better done recording conducted by Myung-Whun Chung.
Recorded on 16-18 February 1989, originally on Denon. This photo is from a re-release on the inexpensive Brilliant Classics. Eliahu Inbal made a series of all the major Berlioz works in Frankfurt. This is a good performance in fine sound.
Made in October 1994 for Erato. I enjoy this performance more than I do the highly celebrated one conducted by Chung.
Recorded by Decca on 27-29 October 1994. One of the better performances to come from the uncompleted Berlioz cycle conducted by Charles Dutoit in Montreal.
Recording dates given to be April and May 1995 and June 1996; released by DG in 1998. One of the best sounding performances ever with an excellent cast.
Recorded in October 2000. I find nothing in this to make me prefer it to the version Davis had conducted for Philips years before. As with many of these LSO Live discs made at Barbican Hall, I find the audio quality not really bad, but dim and recessed; the volume control has to be turned up, but things still do not sound as one would hope in modern recordings. Some commentators have a different opinion.
Huit scènes de Faust, Berlioz's original Op. 1 which he pulled out after publication and tried to suppress, but which would be the basis for his later Op. 24. It did survive and has been recorded at least twice that I know of.
Part of the Charles Dutoit/Montreal Berlioz cycle (uncompleted) for Decca; the Faust work recorded on 12-14 October 1995 (I think the later version from Erato, below, is better). In addition to the 8 Scenes, this CD also features some other rarely heard Berlioz works: L'Impériale, Op. 26; Sur les lagunes (No. 3 from Les Nuits d'été); Le Chasseur danois, Op. 19, No. 6; Plaisir d'amour (composed by J.P.E. Martini, orchestrated by Berlioz); and Hymne des Marseillais (de Lisle, arranged by Berlioz).
Special note here on another matter: I am doing a bit of research into the Berlioz arrangement of La Marseillaise, and it is with deep regret that I find that Dutoit here appears to chop off the last verse (the 7th) which calls for a children's chorus (Dutoit also does some other things with this work which I find to be unacceptable). In one of the first recordings by Orchestre de Paris, Jean-Pierre Jacquillat does include the children, but hacks out 2 of the other verses. Anyone looking for an acceptable version of this should search for that made by Michel Plasson/Chœur et Orchestre du Capitole de Toulouse, in 1988 on a mighty EMI collection, "Révolution Française", which also features the only recording of which I am presently aware of the Berlioz arrangement of de Lisle's Chant du Neuf Thermidor. See below images of the two CDs of La Marseillaise
(Is it just me, or am I incorrect in believing that Berlioz was every bit as much of a genius at arranging others' music as he was as an original composer? May I also cite Weber's Invitation to the Dance as an example?)

Made on 18-20 February 2000, for Erato (it is, by far, the one I prefer). Also on this disc, Liszt: Zwei Episoden aus Lenaus Faust; and Wagner: Eine Faust-Ouverture. I highly recommend this recording for everything on it.

Re-issue on compact disc; it includes more music than the LP (see also Original LP, recording from 1968).
Nothing short of magnificent!

© Unless otherwise stated, Monir Tayeb and Michel Austin. All rights of reproduction reserved.