Berlioz-inspired works of art : LP cover designs (1)
© Robert Malone for photos and commentary
All rights of reproduction reserved.
This page presents the photos taken by Mr Robert Malone of the original issues of historic recordings in his personal collection. He holds the copyright for all of them.
Each photo is accompanied by Mr. Malone's own commentary.
We are most grateful to Mr. Malone for sending us scanned copies of the photos and granting us permission to reproduce them on our site.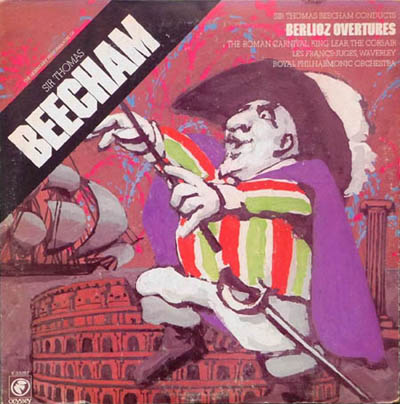 The humorous cover art on a 1975 re-issue of Sir Thomas Beecham's Royal Philharmonic Orchestra recordings of Berlioz Overtures, all originally made in December 1954 and released on Philips (in U.K.) and Columbia (in U.S.A.). Contents are: Roman Carnival, King Lear, Corsair, Les Francs-Juges, and Waverley.
Second of 2 by Charles Munch/Boston Symphony Orchestra; recorded in April 1961, released on RCA Victor LD and LDS 6095 (Soria Series). Awarded Grand prix national du disque – Prix du President de la Republic, 1963.
In March 1963, in one of his last recording sessions (made about 8 months before he died), Fritz Reiner would conduct the Chicago Symphony Orchestra with Leontyne Price in Les Nuits d'été; released here on RCA LSC-2695.
Hungaroton, SLPX 11842, released 1976. This was recorded on 15 April 1966 in the Hungarian Radio Studio. According to the liner notes, the Hungarian Radio was experimenting with stereo recordings and captured this rehearsal session. "Charles Munch conducted all the movements without any interruption, making comments to improve the presentation in the breaks. There was no studio audience, but the control room was crowded to capacity to witness the effect of Charles Munch's captivating suggestive personality and music." Apparently, the conductor had no knowledge that this would ever be released commercially, and may not have even known it was being recorded.
A great recording of Les Nuits d'été, from August 1967.
Conductor Charles Munch (1891-1968) would leave no less than 4 (or, was it 5?) commercial recordings of Symphonie fantastique:
1) Orchestre National de la RTF, made in Paris probably September 1949, just weeks before starting his new job in Boston, for French Columbia; 2) Boston Symphony Orchestra, November 1954, RCA Victor LM-1900 (record collectors have long sought an original stereo release given the designation of LSC-1900, but it probably never existed); 3) his second with the Boston Symphony, which was also his last recording session with that orchestra, 9 April 1962; 4) a rehearsal session with the Budapest Symphony Orchestra made April 1966 – reportedly Munch did not know this would ever be commercially produced, it was not released for 10 years but it did appear on the Hungaroton label; 5) Orchestre de Paris, October 1967 for VSM/EMI [American release on Angel Records is pictured here].
Recordings of Berlioz vocal works from the days before stereo, here on a re-issue from 1973. Eleanor Steber, soprano – she sings Les Nuits d'été with Dimitri Mitropoulos conducting the Columbia Symphony Orchestra. Also includes La Captive, Op. 12; Le Jeune Pâtre Breton, Op. 13 No. 4; and Zaïde, Op. 19 No. 1, Jean Morel conducting the same orchestra.
LP from the early 1950's, Jean Martinon / Lamoureux Orchestra in Berlioz Overtures – The Corsair, Roman Carnival, King Lear, and Beatrice and Benedict. From an obscure record company called Urania, UR-7048 (on the front cover, they spell the maestro's name wrong, as "Gean"). Martinon would re-record 3 of the selections later in stereo for Decca; the King Lear would not be redone.
Op. 16; William Primrose, Charles Munch/Boston Symphony; recorded in March 1958; RCA Victor LSC-2228.
Absolutely beautiful music! Contains Neuf Mélodies (later re-titled 'Irlande'); plus Le Trébuchet Op. 13, La Mort d'Ophélia, and Chant de la Fête de Pâques. Soloists are April Cantelo, Helen Watts, Robert Tear, and Richard Salter; Viola Tunnard, piano; Monteverdi Choir directed by John Eliot Gardiner. This recording was made in 1967, released here as L'Oiseau-Lyre, SOL 305.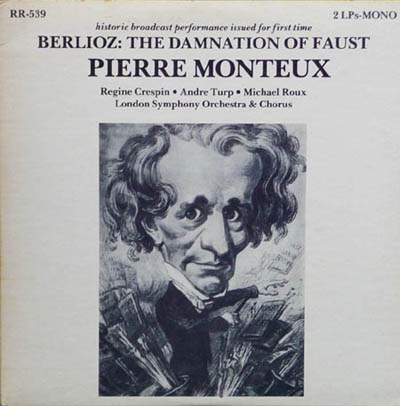 A live recording of a concert of 8 March 1962. These LPs came from a private label called Discocorp (RR-539), released in 1981, claiming to be the first issue. This performance has also appeared on CD from European sources. It is a true shame that these same forces were not given the chance to make a commercial recording of this music!
A somewhat unusual conception, but also highly compelling. Jean Martinon / Lamoureux Orchestra, Suite from The Trojans at Carthage – the parts being: Overture, Royal Hunt and Storm, Ballet Music, and the Trojan March. This would have been made in the late 1940's or early 1950's. M-G-M Records (same company as the movie studio), E127. The item pictured here is a 10" diameter LP (it was also released on a set of 2 45rpm discs).
Les Nuits d'été has received many wonderful recordings! This lovely issue (made by Decca in September 1963) features Régine Crespin, in an album with a famous painting by Delacroix.
Conductor Pierre Monteux would make 5 commercial recordings of Symphonie fantastique:
1) Orchestre Symphonique de Paris, January 1930 (Monteux regarded this one as his best version); 2) San Francisco Symphony Orchestra, Feb. & April 1945; 3) again with the San Francisco Symphony Orchestra, 27 February 1950 [that is the one pictured here, on RCA Victor LM-1131]; 4) Vienna Philharmonic Orchestra, October 1958 (for Decca); and 5) NDR Symphony Orchestra of Hamburg, February 1964 (for Guilde Internationale de Disque/Concert Hall – made shortly before Monteux's death).
One of the best of Lélio, recorded in April 1974. Jean Martinon also left a wonderful Symphonie fantastique.
Recorded in December 1958 and April 1959; RCA Victor LSC-2438. Contents were Roman Carnival, Beatrice and Benedict, Corsair, Benvenuto Cellini, and Royal Hunt and Storm (from The Trojans).

© Unless otherwise stated, Monir Tayeb and Michel Austin. All rights of reproduction reserved.