Berlioz Photo Album : Posthumous portraits (2)
Unless otherwise stated all pictures on Berlioz Photos pages have been scanned from engravings, paintings, postcards and other publications in our own collection. All rights of reproduction reserved.
A. Vaccari, late 19th century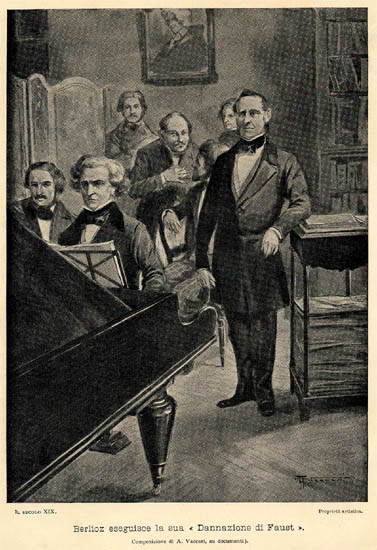 An English translation of the caption in Italian reads: Berlioz plays his "Damnation of Faust".
L. Joly, 1893
A copy of this drawing is in the Bibliothèque nationale de France.
Théodore Fantin-Latour's lithograph dedicated to Berlioz, 1897
This lithograph has been scanned from a copy of an auction catalogue dated 1992 and entitled, "Portraits de Musiciens, Collection Isabelle Prouvost" (see Berlioz Photo Album 5a). The lithograph is lot no. 7 in the catalogue.
The original lithograph first appeared in the Galerie Vollard's Album d'Estampes orignales, dated 1897. See also Henri Fantin-Latour's lithographs inspired by Berlioz's music elsewhere on this site. Théodore Fantin-Latour (1805-1872) was Henri's father.
Hector Dumas, ca. 1898
"La Centième de La Damnation de Faust"
Édouard Colonne (1838-1910), one of the great champions of Berlioz and founder-conductor of the Association Artistique Concerts-Colonne, conducted the hundredth performance of La Damnation de Faust at the Théâtre du Châtelet, Paris, on 11 December 1898, the 95th anniversary of Berlioz's birth. The concert also celebrated the 25th anniversary of the foundation of the Association. The above engraving by Hector Dumas commemorates that concert. A copy of Dumas' drawing is in the Musée-Hector-Berlioz (see also the next image).
Poster commemorating the 100th performance of La Damnation de Faust
This poster, which was published by L'Eclair in 1898, is reproduced here courtesy of the Bibliothèque Nationale de France.
Vicente Garcia de Parèdes (1845-1903)
"Ovation à Berlioz"
We have not been able to establish the date of the painting by the Spanish master, which is reproduced on an early 20th century postcard.
Grandi
This portrait, signed GRANDI, was published on a postcard in Italy by Produzione Vietati in 1910. We have not been able to establish whether or not the painter is Giuseppe Grandi (1843–1894).
Lionello Balestrieri (1872-1958)
"Berlioz composing 'Les Troyens' in 1863"
The above 1910 postcard was published in Paris by Lapina. We have not been able to establish the date of the original painting (see also below).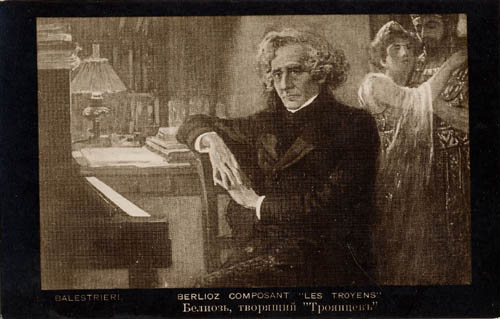 This early 20th century postcard was printed in Italy; the caption, Berlioz composing "Les Troyens", is in both French and Russian.
This drawing was published in Centenaire de la S.A.C.E.M. 1850-1950 (Société des Auteurs, Compositeurs et Éditeurs de Musique, 1950), a copy of which is in our collection.

© (unless otherwise stated) Monir Tayeb and Michel Austin for all the texts and images on Berlioz Photo Album pages.
All rights of reproduction reserved.

Photo Album main page