Berlioz Cartoon Collection 7 : Great Exhibition 1851 in London – French visitors
Unless otherwise stated all pictures on this page have been scanned from engravings and other publications in our own collection. All rights of reproduction reserved.
In April 1851 Berlioz was appointed by the Minister of Agriculture and Trade to serve as representative of France on the international commission examining musical instruments at the celebrated Universal Exhibition in London. He stayed there from May till the end of July.
The following sketches were published in L'Argus des Théâtres on 16 May 1851 in Paris. The images are reproduced here courtesy of the Bibiliothèque Nationale de France.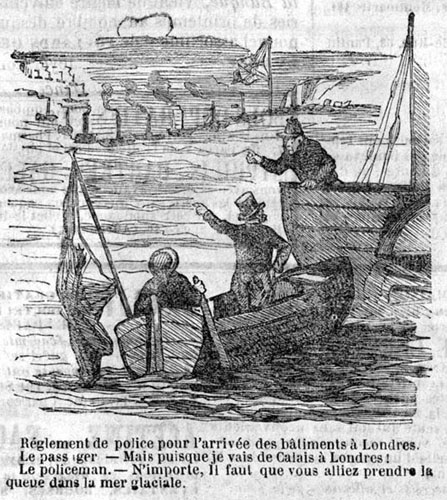 Police regulation for ships arriving in London.
Passenger — But I am going from Calais to London !
Policeman — It doesn't matter, you should join the queue in the ice-cold sea.
A Parisian looking for somewhere to stay.
— Monsieur, I am sorry, but I can only have you as a supernumerary.
— Supernumerary !
— Yes, Monsieur, you will sleep at the door of the hotel until a place in
a room becomes vacant.
Madame Potard arriving from Paris in search of her husband.
— Ah!, my god, I am so unhappy ! I should have prevented M. Potard from going to London... I should have guessed that surrounded by women of all nations he would end up playing tricks on me !
This just shows how the English race will change considerably as a result
of the universal exhibition of 1851.
© (unless otherwise stated) Monir Tayeb and Michel Austin.


Previous page

Back to main Berlioz Cartoons page