Memorabilia collection
Stamps (2)
All pictures on this page have been scanned from items in our own collection. All rights of reproduction reserved.
See also on this site Berlioz and Monaco.
Prince Albert I championed Berlioz in the Principality. See also on this site Royalty and nobility (Monaco).
150th anniversary of première of the Grande Messe des morts – Monaco 1987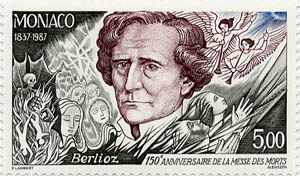 All the following stamps and first day covers, except that of Prince Albert, were issued in Monaco on 26 April 1969, to commemorate Berlioz's death on 8 March 1869.
Berlioz monument
in Monte-Carlo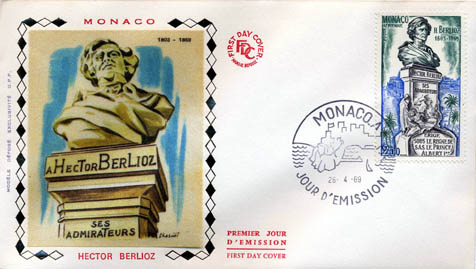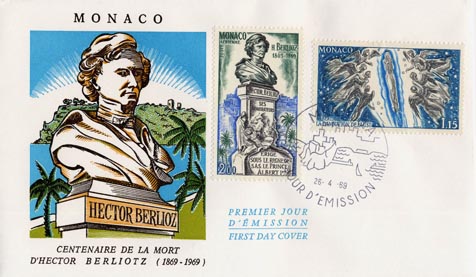 The monument itself was erected in March 1903 to mark the centenary of Berlioz's birth. At the inauguration ceremony Jules Massenet delivered the main speech.


La Damnation de Faust
1. Stamps
| | | |
| --- | --- | --- |
| Marche Hongroise | Le Cabinet du Dr Faust | La Taverne d'Auerbach |
| Le Ballet des Sylphes | Menuet des Follets | La Chambre de Marguerite |
| Forêts et Cavernes | La Course à l'Abîme | Le Ciel |

Colour trial for the Menuet des Follets
2. First-day covers
2. 1. Series A

2. 2. Series B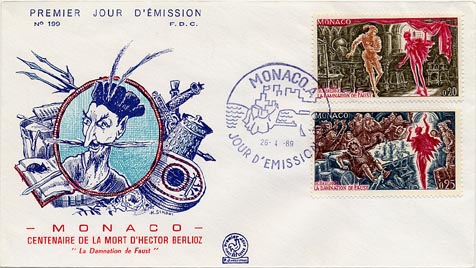 2. 3. Series C

2.4. Three covers from two different series
Cover posted to a private address in Amiens, France

3. First-day issue postcards


Memorabilia main page
© (unless otherwise stated) Michel Austin and Monir Tayeb for all the texts and images on Berlioz Memorabilia pages.