Memorabilia collection
Stamps (1)
All pictures on this page have been scanned from items in our own collection. All rights of reproduction reserved.
The following two stamps commemorate the 150th anniversary of Berlioz's death.
Stamps issued in France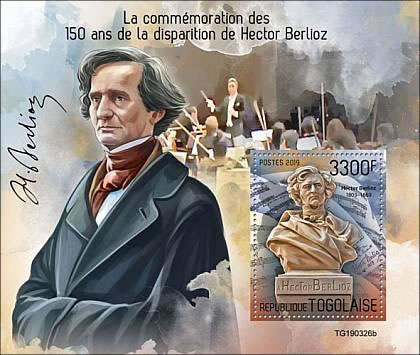 Stamps and first day covers displayed on the following items were issued to mark the bicentenary of Berlioz's birth
Stamp issued in Belgium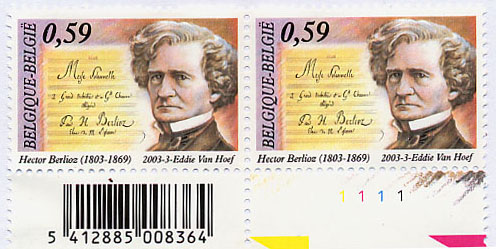 The Belgian Postage Stamps and Philately Department issued this stamp on 22 February 2003 (see also Bicentenary Celebrations 4).
This first-day cover card bears the signature of the designer of the stamp, Eddie Van Hoef.
This first-day sheet was issued on 24 February 2003.
First-day cover postcard
See also the pre-publication art works and designs for the stamp issued in Belgium.
First- day covers issued by Britain's Royal Mail on 4 November 2003
Stamp issued in the Principality of Monaco
The English translation of the text around the sheet reads: 200th anniversary of the birth of the French musician Hector Berlioz; and the line on the bottom: Principality of Monaco.
See also Berlioz 10-franc note in Coins and banknotes.
Stamp issued in Romania
See also Une matinée chez Liszt, painted by Josef Kriehuber when Berlioz was on his first visit to Vienna in 1845.
200th Birthday of Berlioz
stamp and cover issued in Japan
200th Birthday of Berlioz
Stamp issued in Guiné-Bissau
Stamp issued in São Tomé and Príncipe
This stamp is embedded in a card showing Berlioz as a young man in 1832 and then in 1864.


Memorabilia main page
© (unless otherwise stated) Michel Austin and Monir Tayeb for all the texts and images on Berlioz Memorabilia pages.