Memorabilia collection
Stamps (3)
All pictures on this page have been scanned from items in our own collection. All rights of reproduction reserved.
The stamp and its various first day covers displayed on this page were issued in France on 22 January 1983.

See also this stamp on a 1983 postcard.
This silk covered special card, with the 1983 stamp franked on it on the day of issue, was part of a special collection devoted to celebrated people. It is number 63 in the collection and measures 17cm x 24. 1300 numbered copies of this card was issued; our copy is number 1181.
This special first day cover was issued in 33,800 copies. The drawing of Berlioz printed on silk is by Pierre Forget, who has won the Prix de l'Art philatélique many times.
First-day cover postcard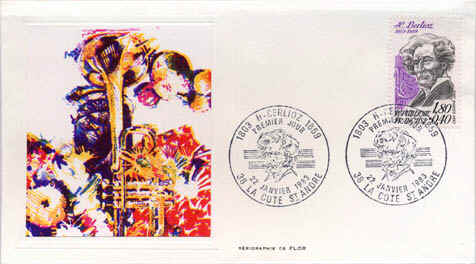 The annual Festival Berlioz has since 1994 been held at La Côte Saint-André.

Letter posted in Lencloitre, France in 2005
Letter posted in La Côte Saint-André in 2007


Memorabilia main page
© (unless otherwise stated) Michel Austin and Monir Tayeb for all the texts and images on Berlioz Memorabilia pages.