Berlioz's Birthplace – La Côte Saint-André
signpost and Silhouette of Berlioz
This page is also available in French
On the approach to the town from the direction of La Frette there is a signpost on which an 1845 lithograph of Berlioz by August Prinzhofer is reproduced together with two sketches of Les Halles and the Church of Saint-André. Further down the road at the entrance to the town centre there is a metal silhouette of Berlioz, which is located on the Place des Récollets. The silhouette was erected in the bicentenary year, and was probably inspired by an 1854 silhouette. We have not been able to establish who made this metal silhouette.
The photographs reproduced on this page were taken by Michel Austin, respectively in August 2011 and September 2008. © Monir Tayeb and Michel Austin. All rights of reproduction reserved.
1. Berlioz Signpost (in 2011)
2. Berlioz silhouette (in 2008)
The road behind the silhouette is Rue de la République on which the Berlioz family home is located.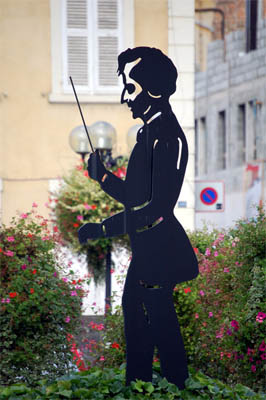 © Monir Tayeb and Michel Austin for all the pictures and information on this page.
Back to La Côte Saint-André main page