Berlioz's Birthplace – La Côte Saint-André
Church of Saint-André
The parish church of Saint-André was built over 900 years ago and is within walking distance of the house in which the Berlioz family lived. The three-day old Hector was baptised in the church's old Romanesque chapel on 14 December 1803.
The church organ was built in 1880. The Committee in charge of the matter opted for an organ of the Romantic period as a homage to Berlioz's era. The old cemetery around the church was transferred elsewhere many decades ago.

Unless otherwise specified, all the photographs reproduced on this page were taken by Michel Austin in April 1998; the postcards are from our own collection. © Monir Tayeb and Michel Austin. All rights of reproduction reserved.

Place Saint-André in the 1880s
This watercolour by Jongkind is dated 1883. The original is in the Hector Berlioz Museum.

Place Saint-André in the 1880s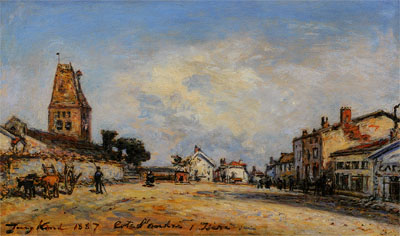 The painting reproduced on the above postcard is also by Jongkind, dated 1887. The original painting is in a private collection. The little ornament on the roof of the bell tower has now disappeared.

Place Saint-André c. 1928
Church of Saint-André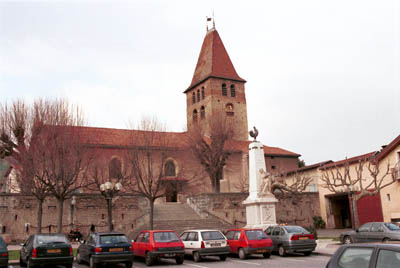 Interior of Church of Saint-André
We are grateful to our friend Pepijn van Doesburg for sending us the photograph of the interior of the Church.

© 1998-2013 (unless otherwise stated) Monir Tayeb and Michel Austin for all the pictures and information on this page.
Back to La Côte Saint-André main page