An autograph letter of Berlioz to Jules Lecomte
13 May 1854 (CG no. 1759)

This page is also available in French
Abbreviations:
CG = Correspondance générale (8 volumes, 1972-2003)
NL = Nouvelles lettres de Berlioz, de sa famille, de ses contemporains (2016)
We publish on this page the image with transcription, translation and commentary of a letter of Berlioz to the writer and journalist Jules Lecomte; it was acquired by us and donated in 2017 to the Hector Berlioz Museum at La Côte Saint-André. The letter is dated 13 May 1854 and was already published in CG as no. 1759.
Letter of Berlioz to Jules Lecomte
© Musée Hector-Berlioz
Transcription
13 mai 1854
Mon cher Lecomte
Voici la lettre de Chateaubriand et un billet d'Andrieux; je n'ai pas pu retrouver la lettre du Roi de Prusse.
Ne mettez rien sur la lettre de Chateaubriand qui indique qu'elle me fut adressée.
Mille amitiés sincères
Votre tout dévoué
Hector Berlioz
Translation
13 May 1854
My dear Lecomte
Here is Chateaubriand's letter and a note from Andrieux; I have not been able to find the letter of the King of Prussia.
Do not put anything on the letter of Chateaubriand to suggest that it was addressed to me.
With all best wishes
Your devoted
Hector Berlioz
Commentary
Jules Lecomte (1814-1864) started his career as a naval officer, but from 1832 turned very soon to journalism and writing; he was editor or founder of several papers in Paris. Some time after his return from his stay in Italy of 1831-1832, Berlioz became acquainted with him; their relations can be traced through their surviving correspondence for a period of over 20 years, from 1837 to at least 1859, and may have lasted beyond that.
The known letters of Berlioz to Lecomte are: CG nos. 497 (2nd half of May 1837), 1530 (12 November 1852), 1610 (27 June 1853), 1616bis (in vol. VIII; mid-July 1853?), 1759 (13 May 1854, the letter reproduced on this page), 1801 (with supplement in NL p. 407; 21 October 1854), 1940bis (15 April 1855; NL p. 412), and 2291 (May-September 1858). (The letter initially published in CG vol. III as no. 743 is evidently the same text as no. 1801, but misdated to March 1841, though this was not pointed out in CG IV p. 594 or in NL p. 407; see CG VIII p. 679.) In addition there are two letters of Lecomte to Berlioz, both of them letters of congratulation: CG nos. 1827 (10 December 1854, on the first performance of l'Enfance du Christ) and 2141bis (in vol. VIII; late June-early July 1856, on Berlioz's election to the Institut). The tone of the correspondence between the two men is cordial from the start, and Lecomte evidently appreciated Berlioz's achievement. It was fitting therefore that it should have been in the weekly journal Le Monde Illustré, founded by Lecomte in April 1857, that Berlioz should have chosen to publish at the invitation of the editor a serialisation of his Mémoires d'un musicien in 1858 and 1859.

The present letter is evidently in response to a request from Lecomte for autographs of celebrities which were in Berlioz's possession. This was not the first time that Berlioz had been asked for autographs. In June 1839 his sister Nancy requested her sister Adèle, who at the time was visiting her brother Hector in Paris, to try to obtain from him autographs from persons with whom he had relations, though it is not clear whether she was successful (see her letters of 4 June and 26 June 1839). In 1852 the writer and critic Xavier Raymond (1812-1886) wrote to Berlioz with a similar request and received in reply autographs from a series of celebrities: Liszt, Spontini, Jouy, Henselt, Scribe, Andrieux, Rouget de Lisle, A. de Vigny, Horace Vernet, A. Lvoff, and Paganini (CG no. 1444bis [in vol. VIII; 28 January 1852].
The two texts that Berlioz gave to Lecomte are both mentioned and cited in the Mémoires (chapter 7 for the letter from Andrieux, dated 17 June 1823, reproduced in CG no. 23, and the same chapter for the letter from Chateaubriand, dated 31 December 1824 and reproduced in CG no. 38).
The letter of the King of Prussia that Berlioz claims he could not find is most probably a letter dated 23 March 1844 (CG no. 891bis, in vol. VIII). The original text is beautifully handwritten and signed by the King himself, all in perfect French; in it the King thanks Berlioz for sending a copy of his recently published Grand Traité d'instrumentation et d'orchestration modernes and for dedicating it to him. See the image below, followed by a transcription and translation of the text.
This letter raises an interesting question. The background to it is given in detail in the page on Berlioz and Berlin, in the sections on the years 1842 and 1843. When in the summer of 1842 Berlioz completed his treatise he decided, possibly on the advice of the celebrated scientist Alexander von Humboldt, who was influential at the Prussian court, to offer the dedication to the King of Prussia. This he duly did during his visit to Berlin in April 1843 (CG nos. 820, 823ter), and after his return to Paris sent copies of the work to Berlin at the end of the year, one of which was intended for the King (CG nos. 873, 877). The King thanked him in the letter under discussion here, and Berlioz mentioned this to his sister Nancy a few weeks later (CG no. 902, 19 May).
A personal autograph letter from one of the most prestigious rulers of the time was a great rarity: kings and emperors did not normally communicate in person with non-royals but through intermediaries (cf. CG nos. 991, 1106, 1108). The existence of this letter excited the interest of autograph collectors such as Xavier Raymond and Jules Lecomte, but on both occasions Berlioz professed to be unable to find the letter (CG nos. 1444bis, 1759). Yet the original is extant and is now in the Hector Berlioz Museum at La Côte-Saint-André (inventory number R96.231); it is reproduced here with the kind permission of the Museum. It forms part of the Chapot collection, which indicates that it came as one of a group of letters addressed to himself that Berlioz did preserve, many of them letters of congratulation (whereas many other letters addressed to him have disappeared). The implication is that Berlioz was not being truthful in claiming to his correspondents that he could not find the letter: in reality the autograph meant so much to him that he was not prepared to give it away.

Letter of the King of Prussia to Berlioz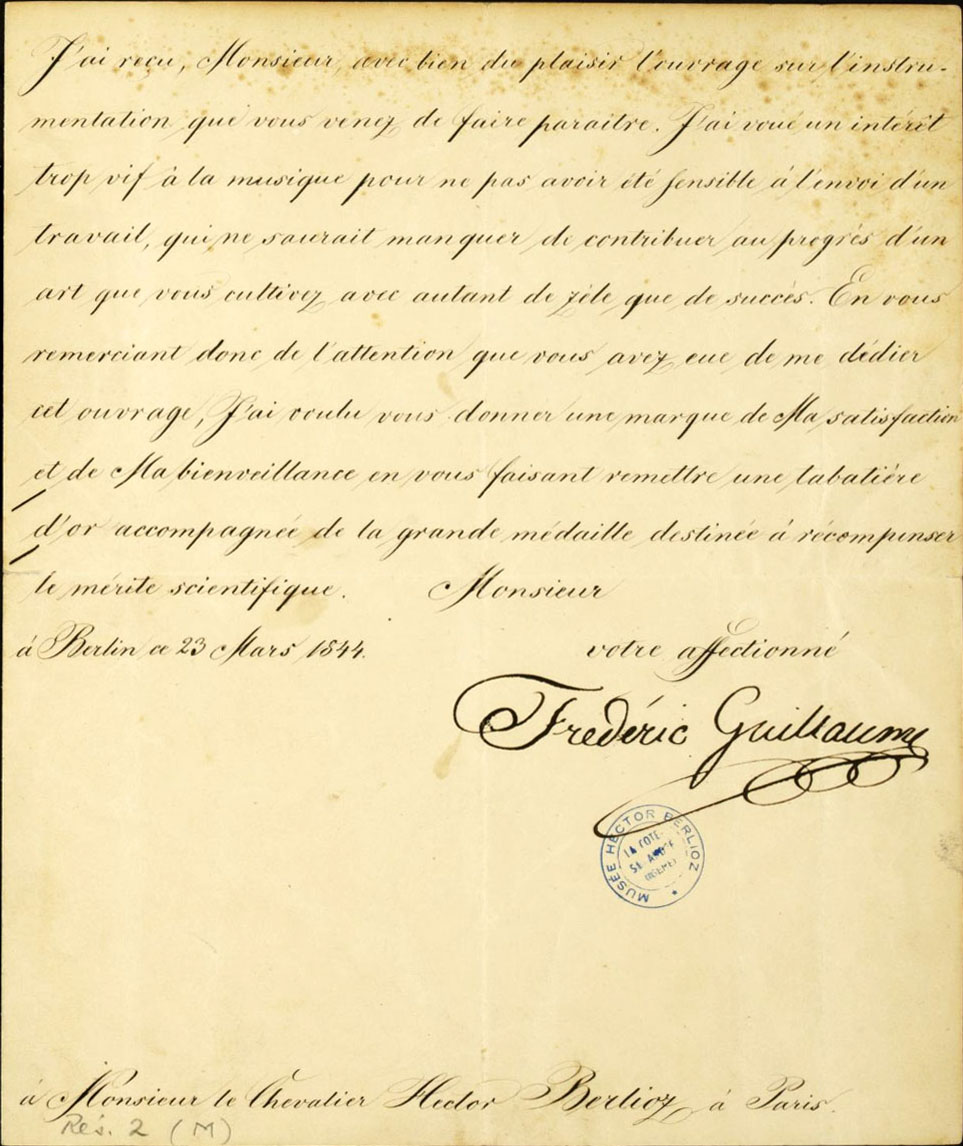 © Musée Hector-Berlioz
Transcription
J'ai reçu, Monsieur, avec bien du plaisir l'ouvrage sur l'instrumentation que vous venez de faire paraître. J'ai voué un intérêt trop vif à la musique pour ne pas avoir été sensible à l'envoi d'un travail, qui ne saurait manquer de contribuer au progrès d'un art que vous cultivez avec autant de zèle que de succès. En vous remerciant donc de l'attention que vous avez eue de me dédier cet ouvrage, J'ai voulu vous donner une marque de Ma satisfaction et de Ma bienveillance en vous faisant remettre une tabatière d'or accompagnée de la grande médaille destinée à récompenser le mérite scientifique.
à Berlin ce 23 Mars 1844
Monsieur
votre affectionné
Frédéric Guillaume
à Monsieur le Chevalier Hector Berlioz, à Paris.
Translation
Sir, I received with great pleasure the work on orchestration which you have just published. I have devoted too keen an interest to music not to have been touched by the sending of such a work, which cannot fail to contribute to the progress of an art which you cultivate with as much zeal as success. In thanking you therefore for your thoughtfulness in dedicating this work to me, I wished to give you a token of My satisfaction and My goodwill in presenting you with a snuffbox of gold together with the great gold medal intended to reward scientific merit.
Berlin, on the 23rd of March 1844
Sir
your affectionate
Frederic William
to Sir Hector Berlioz, in Paris.


The Hector Berlioz Website was created on 18 June 1997 by Monir Tayeb and Michel Austin; this page created on 1 April 2018.
© Musée Hector-Berlioz, for the autographs and images. All rights reserved.
© Michel Austin and Monir Tayeb, for the commentary and translations. All rights reserved.

Back to Contemporary Performances and Articles page


Back to Home Page