Berlioz Photo Album : 1864– 1865
Unless otherwise stated all pictures on Berlioz Photos pages have been scanned from engravings, paintings, postcards and other publications in our own collection. All rights of reproduction reserved.

Berlioz's photos and portraits
Photograph by Karl Reutlinger
– before 15 August 1864
This picture has been scanned from an 1890 reprint of Berlioz's photo.
The 1864 photo of Berlioz by Reutlinger has inspired paintings, engravings and drawings by various artists. The next 15 images are the copies that we have in our collection.
Hand-coloured engraving dated 1880
19th century engraving
We have not been able to establish the exact date of this engraving.

19th century oil painting by Ed Winkler
The above postcard, which reproduces the painting, was published in 1958.

This early 20th century postcard was published in Austria.

1911 Woodcut print, signed by the artist in pencil
Drawing around the turn of the 19th/20th century
This is a print from the original pen and ink drawing by the Russian Alex Gribayedoff. We do not have its exact date.
Drawing by Henrik Major (1895-1948)
This postcard was published in Gyoma, Hungary. Major was born and worked in Hungary; died in New York. We are most grateful to Dr. Janet I. Wasserman for letting us know the name of the artist who drew the original caricature, and further information about him.

Postcard published in Dresden
Postcard published in Dresden
Postcard in published London in "Rotary Photographic" series
Postcard published in Paris in "Nos Musiciens Célèbres" series
A very old postcard
There is no information on this card regarding the date and location of its publication. The back of the card is blank.
Postcard published in Paris
This drwaing was published in the Petit Journal, 28 November 1903, a copy of which is in our own collection.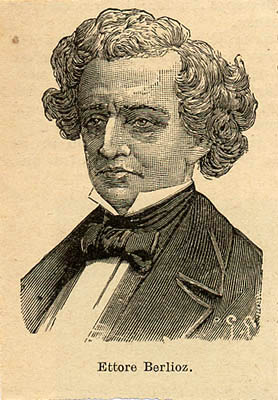 Engraving published in Italy
Photograph taken between summer
1864 and July 1865, by Franck
This photograph appeared in the first edition of Berlioz's Mémoires, published posthumously in 1870. The notes written under the photograph are from the third bar of the first movement of the Symphonie fantastique – a self-borrowing from a piece Berlioz composed before he left La Côte Saint-André for Paris in 1821.
The photographer is François-Marie-Louis-Alexandre Gobinet de Villecholle, also known as Franck. He took two photographs of Berlioz at the same session, one of which Berlioz chose as frontispiece for the Mémoires. They were made between summer 1864 (after his promotion to Officier de la Légion d'honneur) and July 1865, when the Mémoires were bound and the whole print run of 1200 copies were put in Berlioz's office at the Conservatoire.

Lithograph after the photograph taken by Franck
This picture has been scanned from a biographical article entitled "Berlioz (1803-1869)" by J. M. J. Bouillat in Les Contemporains, No.182., published in Paris on 5 April 1896, which is in our own collection.
This undated card reproduces the 1896 lithograph displayed in the previous item.
We are most grateful to M. Benoît Carlier who owns the above picture and has kindly scanned and sent us this copy. M. Carlier's research shows that the picture is a lithograph by Paul Maurou made around 1865. The signature, in ink, does not appear to be in Berlioz's hand. A copy of the same lithograph accompanies an 1880 chant et piano edition of La Damnation de Faust, published by Richault et Cie éditeurs de Musique – 4, Boulevard des Italiens, Paris.
This picture could be the second photo taken at the same session as the one which Berlioz chose for the frontispiece of his Mémoires. However, the colour of Berlioz's vest is different. Also, a similar picture, printed by a different publisher, Buttner-Thierry, is in the Bibliothèque nationale de France. The BNF attributes the original photograph to Reutlinger, and the printed lithograph to Paul Maurou, made ca 1865; it describes the signature under the lithograph as a facsimile of Berlioz's.
Gunter Braam, who is an expert in Berlioz iconography, confirms that the picture is in part the second photo taken by Franck; he further explains the origins of the lithograph:
"This is a very funny mixture of two photographs: You will see by comparison that the waistcoat and cravat are from the photograph taken by Bertsch et Arnaud (also engraved by Carey for Mirecourt's book on HB (1856); later engraved again by H. Dochy for Jullien (1888); the head is indeed by Franck . ... I think [the lithograph] is posthumous. The author is indeed Paul Maurou, who has signed his name in the oval [of the print which belongs to the BNF] (personal communication)."
Postcard published in Belgium in the "Edition Heintz-Jadoul" series
Postcard published in Berlin
Published in Germany
Postcard published in Paris

© (unless otherwise stated) Monir Tayeb and Michel Austin for all the texts and images on Berlioz Photo Album pages.
All rights of reproduction reserved.

Photo Album main page