Memorabilia collection
Berlioz for children: books and CDs
All pictures on this page have been scanned from items in our own collection. All rights of reproduction reserved.
Berlioz Raconté aux Enfants
This CD was issued in 2003. Berlioz is narrated to children by Jean-Louis Barrault, with extracts from the Symphonie Fantastique. The original recordings were made in 1957 and 1969. The CD is accompanied by a booklet containing the text of the narration and a large number of illustrations.
Hector Berlioz
This book, accompanied by a CD, was published by Gallimard Jeunesse Musique/Erato in Paris in 1998. It is aimed at children between 6 and 10 years old. The text is by Christian Wasselin, illustrations by Charlotte de Voake and narration by Benoît Allemane and Judith Levasseur. The English translation of the book (under the title "Berlioz – First Discovery Music") has also been published (ABRSM Publishing, 2003).
Berlioz & Hugo – Notre-Dame de Paris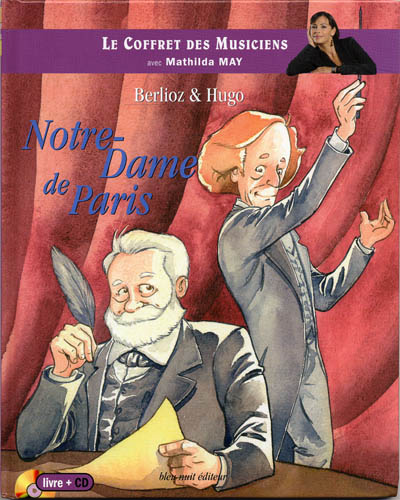 The text of this book is by Pascal Fardet and the illustrations are by Christophe Ronus; it includes also an audio CD. It was published in Paris by Bleu Nuit Éditeur in 2010. The book is aimed at children of school age.
See also Berlioz Bibliography: Pedagogical books and resources for children (and its French version)


Memorabilia main page
© (unless otherwise stated) Michel Austin and Monir Tayeb for all the texts and images on Berlioz Memorabilia pages.