Memorabilia collection
Magazines and other publications
Bicentenary issues (2)
All pictures on this page have been scanned from items in our own collection. All rights of reproduction reserved.
A romantic year with Berlioz – 2004 desk diary
This desk diary, with texts on various pages relating significant events in Berlioz's life, was published in 2003.
Hector Berlioz – Musique en Dauphiné
This book, written by Christian Wasselin, was published by Musée Dauphinois in 2003 to mark the bicentenary of Berlioz's birth. We are most grateful to our friend Jean-Michel Desai for sending us a copy at the time.
Revue Musicale de Suisse Romande – 2003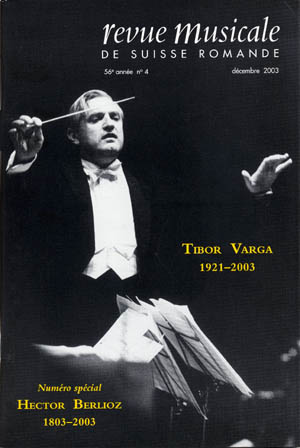 This Berlioz special issue of the Suisse journal was published in December 2003.
Le Monde de la Musique – 2003
The June 2003 issue of this magazine has an extensive Berlioz bicentenary section, entitled "Dossier Berlioz".
Gramophone, published in February 2003
An article entitled "Berlioz the Innovator" by Roger Nichols appears in this issue.



Memorabilia main page
© (unless otherwise stated) Michel Austin and Monir Tayeb for all the texts and images on Berlioz Memorabilia pages.