Memorabilia collection
Exhibitions, conferences, and other events (1)
All pictures on this page have been scanned from items in our own collection. All rights of reproduction reserved.
Travelling Berlioz Exhibition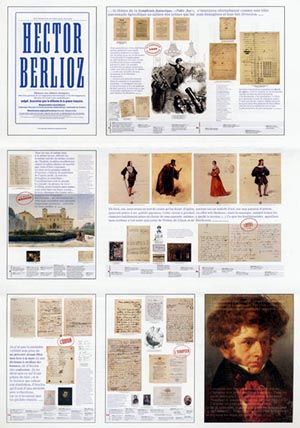 This travelling exhibition, consisting of 19 posters, was created in 2000 and exhibited in a number of locations especially in Europe during Berlioz's bicentenary year in 2003. We are grateful to Mr Richard Macnutt, member of the Comité international Hector Berlioz, for sending us a copy of this poster in 2003.
Festival of Music at the Sorbonne, Paris
The Festival was hosted by the University of Sorbonne; it consisted of a series of concerts, recitals and Round Table discussion sessions.
Berlioz Bicentenary Conference in Texas
This international colloquium was held at the University of North Texas College of Music, Denton, USA in November 2003. Our friend John Ahouse kindly sent us the colloquium's full programme at the time. Our sincere thanks to him.

Homage to Berlioz
This special birthday event was organised by the Berlioz Museum at La Côte Saint André.
Bicentenary Philatelic Exhibition programme – front cover
Bicentenary Philatelic Exhibition programme – back cover
The cover image shows an album leaf dated 23 January 1843 in Berlioz's hand, with a quotation from Sara la baigneuse.
Bicentenary Philatelic Exhibition – publicity notice
In addition to local souvenir stamps, the first-day issue of Berlioz 2003 stamp published in Belgium in February was included in this exhibition.


Memorabilia main page
© (unless otherwise stated) Michel Austin and Monir Tayeb for all the texts and images on Berlioz Memorabilia pages.