Memorabilia collection
Exhibitions, conferences, and other events (2)
All pictures on this page have been scanned from items in our own collection. All rights of reproduction reserved.
Hector Berlioz Museum at La Côte Saint-André
This poster was issued to announce the re-opening of the Museum in June 2003 after extensive restorations.
Invitation to attend the inauguration of the refurbished Museum on 28 June 2003
Exhibition held at the Municipal Library of Grenoble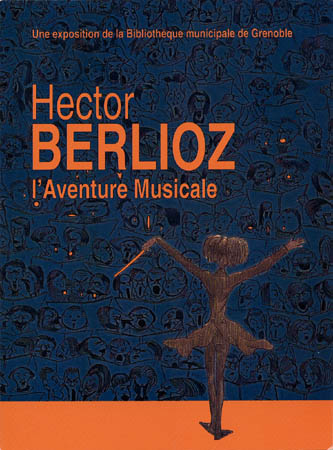 Berlioz: The Romantic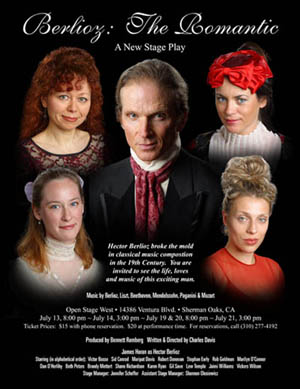 The play, produced by Bennet Ramberg, was first staged in the USA in 2003. Our sincere thanks to Mr Ramberg for sending us a copy of the above flyer at the time.
Berlioz 2003 Exhibition at the Paris Conservatoire – 2003
The venue of this exhibition was the present building of the Paris Conservatoire in Parc de la Villette, different from the one Berlioz knew in his lifetime.
Berlioz and his Time – Germany 2003
This festival was organised and sponsored by the cultural department of Bayer, the German multinational company. The performances take place in Leverkusen, Wuppertal and Bonn, between September 2003 and June 2004.
23rd Musical Autumn – Nimes, France 2003
This talk, entitled "Berlioz and Wagner", was given by Jean-Philippe Dartevel and organised by the Cercle Richard Wagner Nimes Languedoc on the occasion of the bicentenary of Berlioz's birth. It sought to promote a better understanding of the ambiguous and complex relationship between the two men, which over a period of nearly thirty years mingled rejection with admiration and love with hate. We are grateful to our friend Jean-Philippe Dartevel for giving us a copy of the above flyer in 2003.


Memorabilia main page
© (unless otherwise stated) Michel Austin and Monir Tayeb for all the texts and images on Berlioz Memorabilia pages.