Centenary of Berlioz's death on 8 March 1969
Commemorative programmes on the BBC
© 1969 BBC
The BBC commemorated the centenary of Berlioz's death with a series of programmes on radio and television over a two week period. This page reproduces the outline of these programmes from a contemporary issue of Radio Times, the BBC's weekly magazine, a copy of which is in our collection. This issue of the magazine was published on 6 March 1969 and covered the radio and television broadcasts from Saturday 8 to Friday 14 March.

Television
Sunday 9 March 1969, 11.50 a.m.
Berlioz: a Singular Obsession
Hector Berlioz (1803-1869), the composer through whose 'Fantastic Symphony' runs a melodic theme which he called L'idée fixe, died 100 years ago yesterday. Various idées fixes — Shakespeare, Goethe, Virgil, and the women he idealised — ran through his life. To Michael Ayrton, painter and sculptor, Berlioz himself has become an idée fixe. With his own paintings, sculptures, and drawings, and with works of art of Berlioz's own time, Ayrton illustrates his own very personal involvement with the character and music of this strange and passionate composer.
The programme features Berlioz's words and music performed by:
Jean-Louis Barrault
Josephine Veasey
Ryland Davies
Michael Rippon
The Ambrosian Singers
Leader, JOHN MCCARTHY
BBC Symphony Orchestra
Leader, ELI GOREN
Conducted by Colin Davis
Written and narrated by
MICHAEL AYRTON
Produced by KENNETH CORDEN

HECTOR BERLIOZ died on March 8, 1869, and the centenary year in this country is being marked by an exhibition at the Victoria and Albert Museum, special performances at the Edinburgh, Bath, and York Festivals, and the complete performance of his monumental music drama, The Trojans, at Covent Garden conducted by Colin Davis.
Like many great composers Berlioz constantly struggled to have his music performed and even now, though many of his works are widely recognised as masterpieces, few of them receive the performance they deserve either in number or quality. A particular feature of some of his music — especially his most popular work, the 'Fantastic Symphony' — is the repetition of the idée fixe, a musical theme representing the women he loved — Harriet Smithson, the Irish Shakespearean actress who became his first wife, and Camille Moke, to whom he turned after Harriet rejected him, and who also jilted him.
To Michael Ayrton, painter and sculptor, Berlioz himself has become a singular obsession. Fascinated for many years by his character and music and by some strange coincidences in their lives (he shares all Berlioz's likes and dislikes), he tells in Berlioz: A Singular Obsession a strange story of love and death, of a passionate and talented composer influenced by drugs [?], haunted by misfortune, uplifted by admiration for Shakespeare, Goethe, Virgil, but rejected by his own countrymen.
Ayrton has also designed the costumes for the operatic excerpts and, to illustrate his story, draws on a large number of his own sketches of Berlioz, Harriet and Camille, and on some very fine paintings and sculptures he has done specially for this programme. He also illustrates lavishly from the works of art of Berlioz's own time. They include works by Corot, Delacroix, Ingres, Piranesi and Turner.
Jean-Louis Barrault, who himself appeared as Berlioz in a film some years ago, takes part as the voice of Berlioz and as Lélio—Berlioz's autobiographical representation of himself. Barrault also adds his own comments on Berlioz from the French point of view. The music will include parts of the 'Fantastic Symphony,' Lélio, the Tristia choruses, The Damnation of Faust, and The Trojans, and is played by the BBC Symphony Orchestra under Colin Davis (now acknowledged as one of the leading Berlioz conductors of our time), with the Ambrosian Singers, with Josephine Veasey as Dido, Ryland Davies as Aeneas and Michael Rippon as Mephistopheles and the Ghost of Hector.
KENNETH CORDEN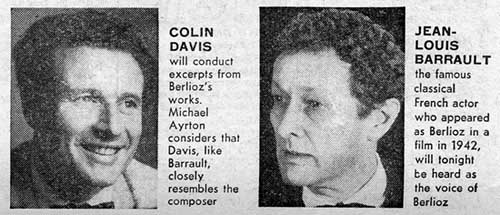 Radio
BERLIOZ 1803-1869
THIRD PROGRAMME
Saturday 8 March, 7.30 p.m.: The Damnation of Faust from Liverpool
MUSIC PROGRAMME
Saturday 8 March, 8.40 a.m.: Centenary Concert on gramophone records including the Te Deum and Requiem Mass
Sunday 9 March, 11 a.m: A centenary edition of Music Magazine
Sunday 9 March, 4.00 p.m.: Rarely heard pieces, mainly vocal
Monday 10 March, 1.40 p.m.: Symphonie fantastique
Tuesday 11 March, 1.40 p.m.: Lélio
Wednesday 12 March, 11.50 a.m.: The Damnation of Faust, Recorded at the English Bach Festival, 1968
Thursday 13 March, 12 noon: Cléopâtre: scène lyrique
Friday 14 March, 3.00 p.m.: The Childhood of Christ
Sunday, 16 March: The Trojans, Part I
Sunday, 23 March: The Trojans, Part 2
RADIO 4
Tuesday 11 March, 8.00 p.m. A Self-Portrait of a Genius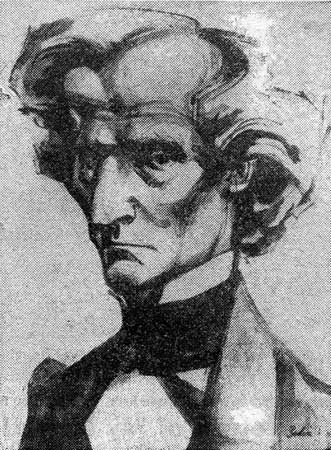 ... Dear Hector
MAURICE BROWN writes:
MICHAEL AYRTON once said to me, 'It is strange, isn't it, that those of us who know that Berlioz was a genius always call him Hector among ourselves. We are not on Christian-name terms with our other favourite composers. I suspect it is because we are in love with him.'*
For those of us who delight in our love, passion was awakened by the music of Berlioz, and through it we began to draw closer to him. Then, with a clap of thunder, came the discovery of the composer's literary work. We found that he was not only a musical master but also a glorious writer of prose, and it is through his writings, juxtaposed to his music, that the man was revealed to us.
In my programme, Hector Berlioz: a Self-Portrait of a Genius—a labour of love about which I have been thinking for over a quarter of a century — I have largely drawn from his letters and two of his books, the Memoirs and Evenings in the Orchestra. The extracts, which cover the composer's life from the age of twelve until a few months before his death, are linked together to form a long monologue, spoken by Marius Goring. There are no other voices, but music is occasionally used to sharpen the picture.
Between us, Goring and I have attempted to portray Berlioz in all his moods — from outstanding sanity to near madness — by using his own words to tell of his torments and triumphs, his adoration of Shakespeare, Virgil, Gluck, and Beethoven; his love of women and hatred of academic prejudice and clique-bound influence; his devotion to travel, his friendships; his enmities, his exaltation and despair; his dedication to the best in music.
*The drawing above is by Michael Ayrton whose programme on Berlioz for BBC-2 Workshop was shown on Sunday.


Related pages on this site:
Arts inspired by Berlioz: Lélio, Idée fixe
Posthumous portraits and sculptures of Berlioz

The Hector Berlioz Website was created by Monir Tayeb and Michel Austin on 18 July 1997; this page created on 8 March 2007, revised on 9 January 2021.
© Monir Tayeb and Michel Austin. All rights of reproduction reserved.

Back to Contemporary Performances and Articles page


Back to Home Page

Retour à la page Exécutions et articles contemporains


Retour à la Page d'accueil