Berlioz-inspired works of art : Michel Ayrton

AYRTON AND BERLIOZ
The pictures displayed here are courtesy of Michael Ayrton's book, Berlioz, A Singular Obsession. A Personal Portrait of Hector Berlioz (1803-1869) on the Centenary of His Death (1969, London: British Broadcasting Corporation), a copy of which is in our own collection. The originals of all the images are by Michael Ayrton (1921-1975) himself.
© Michael Ayrton Estate. All rights of reproduction in any form are reserved.
1. Harold en Italie
2. Lélio ou retour à la vie
3. The Idée fixe (from Symphony fantastique)
"Harold in Italy"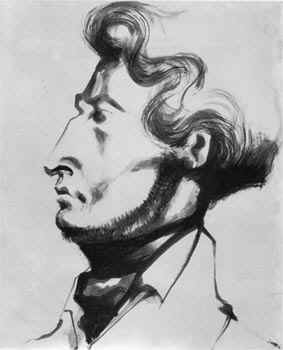 wash drawing – 1966
Lélio
Idée fixe
The artist's beloved, as represented in the Idée fixe, "becomes stranger, more absurd, madder, more cruel, until finally she becomes a nightmare, a triumph of Death." Her state of mind and that of Lélio's elides and varies "with each musical variation on the theme as it is heard in the Fantastic Symphony" and its sequel, Lélio ou retour à la vie (Berlioz, A Singular Obsession. page 22).
"Lélio"
wash drawing – 1968


"Lélio"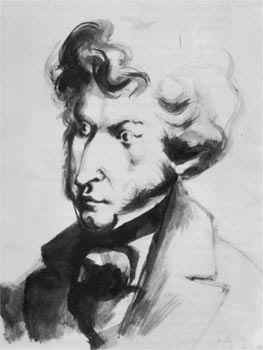 wash drawing – 1968


"Lélio in profile"
wash drawing – 1967

"Idée fixe"
wash drawing – 1967


"Idée fixe"
wash drawing – 1967


"Idée fixe"
wash drawing – 1967


"Idée fixe"
wash drawing – 1967

© Michael Ayrton Estate