Memorabilia collection
Figurines and mini busts
All pictures on this page have been scanned from items in our own collection. All rights of reproduction reserved.
Hard plastic Mokarex figurine dated 1958
height: 6 cm
This figurine with its conductor baton intact is very rare.
The baton in this one has not survived.

height: 23 cm
The above is a small copy of the bust made by Émile Joseph Carlier in 1880. The original is in the Musée Hector Berlioz. The 1885 version of the bust made by the same sculptor is in the Opéra Garnier. The copy in our collection is a gift to us by the Museum.
Marble miniature bust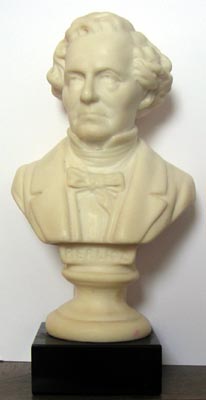 height: 16 cm
height: 13 cm
height: 21 cm
Gold lacquered cast miniature bust
height: 14 cm
height: 14 cm


Memorabilia main page
© (unless otherwise stated) Michel Austin and Monir Tayeb for all the texts and images on Berlioz Memorabilia pages.