Berlioz's Birthplace – La Côte Saint-André
The Seminary
Berlioz received part of his early education in a seminary at La Côte, before his father decided to take personal charge of his son's education, he was ten years old at the time:
J'avais dix ans quand il me mit au petit séminaire de la Côte pour y commencer l'étude du latin. Il m'en retira bientôt après, résolu à entreprendre lui-même mon éducation. Pauvre père, avec quelle patience infatigable, avec quel soin minutieux et intelligent il a été ainsi mon maître de langues, de littérature, d'histoire, de géographie et même de musique !

I was ten years old when he placed me in the little school at La Côte to begin the study of Latin. But he soon took me away, as he was determined to look after my education himself. What indefatigable patience my poor father showed, and what meticulous and intelligent care he devoted to teaching me himself languages, literature, history, geography, and, as will be seen presently, even music!

(Memoirs, Chapter 2)
The building which would later become a seminary was originally a convent, occupied by the monks of the Order of the Récollets from the early 17th century until 1792. From 1789 its large refectory served as a meeting place of the Municipal Assembly and later that of the Cantonal Assembly. In 1809 it was ceded to the Bishop of Grenoble, and became a secondary school and a little seminary (René Bergeret, 1989).

Unless otherwise stated, the images on this page have been reproduced from postcards in our own collection. © Monir Tayeb and Michel Austin. All rights of reproduction reserved.
The "Little"Seminary, formerly the Convent of the Récollets
The above photo is courtesy of P. Moulin, Berlioz: Sa jeunesse – Son adolescence 1803-1821 (Association Nationale Hector Berlioz, undated, c. 1969), a copy of which is in our collection.

The Seminary [The Barrack, in 1910]
The Seminary [The Barrack of 140 Infantry Regiment, in 1916]
The Seminary [a hospital, in the 20th century, no exact date]
The main entrance to the Seminary
Court of Honour
The following two postcards were posted in La Côte in 1928.
Court of Honour
The Cloister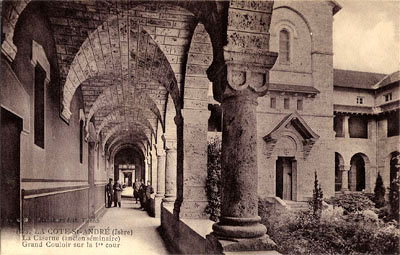 © Monir Tayeb and Michel Austin for all the pictures and information on this page.
Back to La Côte Saint-André main page