Tivoli
The Villa d'Este
This page is also available in French
The Villa occupies the site of an old Benedictine convent. In the 16th century the estate was developed by Cardinal Ippolito d'Este, son of Lucrezia Borgia. A palace was designed by Pirro Ligorio to make the most of its hilltop situation, but the villa's fame rests more on the terraced gardens and fountains laid out by Ligorio and Giacomo della Porta.
There does not appear to be any reference to the Villa d'Este in any of the preserved letters of Berlioz from his time in Italy (whereas there are several mentions of Tivoli, the waterfalls of the Villa Gregoriana, and the Villa Adriana). The only reference comes in the Memoirs (near the end of chapter 41), when Berlioz mentions visiting the Villa together with his two Swedish companions, on their way back from Subiaco to Tivoli. He says the Villa d'Este's name 'recalls that of the Princess Eleonora, made famous by Tasso and the painful love she inspired in him.'
All the modern photographs reproduced on this page were taken by Michel Austin in May 2007. © Monir Tayeb and Michel Austin. All rights of reproduction reserved.
The original copy of the 1834 engraving of the Villa d'Este displayed on this page has been donated by us to the Hector Berlioz Museum and they hold the copyright for it.
The Villa d'Este in 1834
The Villa d'Este in 2007
– the main building
The alley of 100 fountains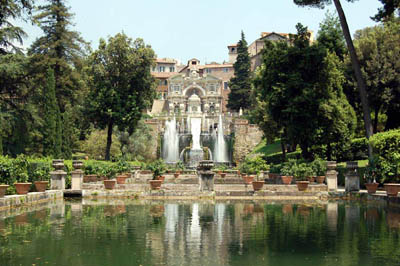 View of Tivoli from the main building
The plaque commemorating Liszt's stay in the villa
The Italian text reads: QUI VISSE E LAVORÓ PER ANNI IL GRANDE COMPOSITORE E PIANISTA UNGHERESE
[The great Hungarian composer and pianist Ferenc [Franz] Liszt lived and worked here for many years].
The period referred covers the latter part of Liszt's life from the late 1860s to the early 1880s.

© Michel Austin and Monir Tayeb for all the pictures and information on this page.
Copyright notice: The texts, photos, images and musical scores on all pages of this site are covered by UK Law and International Law. All rights of publication or reproduction of this material in any form, including Web page use, are reserved. Their use without our explicit permission is illegal.

Back to Berlioz in Italy main page