Berlioz in Grenoble
The centenary of Berlioz's birth – postcards
This page is also available in French
The Centenary Committee Official Edition
The postcards on this page were published in 1903 under the auspices of the Centenary Committee, presided by M. de Beylié, as part of the centenary celebrations. The first seven images of the cards are reproductions of engravings published in Adolphe Jullien's great biography of Berlioz, Hector Berlioz, sa vie et ses œuvres (Paris, 1888).
These cards are in our collection. © All rights of reproduction reserved.
Berlioz in 1831
Berlioz in 1839
Berlioz in 1845
Berlioz in 1862
Berlioz in 1867
An 1883 cartoon
The captions in the two sections read:
H. Berlioz — Past
H. Berlioz — Today
Statue of Berlioz in Square Vintimille, Paris
and in La Côte-Saint-André
"Statue of Berlioz which will be inaugurated
in Grenoble, in August 1903"
"La Côte-Saint-André. — The birthplace of Hector Berlioz"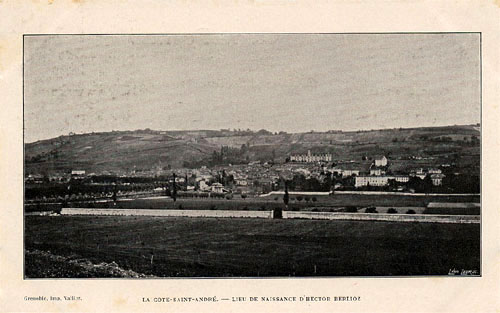 "General view of Grenoble, taken from Rabot Fort"
The reverse side of all the above postcards
An 1863 cartoon by Carjat
The reverse side of the above postcard
A commercial edition
The following commemorative postcard, published in 1903, was posted in Grenoble to Voiron, a nearby town in the Isère Department.


The Hector Berlioz Website was created by Monir Tayeb and Michel Austin on 18 July 1997;
Berlioz in Grenoble page created on 11 December 2008; this page created 11 December 2012; enlarged on 15 January 2013.
© Monir Tayeb and Michel Austin for all the pictures and information on this page.
Copyright notice: The texts, photos, images and musical scores on all pages of this site are covered by UK Law and International Law. All rights of publication or reproduction of this material in any form, including Web page use, are reserved. Their use without our explicit permission is illegal.
Back to Berlioz in Grenoble main page