2015
This page presents reviews of the performances that took place in 2015. We would like to express our gratitude to the authors for their invaluable contributions.
Copyright notice: The reviews published on this page are the intellectual property of the respective contributors and are subject to UK and International Copyright Laws. Their use/reproduction without the authors' explicit permission is illegal.
Les Troyens in Hamburg
By Anja-Rosa Thöming
Hamburg State Opera, September/October 2015; conductor: Kent Nagano, stage director: Michael Thalheimer; selection of photos
It may appear rather ambitious for a new music director and leadership team of an opera house to choose Berlioz's Les Troyens for their very first production of the season. Yet how well it may serve their own purpose to shout out loud: Here we are! – it still is a great joy to see this rarely performed opera on stage. To hear the words and understand its poetry, to sense the orchestra's flow, to be impressed by the choir of more than one hundred voices, to be overwhelmed with the beauty of the human singing voice, to be curious of how musical and theatrical dramaturgy are moving on, separately or linked together.
After an impressive production at the Karlsruhe opera house of Les Troyens and a rather problematical production at the Deutsche Oper Berlin during the last five years this new German mise-en-scène at the Hamburg State opera is another attempt. And it is worthwhile even if it is sometimes disturbing. To get things clear: the plot of Les Troyens is itself very disturbing. The extermination of Troy combined with the fall of Carthage, the dashed hopes of Cassandra and Queen Dido and last but not least the tragedy of the people are distressing.
Through Berlioz's words and music, inspired by Shakespeare and Virgil's Aeneid, the myth becomes vivid and true, maybe even relevant for today. Dido was once a refugee herself and grants Aeneas, displaced from Troy, asylum in her city. This currently burning topic appears to be a major concern for German stage director Michael Thalheimer. How does he cope with human hope and suffering, with the cruelty of fate – or of the gods?
The first part of the Hamburg performance, the so called "La prise de Troie", is dominated by the use of blood – not as a stylised image but as an imitation of the real substance. Blood runs in floods from ceiling to floor; you can almost sense its metallic smell. It is as if stage designer Olaf Altmann tries to capture the brutality of the Trojan war with an equally drastic image. And isn't he right? The deceitful and fatal arrival of the Greek horse, the shocking report of priest Laocoon being devoured by a sea monster, the final slaughter of almost all Trojans including the royal family, as well as the collective suicide of Cassandra and her companions – all this is war, all this means blood. (In the second performance I attended, the blood-producing pump made an absurd noise resembling a car washing facility. I assume Berlioz would not have been amused.)
For the more subtle, wide-ranging tragedy of Cassandra, Thalheimer finds other, less bold signs. As no one wants to share her knowledge of the horrible fate of Troy she appears lonesome in an absolute way and acts as if trapped within herself. The walls around her seem more real than the people addressing her, especially her fiancé Chorèbe. He wants to cheer her up with flowers, approaching carefully, but she doesn't even look, trapped in her blood-stained vision of the imminent catastrophe. "It's time to die and not to be happy" she cries in the only intimate moment with Chorèbe. In other words, in times of war there is no place for a love duet.
This sensitive setting matches Berlioz's conception of Cassandra in a most persuasive way. And I disagree with critic Jürgen Kesting, who reminded Thalheimer (in the Frankfurter Allgemeine Zeitung) of Wagner's dictum that two characters in the opera stage should address one another instead of addressing the audience while singing. This is an obvious error of Wagner who created remarkably lonely and disconnected figures in his own music-dramas, like Tristan or Isolde, to name but two. Many stage directors have shown that opera couples have many different ways to create a complicated love story; the everyday look at each other is not always the first choice. Fortunately, Thalheimer, who has directed more theatre plays than operas so far, has a better understanding of the "logic" of Berlioz's Cassandra.
The best scene of the first part, however, is not about Cassandra or the ignorant Trojans, but about a ghost. In this ingenious scene Berlioz seems to recall all shade- and ghost-scenes ever written for operas and theatre plays. Just as the spectre in "Hamlet" has come to tell the truth, the ghost of Hector is appearing to haunt Aeneas and show him the way to the glorious future of the new Troy in Italy. A reddish-brownish, obviously tortured figure, wearing nothing but heavy boots, crosses the forestage in slow motion. Very simple, very determined, full of suspense and very close to Berlioz's own stage directions ("Le spectre sanglant d'Hector, d'un pas lent et solennel").
The second part of the performance, the so called "Les Troyens à Carthage", raises the question of where we are. The walls are still as broad and blood-stained as in Troy, the place hasn't changed. But who is this young lady in a superb costume acting and singing graciously among different people, praising their prosperous and colourful life? Where is the bright spirit of Carthage under the reign of the beloved and beautiful queen Dido? Why don't we see it, why don't we hear it?
There are three possible answers and each one is depressing: a) The opera house has run out of money and could not afford a change of scenery; b) the stage director and stage designer have run out of ideas and could not think of a different setting, thus remaining in their idée fixe of war and blood; c) both stage director and music director feel uneasy about the joyful chorus "De Carthage les cieux semblent bénir la fête" and the glorious hymn "Gloire, gloire à Didon" and have thrown them out.
It was, of course, not as brutal as that. As music director Nagano explains cunningly, the opera house (which obviously had not run out of money) commissioned a French composer and "Berlioz expert" to create a shortened version of the opera. It was not he who took the decisions, as Nagano freely admits. And the audience never gets to know what is missing: Apart from dance scenes, one major cut in Dido's aria "Chers Tyriens" and a Shakespearean comical soldier-duet, the two already mentioned chorus movements are left out. This is highly unfair to the audience.
One can feel sorry about every lost measure, but cutting out the powerful hymn is like playing Aida without the triumph march. And what is even more important: both choruses define, musically and logically, the atmosphere of Carthage, which is highly attractive to Aeneas and his companions. The tale of Dido cannot be understood without the enthusiasm of the people for their queen and vice versa. When broken-hearted she decides to die at the end, it is not a desperate decision of a middle-class celebrity. Like a heroine of Baroque opera – and here, Berlioz follows the great tradition of French opera – she destroys not only herself but abandons her people.
On the musical side of the performance: one leaves the opera house almost happy. With her intense stage presence as Cassandra American soprano Catherine Naglestad is the leading figure of the first part – although her French pronunciation appears at times slightly careless (for example in the crucial word "malheureuses"). Her counterpart Kartal Karagedik (Chorèbe) has a fine baritone voice. The performance of the choir is remarkable. Torsten Kerl's Aeneas lacks the specific French timbre of the demanding tenor role, which is a disadvantage. Without a free flowing voice he cannot change swiftly from the martial hero-like attack to the softer, caressing phrases with Dido. Also physically he seems to be somewhat restricted.
Queen Dido, sung by Russian mezzo-soprano Elena Zhidkova, is a most astonishing character on stage. Her slim, delicate figure is dressed in a close-fitting three-fourth length skirt of ruby coloured velvet combined with a black and white top leaving her forearms free (costumes: Michaela Barth). These white arms, hands and fingers move graciously before the dark red velvet like vivid personalities, sometimes without intent, at other times with exposed pathetic gestures like an actress in a silent film – one keeps thinking of Greta Garbo. Elena Zhidkova's voice is warm and full, perfectly balanced, the musical phrases almost perfectly rendered. Yet something essential is missing in her performance: the spontaneous expression in singing and acting, taking risks. But probably greater risks are not in the interest of maestro Nagano who appears to act like an almost coolish organiser of sound.
Concert at the Musikhalle Hamburg
Hamburg Philharmonic State Orchestra, 11 October 2015; conductor: Kent Nagano
It is certainly a good idea to accompany the opening premiere with a work by the same composer. At the nearby Musikhalle Nagano conducted Beethoven's piano concerto no. 4 in G-major and Berlioz's Symphony fantastique. But as soon as one thinks about the programme one begins to ask: Why the fantastique? It is popular, it is youthful, and it is ingenious – all very well, but where is the programmatic point? Where is the real will of the conductor to explore Berliozian worlds and not just to perform a well-known international showpiece? Traces of Beethoven in the fantastique are obvious and therefore a combination of the two works may easily be justified. But to take a closer look at another work of Berlioz, perhaps one of those with more Mediterranean colours (alluding to the Carthaginian world of Les Troyens), would have been welcome for a new musical era in Hamburg, the self-proclaimed "city of music".
The first part of the matinée during this bright Sunday morning was saved by Russian pianist Nikolai Lugansky. His masterly playing, his fabulous technique and thorough understanding of Beethoven's singing prose left the orchestra far behind. Unfortunately no one seems to have told the musicians that this "classical" music needs clear phrasing, moments of suspense and surely the expectation of the never-heard. Especially the first movement of the beautiful concerto was executed in an undefined, more or less homogeneous manner as if conductors like Herreweghe or Minkowski or orchestras like the Orchestre Révolutionnaire et Romantique, who care about historically informed interpretation, had never existed. With the fantastique it was different. Everybody gave their best. The cellos showed a seductive presence, and the oboists and clarinettists had intriguing solos. The Allegretto non troppo of the famous "March to the scaffold" could have been taken slightly slower to achieve greater exactness in simultaneous entrances and also to heighten the effect of this nightmarish triumph.
Anja-Rosa Thöming
Catherine Naglestad as Cassandra, Chor der Hamburgischen Staatsoper
© Hans Jörg Michel

Catherine Naglestad (Cassandra), Chor der Hamburgischen Staatsoper
© Hans Jörg Michel

Torsten Kerl (Aeneas)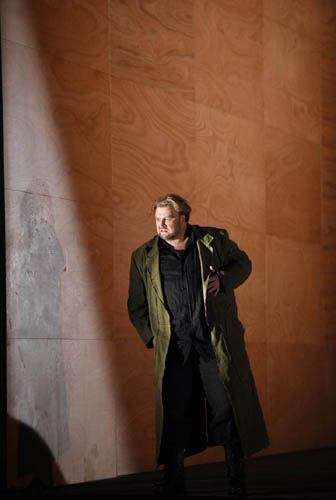 © Hans Jörg Michel

Elena Zhidkova (Didon), Chor der Hamburgischen Staatsoper
© Hans Jörg Michel

Elena Zhidkova (Didon)
© Hans Jörg Michel


See also elsewhere on our site a preview article, in French, by Christian Wasselin, entitled Berlioz et les réducteurs de tête, regarding this production of Les Troyens.


The Hector Berlioz Website was created by Monir Tayeb and Michel Austin on 18 July 1997; Reviews of live performances page created in 1999; completely reorganised on 25 December 2008..
© Monir Tayeb and Michel Austin. All rights of reproduction reserved.

Back to Reviews of live performances main page

Back to Home Page