The Lectures on Music
Life and Genius of Hector Berlioz
Given by Henry Wylde in 1889
Dr Henry Wylde (1822-1890) was an English composer and conductor, and a founder in 1852 of the New Philharmonic Society; Berlioz first met him during his third visit to London in 1852. The relationship between the two men was rather cold at best, and limited to the period between 1852 and 1855 (see Berlioz in London: friends and acquaintances). This makes it all the more striking that many years later, late in his life, Dr Wylde should have delivered a series of lectures on Berlioz. But time had moved on: after his death Berlioz's reputation had undergone a remarkable revival in France, and the effects of this were felt in Britain as well.
Wylde's lectures on Berlioz were given at Gresham College in London in four instalments on 26, 27, 28 February and 1st March 1889. This page presents the scanned images of the 4-page lecture programme which outlines the main topics covered. A copy of the programme is in our own collection.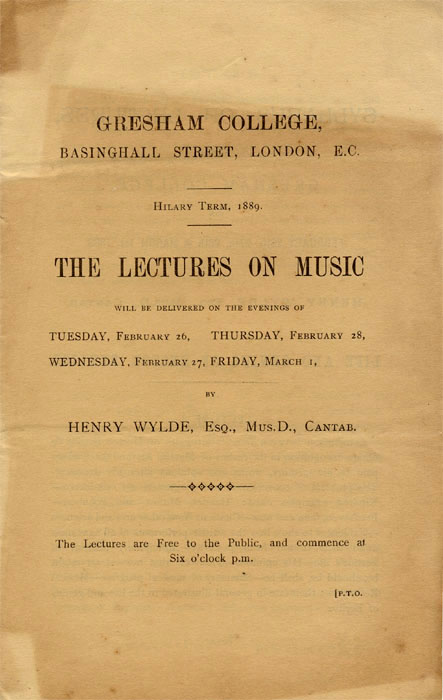 The Hector Berlioz Website was created by Monir Tayeb and Michel Austin on 18 July 1997; this page created on 8 March 2015.
© Monir Tayeb and Michel Austin. All rights of reproduction reserved.

Back to Contemporary Performances and Articles page


Back to Home Page

Retour à la page Exécutions et articles contemporains


Retour à la Page d'accueil