15 rue de la Rochefoucauld
This page is also available in French
Berlioz and Marie Recio returned from London around 14 July 1848, and their new address at 15 rue de la Rochefoucauld is attested very shortly after in a letter dated 17 July (CG no. 1213). This suggests that the move had already been organised by Marie Recio while Berlioz was still in London: Marie had in fact vacated her apartment at 41 rue de Provence in April 1848 before joining Berlioz in England, and her mother may have already been settled in the new flat. The stay at rue de la Rochefoucauld lasted only about a year, which implies that the flat was in some way unsatisfactory; the last attested use of the address dates from 21 May 1849 (CG no. 1265), and by August of that year Berlioz and Marie Recio had moved to 19 rue de Boursault nearby where they were to stay for a number of years.
It was during the stay at rue de la Rochefoucauld that Berlioz started composing the Te Deum (cf. CG no. 1246).

All the photographs reproduced on this page were taken by Michel Austin in 2000. © Monir Tayeb and Michel Austin. All rights of reproduction reserved.
Main entrance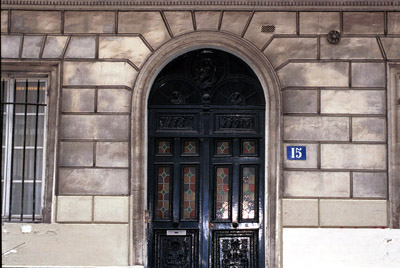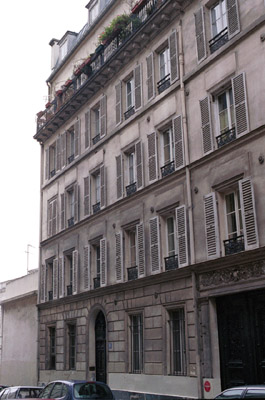 © Monir Tayeb and Michel Austin for all the pictures and information on this page.
Copyright notice: The texts, photos, images and musical scores on all pages of this site are covered by UK Law and International Law. All rights of publication or reproduction of this material in any form, including Web page use, are reserved. Their use without our explicit permission is illegal.
Back to Berlioz in Paris main page