Memorabilia collection
Miscellaneous (7)
All pictures on this page have been scanned from items in our own collection. All rights of reproduction reserved.
Biscuit tin box
This rare Boite de la Biscuiterie des Alpes, made in the late 19th or early 20th century, is decorated with pictures of distinguished men of the Isère Department: Berlioz, Bayard, Lafayette, and Vaucanson. On the small sides of the box there is a picture of a dolphin [dauphin in French], the emblem of the Dauphiné region of which Isère is a part.
Heavy alloy plaquette
Composers Bracelet – Silver
Visiting Card Case
Visiting Card Case
Telephone Card
| | |
| --- | --- |
| Front | Back |
The phone card marks a staged performance of La Damnation de Faust at the Bayerische Staatsoper in Munich.
Great Composers – Placemat
Lapel pin
Lapel pin
Lapel pin
Lapel pin
Fridge magnet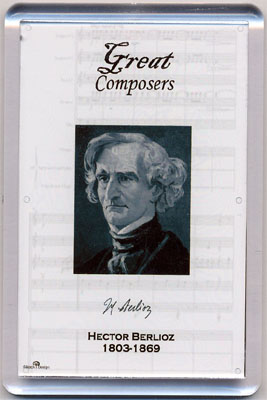 Key ring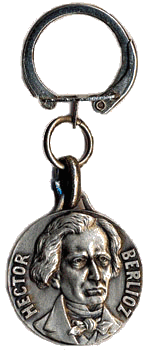 Shopping trolley coin holder
T-Shirt


Memorabilia main page
© (unless otherwise stated) Michel Austin and Monir Tayeb for all the texts and images on Berlioz Memorabilia pages.