Memorabilia collection
Concerts and festivals (4)
All pictures on this page have been scanned from items in our own collection. All rights of reproduction reserved.
Berlioz bicentenary concerts and events in Isère
The Department of Isère, where Berlioz's hometown La Côte Saint-André is situated, celebrated the bicentenary of its most famous son in truly magnificent style.
Festival Berlioz – La Côte Saint André 2003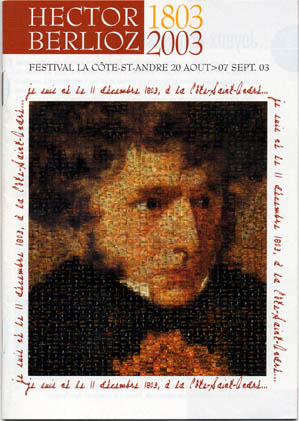 Ravinia Festival – Highland Park, Illinois, USA 2003
Berlioz featured prominently at the Festival. One Score One Chicago programme formed a part of the festival and the organisers chose Symphonie Fantastique to launch the programme. Many thanks to Professor Hugh Macdonald who kindly sent us a copy of the programme at the time.


Memorabilia main page
© (unless otherwise stated) Michel Austin and Monir Tayeb for all the texts and images on Berlioz Memorabilia pages.