The Home of Berlioz
Comœdia, 14 December 1908
This page is also available in French
This page reproduces the original text of a report on the annual pilgrimage to Berlioz's home in Montmartre on 13 December 1908, two days after the anniversary of his birth. On the history of this house in the early XXth century reference should be made to the page on Berlioz at Montmartre.
The text of the report and the accompanying image have been scanned from our own copy of the issue of 14 December 1908 of Comœdia, and are reproduced below together with our English translation of the report.
Note: Berlioz lived in this house in Montmartre until 1836, not 1837 as plaque cited in the report states.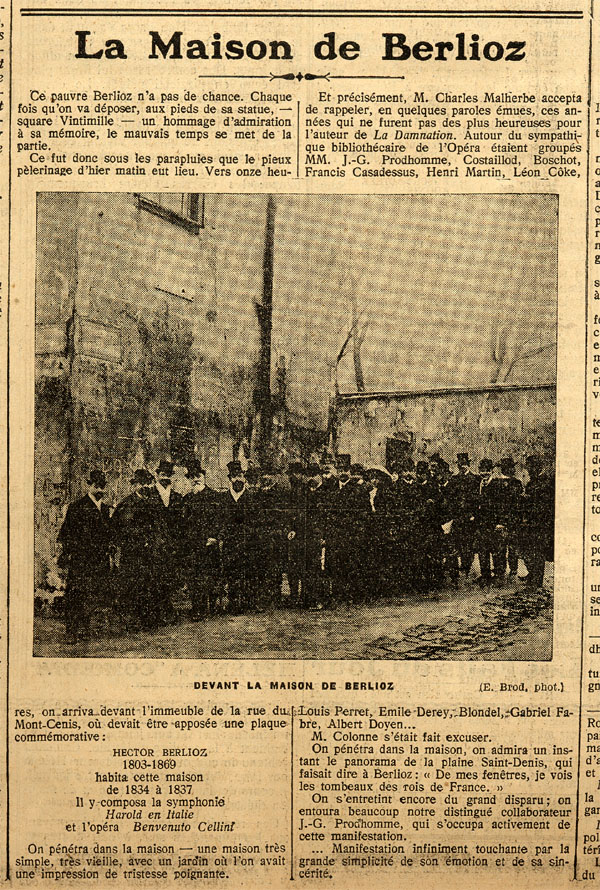 Here is an English translation of the report:
The Home of Berlioz
Poor Berlioz has no luck. Every time his admirers pay homage to his memory at the foot of his statue, in Square Vintimille, bad weather interferes.
Thus it was under umbrellas that the pious pilgrimage took place yesterday morning. At around 11 o'clock, we arrived in front of the house in the rue du Mont-Cenis, where a commemorative plaque was to be installed:
HECTOR BERLIOZ
1803-1869
lived in this house
from 1834 to 1837
There he composed the symphony
Harold in Italy
and the opera Benvenuto Cellini
We entered the house — a very simple and very old house, with a garden which conveyed a poignant feeling of sadness.
Indeed, M. Charles Malherbe agreed to recall, in a few moving words, those years which were not the happiest for the author of The Damnation of Faust. Around the friendly librarian of the Opéra were gathered Messrs J.-G. Prodhomme, Costaillod, Boschot, Francis Casadessus, Henri Martin, Léon Côke, Louis Perret, Emile Derey, Blondel, Gabriel Fabre, Albert Doyen…
M. Colonne had sent his apologies.
We entered the house and admired for a moment the plain of Saint-Denis, about which Berlioz used to say: « From my window I can see the tombs of the kings of France. »
We talked again of the great departed; we gathered around our distinguished colleague J.-G. Prodhomme, who was actively involved in this event. … An event infinitely touching through the great simplicity of its feeling and its sincerity.

The Hector Berlioz Website was created by Monir Tayeb and Michel Austin on 18 July 1997; this page created on 10 April 2009.
© Monir Tayeb and Michel Austin. All rights of reproduction reserved.
Back to Contemporary Performances and Articles page
Back to Home Page