Memorabilia collection
Miscellaneous (1)
All pictures on this page have been scanned from items in our own collection. All rights of reproduction reserved.
Tabatière [snuff box] made in France in the 1840s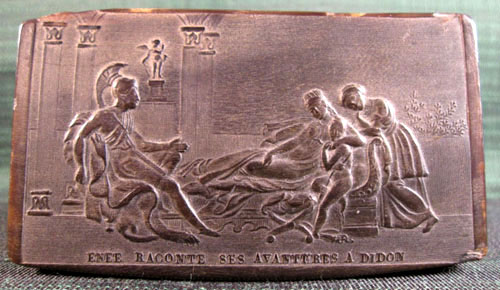 The image on the cover is a reproduction of Guérin's famous paining: "Enée Raconte ses Avantures à Didon" [Aeneas relates his adventures to Dido]. Guérin's painting was the inspiration behind one of the scenes in Les Troyens (Act 4, second tableau, N° 35 – Récitatif et quintette).
Vintage Louis-Hector Berlioz Centenary Crown Staffordshire pin dishes

Front
Diameter of each plate: 10cm

Back

Text on the box cover
Two porcelain plates
These plates, both made in France, measure approximately 23cm in diameter. The one the left is by AK Limoges [A. Klingenberg] in Limoges; the other by Guerillot & Conrade in Paris. They were commissioned by a hotel, named Le Berlioz.
Two porcelain plates – detail
Ashtray
[La Côte St André]
Diameter:10cm
Coffee mug
Height: 9½ cm
Coffee mug
Height: 9½ cm
Coffee mug
Height: 9½ cm
Egg cup
Height: 5 cm



Memorabilia main page
© (unless otherwise stated) Michel Austin and Monir Tayeb for all the texts and images on Berlioz Memorabilia pages.