Memorabilia collection
Concerts and festivals (13)
All pictures on this page have been scanned from items in our own collection. All rights of reproduction reserved.
Grande Messe de morts (Requiem) at St Paul's Cathedral
City of London Festival – 12 July 2001
Conducted by Sir Colin Davis
Programme booklet – Front cover
Programme booklet – Back cover
Berlioz's signature was taken from our site.

Text – Front cover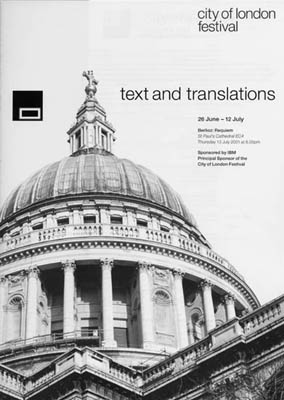 Text – Back cover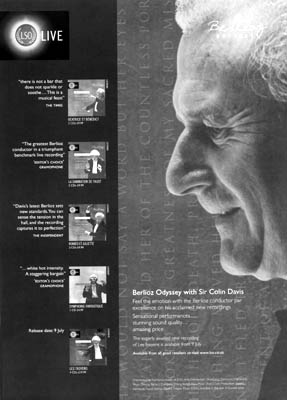 Performance tickets
Underground tickets to St Paul's Station
You can read two reviews of this memorable concert elsewhere on this site (Review 1, Review 2). See also Berlioz in London for Berlioz's connection with the magnificent St Paul's Cathedral.


Memorabilia main page
© (unless otherwise stated) Michel Austin and Monir Tayeb for all the texts and images on Berlioz Memorabilia pages.