Memorabilia collection
Stamps (8)
Russian friends and acquaintances
All pictures on this page have been scanned from items in our own collection. All rights of reproduction reserved.
Balakirev (1837-1910)
Glinka (1804-1857)
Mussorgsky (1839-1881)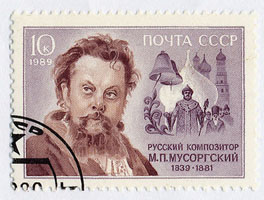 Rubinstein (1829-1894)
Stasov (1824-1906)
Tchaikovsky (1840-1893)
See also elsewhere on this site Berlioz in Russia and Russian Friends and Acquaintances.


Memorabilia main page
© (unless otherwise stated) Michel Austin and Monir Tayeb for all the texts and images on Berlioz Memorabilia pages.